Top 15 Luxury Hotels in New Zealand North Island
With wild coastlines, thriving cities, and beautiful scenery, New Zealand really is that country.
The island destination is located in the Pacific Ocean and is divided into two islands, namely, North Island and South Island. New Zealand's South Island is home to towns like Christchurch, Queenstown, and Nelson. Both the islands offer many coves and scenic landscapes, but South Island's land is bigger and better known for some of the world's most dramatic mountain scenes.
On the other hand, New Zealand's North Island comprises famous towns like Auckland, Wellington, and Hamilton. A visit to this side of New Zealand means white-sand shores, emerald woodlands, and bustling cities with ample things to do.
If it's luxury you're seeking, New Zealand will certainly not disappoint. Luxury accommodations here expand beyond the urban boundary to the country's forests, mountains, hills, and shorelines.
This article lists the 15 best five-star hotels in New Zealand's North Island, including rustic forest lodges, estate accommodations, chic seaside resorts, and small luxury hotels.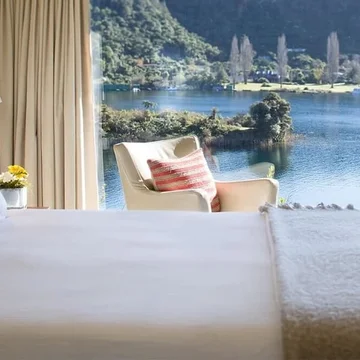 Solitaire Lodge
One of the first luxury lodges in New Zealand, Solitaire is the embodiment of extravagance. It's a five-star hotel set on a private peninsula on the shoreline of Lake Tarawera. The lodge boasts ten opulent suites with modern furnishings and all the amenities to make your stay comfortable and relaxing.
Check Availability
Outdoor bathtubs serve glorious views of White Island, New Zealand's only active marine volcano. But the lodge's highlight is all the opportunities it offers for adventure enthusiasts. A few steps from your doorstep are secluded bays, hot water private beaches, and thermal hot springs. Water babies can participate in one or more of the many water sports available.
Love the thrill that comes with heights? There's a private helipad on-site for flights over the lake and volcanic peaks (subject to availability). Alternatively, opt for a cruise on the lake or try world-class trout fishing.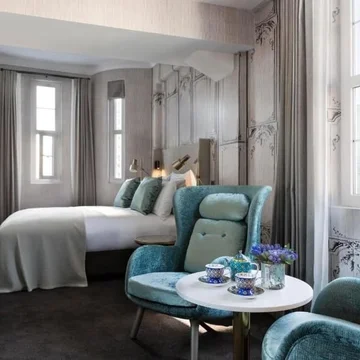 Hotel Grand Windsor MGallery by Sofitel
Nestled in the heart of Auckland city, Hotel Grand Windsor is a sophisticated lodging that will have you feeling like royalty. The art deco building is a blend of old-world sophistication and modern luxury. Built in 1928, it's one of the best hotels in New Zealand.
Check Availability
The hotel is conveniently located in the city's precinct on Queen Street in the CBD. It's perfect if you're seeking a luxurious city break. Nearby are boutique stores, the Viaduct Basin, and Sky City Tower. Indulge in retail therapy and enjoy all the entertainment within easy reach.
Chandeliers, marble flooring, and velvet furnishing make up the rooms. Spend your days in opulence with modern amenities and delicious cuisine at your fingertips.
Choose from a selection of teas and Nespresso capsules for the coffee machine for your early morning caffeine intake. Then head to Cookes Restaurant, where breakfast is served a-la-carte style. The restaurant can also be booked for a high tea.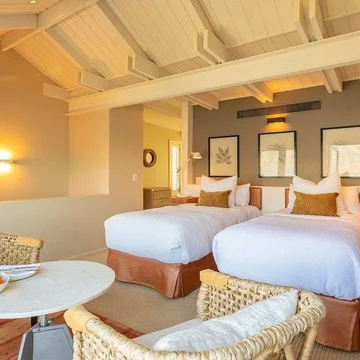 The lodge offers luxurious suites and villas with endless views of the mountains and lake. All the suites have a private patio, a sitting area with a fireplace, and a walk-in wardrobe.
Food options are available in abundance; start with a full continental, English, or Irish breakfast. When the night crawls in, feast on a gourmet dinner prepared with local produce. There are also pre-dinner drinks and a complimentary in-room minibar with local beer.
In and around the lodge are plenty of options to fuel your adrenaline and partake in the activities Queenstown, New Zealand, is famous for. Choose skiing out on the slopes or relaxing at the luxury day spa. Other facilities include a gym and an outdoor heated infinity swimming pool.
Matakauri Lodge is a quick seven-minute drive from the center of Queenstown and a 15-minute drive from Queenstown International Airport.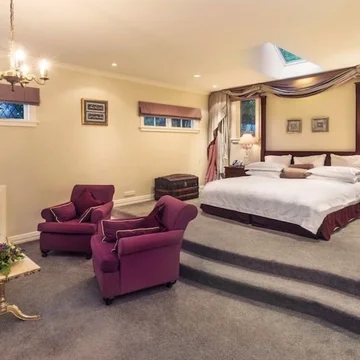 Greenmantle Estate Hotel
Located beside the Nikau forest, Greenmantle Estate is a luxury hotel in New Zealand offering comfortable air-conditioned suites. Paraparaumu Beach is only a 10-minute drive from the hotel. With a native forest setting and the sea nearby, you can have the best of both worlds at this luxury hotel.
Check Availability
Some suites have a separate living area, a fireplace, or a balcony, while the hotel also boasts sunny terraces and beautiful gardens. So, if you're on the search for a place to relax, there are many nap spots sprinkled around the estate for you to choose from.
Breakfast, pre-dinner drinks, and canapés, along with a bottle of Prosecco and fresh fruit, are all part of the complimentary experience. The hosts are friendly and attentive, also delivering a concierge service to help book tours or reservations. Enjoy a forest getaway of hiking, cycling, bird watching, or just kicking back and relaxing.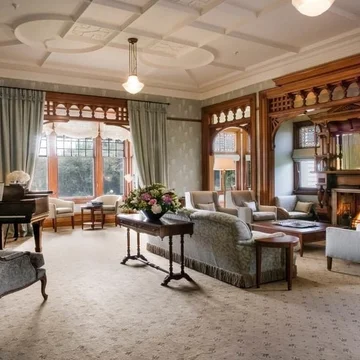 Otahuna Lodge
Located in the center of a 19th-century Victorian estate, Otahuna Lodge is a small luxury hotel surrounded by woodlands and manicured gardens. The estate is rich in luxury and history. It was built in 1895 for Canterbury pioneer Sir Heaton Rhodes. Today, it's considered one of the best examples of Queen Anne architecture.
Check Availability
Set against the fluted cone of an ancient volcano, the majestic lodge offers seven ornate suites. Grand architectural feats from the 19th century are still a part of the interiors today, with open fireplaces and carved inglenooks making up the space inside.
Each suite is a haven of comfort, made of super king-sized beds and lavish bathrooms with deep soaking bathtubs. Sir Heaton Rhodes' former bedroom serves as the centerpiece of a four-room Master Suite with an octagonal study.
The Victorian estate perfectly blends old-age and modern interior designs. It also features 115-year-old gardens which span more than 30 acres.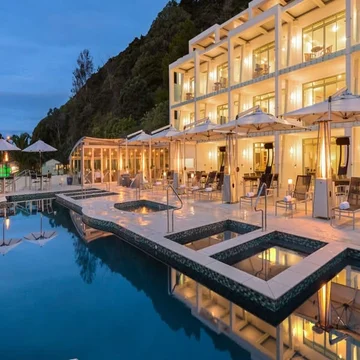 Paihia, Bay of Islands, New Zealand
Paihia Resort & Spa Hotel
Paihia is an upscale, chic luxury beach resort on Te Ti Bay in New Zealand. Choose from studios, suites, and two-bedroom apartments for small families.
Check Availability
Rooms at Paihia Resort are light and airy, fitted with a flat-screen TV, kitchenette with a minibar, and a balcony or terrace serving serene views of the Bay of Islands.
If you can, you should book one of the Superior rooms, subject to availability, of course. The Superior Studios feature a full kitchen, and the Superior Suites offer more space with an open-plan kitchen, living, and dining room.
Like other New Zealand beach resorts, Paihia offers free WiFi to all guests and plenty of activities on and off-site. Take a dip in the large outdoor saltwater pool, de-stress at the La Spa Naturale, or indulge in Middle Eastern cuisine at Glasshouse Kitchen & Bar. Activities off the resort include kayaking, swimming with dolphins, and enjoying a boat ride to Russell.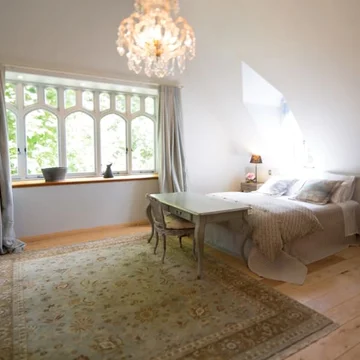 The French Country House
The surrounding countryside envelopes you with romantic views and peaceful sounds of nature at The French Country House. This luxury hotel is a charming guest house with beautiful gardens, a stable of horses, and a library on its property.
Check Availability
Ideal for a French-style country retreat, you can spend your days here taking long walks in the manicured gardens or relaxing on the balcony. Professional or aspiring equestrians can enjoy horse-riding at an extra cost.
The fully-furnished rooms have classy, elegant interiors. Towels and linen complete with free toiletries are provided in the private bathrooms, which feature a shower and a bathtub. Other conveniences include free parking, in-house fine dining, and free WiFi.
For pre-dinner wine and canapés, make your way to the living area. It has a light and relaxing atmosphere with antique furnishing and decor alluding to the French theme.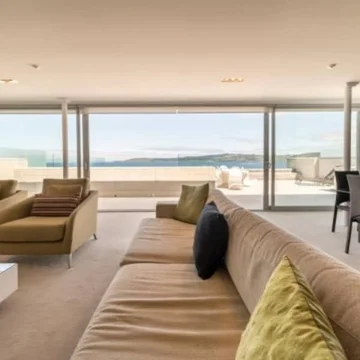 Sacred Waters Taupo
Sacred Waters Taupo offers spacious, clean, and comfortable apartments next to the lake. It's ideal for families traveling with kids. Early check-in can be organized directly with the property.
Check Availability
The apartments are fully equipped and furnished with a seating area that has a satellite flat-screen TV and a kitchen with a dishwasher and a microwave. Each unit has ironing facilities, a separate wardrobe, a private bathroom with free toiletries, and a thermal hot tub. Moreover, some apartments serve serene lake views.
On top of that, you have access to free WiFi, an outdoor swimming pool, and a gym. The friendly and attentive hosts offer excellent service along with advice on touring the city and help on booking tours.
If you'd like to burn some calories while exploring the city, simply borrow a couple of bikes for you and your friends from the hotel.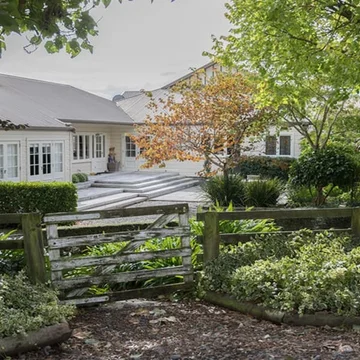 The Manse
Situated in Maraekakaho, the luxury all-inclusive Manse hotel offers a peaceful retreat if you're looking to escape the crowds. Some rooms have mountain or river views, but dramatic scenes of the Heretaunga Plains can be seen from all around the hotel.
Check Availability
A visit to this luxurious hotel will make for some memorable memories. At The Manse, guests can spend their days swimming in the outdoor pool or reading at the library. The game room is a perfect spot for chilling out, and the lovely gardens are quiet, with only the melodious sound of the birds filling your ears.
Sounds tempting? There's also a BBQ area where you can show off your grilling skills. Or opt for a fine dining experience prepared by the on-site chef when you don't feel like going out. Right opposite is the Ngaruroro River, where guests can enjoy fly fishing and jet boating.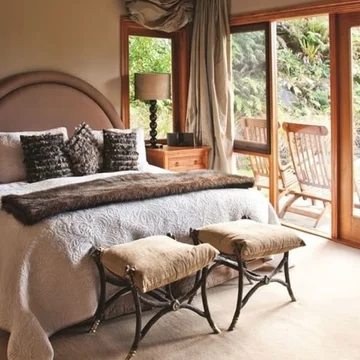 Treetops Lodge & Estate
Amongst the best of New Zealand's hotels is this Dame of a property named Treetops Lodge & Estate. It's in the heart of an eco wilderness park, so you're surrounded by fresh greenery from all sides.
Check Availability
The hotel offers deluxe suites and villas with breathtaking views of the woodlands, lakes, and wildlife. Each accommodation comes with a bath and satellite TV. The villas feature a kitchenette and a living area with a fireplace to keep you cozy on chilly evenings.
Indulge in the indigenous and therapeutic Maori treatments at the Treetops spa, or bathe in the outdoor mineral hot tubs that are open 24/7. Your kids can entertain themselves in the game arena while you fuel your reading addiction at the timber-paneled library.
With seven trout streams, four lakes, and many hiking trails in the native forest, you'll never be bored at this cozy eco-lodge.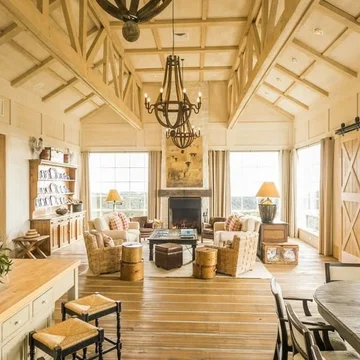 Te Awanga, Hawke's Bay, New Zealand
The Farm at Cape Kidnappers
The Farm at Cape Kidnappers in Hawke's Bay is a luxurious five-star accommodation offering private suites and a cottage of four bedrooms. Beautifully designed and surrounded by picturesque landscapes, it's ideal for a romantic getaway. But families with kids can also enjoy a comfortable stay here.
Check Availability
Set on 6,000 acres of grasslands, it offers world-class service and an abundance of action. All the rooms and suites are fully air-conditioned and boast a private balcony serving amazing ocean views. The main lodge has outdoor entertainment areas, a day spa, and a gym to keep you busy.
Award-winning chefs at the hotel's restaurant serve gourmet food, including New Zealand's finest lamb and beef. Dishes are prepared with local produce, and there are also seafood items on the menu to feast on.
Connoisseurs of wine will love the wine cellar, and water babies can splash around in the infinity pool with a hot tub.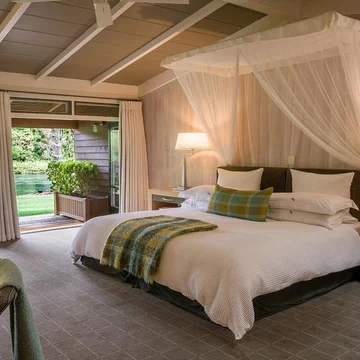 Huka Lodge
Huka Lodge is one of the most expensive hotels in New Zealand. It's a converted fishing lodge boasting luxurious suites on the banks of the Waikato River. Surrounded by 17 acres of countryside and 40 trout-filled rivers and streams, a stay at Huka is a fancy but peaceful experience.
Check Availability
All the suites are air-conditioned and feature a private terrace where you can spend your mornings admiring the river. A private bathroom includes a bathtub and complimentary toiletries, while a separate dressing room with bathrobes is at your disposal.
There's plenty to do on-site too if you're in a mood to catch some action. Splash around in the outdoor swimming pool, enjoy a competitive game at the tennis court, or soak in the hot tub. Use the free mountain bikes to explore the surrounding countryside, indulge in the hotel's massage services, or play a game of croquet. The options are endless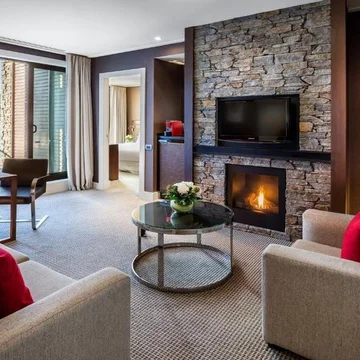 Hilton Queenstown Resort & Spa
Lavish interiors, welcoming hosts, and modern amenities await your arrival at the Hilton Resort & Spa in Queenstown, New Zealand. Much like the other New Zealand resorts and hotels on this list, Hilton boasts an indoor pool, a day spa, and a fitness center.
Check Availability
Situated on the shores of Lake Wakatipu, this 5-star resort is one of the top hotels in New Zealand. It's a short five-minute drive from Queenstown Airport, and the town's city center is only a 20-minute drive away.
The resort has spacious rooms and suites with comfortable king-sized beds. They feature a gas fireplace, an LCD TV, and a range of modern amenities making your stay one filled with luxe and relaxation.
Spoil yourself to the best delectable dishes from New Zealand's cuisine at the Wakatipu Grill Restaurant. The local and international wine selection at Pinot Pit will be well worth your time too.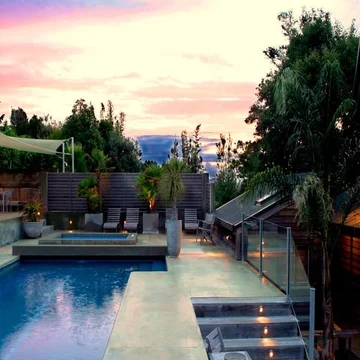 Eagles Nest
Located just outside Russell, Eagles Nest offers a peaceful hilltop retreat. The estate boasts chic, spacious villas serving glorious bay views. Each villa has a private jacuzzi and terrace, while some feature a heated infinity pool.
Check Availability
The living rooms of the villas are fitted with a plasma-screen satellite TV and a DVD player, while the fully-equipped kitchens have a dishwasher and washing machine. Your booking includes a gourmet breakfast and a fresh complimentary fruit platter for every day of your stay at this five-star hotel.
Foodies will be thrilled to know that the chefs offer a tailor-made menu comprising fresh local produce. Feel free to tantalize your taste buds with the hotel's collection of the finest New Zealand wine.
Because of the hotel's proximity to the Bay of Islands, you have a once-in-a-lifetime opportunity to explore these by helicopter. Scared of heights? No worries, boat tours are also available. Other nearby activities include canoeing, horse riding, and windsurfing.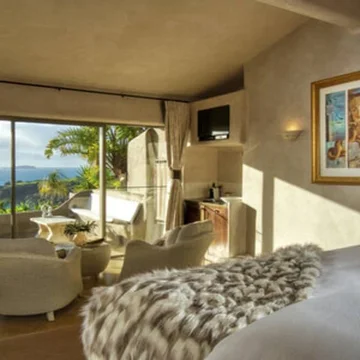 Delamore Lodge
Delamore Lodge is a stunning 5-star luxury hotel on Waiheke Island overlooking the Owhanake Bay. Guests' experiences are fully tailored, providing for a stress-free vacation.
Check Availability
Each suite at Delamore has floor-to-ceiling windows so you can wake up to breathtaking views of the bay. Suites are spacious and feature a private patio, en-suite bathrooms, a minibar, and a flat-screen TV. A selection of CDs and DVDs are available in the library of the guest lounge.
Moreover, a gourmet breakfast is included in your booking, along with complimentary transfers from the Matiatia ferry terminal. Round up your beverage team to visit the lodge's wine cellar, showcasing award-winning New Zealand wine.
An outdoor tropical pool with a waterfall and a cave-like pool is available for a soothing soak. Massage and wellness treatments can also be arranged. Indulge in wholesome food at the lodge's restaurant, which boasts an extensive menu and offers an individually tailored five-course dinner.
Find Luxury Hotels in North Island