Luxury Hotels in New Zealand South Island
Whether you plan on visiting the South or North Island, New Zealand has so much to offer. Situated off the southeast coast of Australia, this island country is truly one of the most underrated countries in the world. Known for its captivating landscapes including towering mountain peaks and picturesque lakes, New Zealand is best done in luxury.
From small luxury hotels to large lodges, there are so many places to vacation in leisure when visiting the South Island in New Zealand.
Luxury New Zealand Hotels in South Island
If you are planning to indulge in a grand getaway to New Zealand's South Island, here are some of the most luxurious lodges, resorts, and hotels the island has to offer.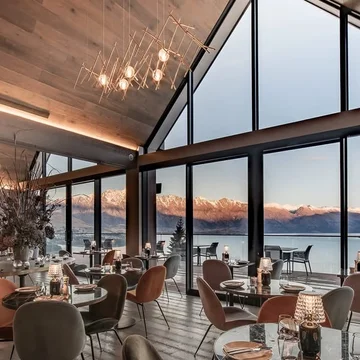 Fern Hill, Queenstown, New Zealand
Kamana Lakehouse
Kamana Lakehouse offers stylish suites, fine dining, as well as a spa and wellness center, all overlooking the breathtaking scenery of Lake Wakatipu and the Remarkables mountain range.
Check Availability
This lakeside hotel will present you with comfort in its most elegant form, with air-conditioned rooms that have unobstructed views of the lake. The selection of spacious suites feature contemporary decor, free Wi-Fi, a Bluetooth speaker, premium beds, designer toiletries and more.
Nest Kitchen + Bar is the hotel's very own restaurant, bar and lounge. The brasserie, which boasts a stunning dining room, offers fine dining Mediterranean cuisine at its absolute finest.
On top of the luxurious rooms and restaurant, the Kamana Lakehouse hotel also gives guests access to a concierge service, ski storage, and even wedding services.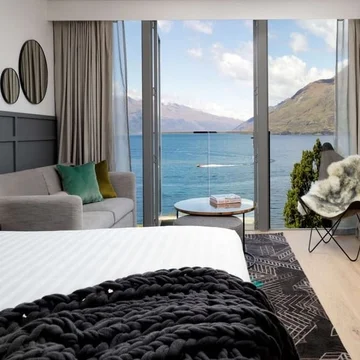 QT Queenstown
This QT hotel is truly a one-of-a-kind holiday experience and one of the top 5-star hotels in New Zealand. Said to be the peak of alpine luxury, this quirky Queenstown resort offers lakeside luxury at its best.
Check Availability
With air-conditioned rooms that include mini-bars, plasma televisions, and free Wi-Fi, you are guaranteed to have a spectacular time no matter the weather. Each private bathroom includes designer toiletries and hair dryers.
In keeping with its quirk, the QT hotel boasts its very own Bazaar Marketplace which offers foods suited to every taste. Be entertained as chefs create delicious dishes right before your eyes as you enjoy the vibrant interactivity the restaurant exudes. Head to Reds Bar for a delightful cocktail or boutique beverage.
This luxury hotel's recreational amenities include an outdoor swimming pool and sauna. Other facilities are concierge services and babysitting/childcare services provided for guests to access.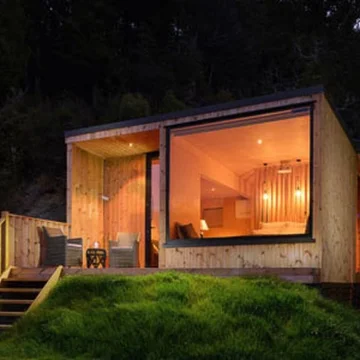 Kinloch, Glenorchy, New Zealand
EcoScapes
If you're looking to escape the city, EcoScapes is the ultimate getaway combining both nature, and luxury, all while being eco-friendly. With lakefront eco-cabins that resemble tree houses, situated within Kinloch Wilderness Retreat, this tranquil abode is one of the best New Zealand hotels.
Check Availability
To keep you entertained during your stay, you can partake in horse riding, kayaking, scenic flights, and even jet boating. And of course, the hiking trails are there if you are in the mood to explore. With the nearby Glacier Burn and Routeburn Track, adventure is only a walking distance away.
The luxurious amenities offered at EcoScapes include a television and iPad, free toiletries and bathrobes, as well as a sun terrace and hot tub jacuzzi. Not to mention daily gourmet breakfasts and picnic lunches.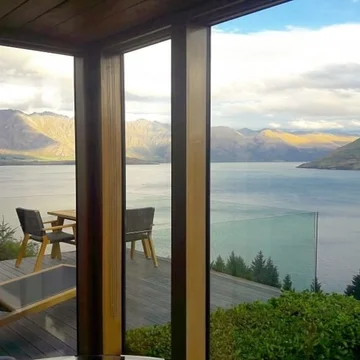 Fern Hill, Queenstown, New Zealand
Azur Luxury Lodge
Azur Luxury Lodge offers a world-class experience in a secluded section of Sunshine Bay in New Zealand. The private villas boast panoramic views of Lake Wakatipu.
Check Availability
Each Azur villa includes a king-sized bed, a mini-bar, a fireplace, a private balcony, an indoor hot tub, a 32-inch LED television and more. With free Wi-Fi as well, you can relax in both comfort and leisure at this luxury lodge.
With a restaurant, a bar and lounge, as well as a snack bar and deli, every meal can be enjoyed in luxury at this leisurely lodge. A complimentary breakfast is also served every morning.
The experience also includes concierge services, a spa, health club and fitness center, as well as babysitting or childcare services for guests. And if you would like to venture out and explore the local shops, Azur Lodge also offers a complimentary shuttle service.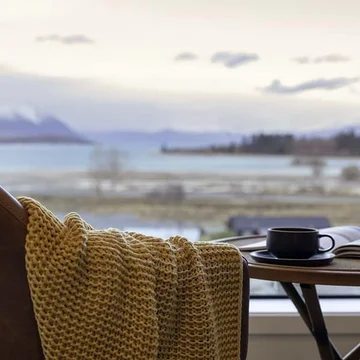 Ranginui B&B
If you're looking for something a little more intimate, Ranginui B&B is set overlooking the spectacular Lake Tekapo, located between Queenstown and Christchurch. This top-rated adults-only bed and breakfast brings together comfort, convenience and luxury with stunning scenery to top it all off.
Check Availability
With stunning suites set to show off sweeping views of the blue lake and New Zealand's iconic Mackenzie Basin, you'll hardly even need to use the free Wi-Fi at this hotel. Each room includes a private bathroom and a hairdryer, as well as free toiletries.
A stay at the Ranginui B&B includes bespoke services offered by the in-house hosts, a hot springs pass for the Tekapo Springs, as well as a daily á la carte, vegetarian or continental breakfast.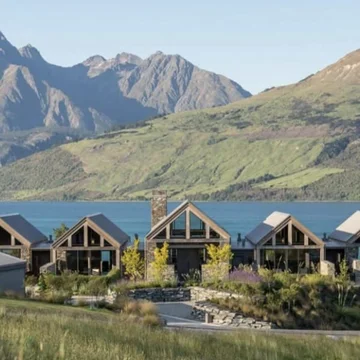 Blanket Bay
Situated in Glenorchy alongside the stunning Lake Wakatipu is Blanket Bay. This luxury resort offers everything from relaxing amenities, delicious breakfast, dinner, and drinks menus to gorgeous views of the lake and mountain range.
Check Availability
With accommodation options ranging from the Main Lodge's more intimate rooms to the private Chalets, or even the ultimate luxurious Blanket Bay Villa, you'll be spoilt for choice. Each room includes air-conditioning, an iPod docking station, a flat-screen TV, and a DVD player. Although with the exciting adventures awaiting you, we doubt you'll be spending much time looking at the screens.
During your stay, free access to bikes and kayaks will provide you with plenty to do. Spend your days venturing out and embracing all that Lake Wakatipu has to offer. And after you get back, freshen up in the hot tub and enjoy a fun game of billiards or a relaxing night by the fireplace. You can also arrange mountain biking tours, jet boating and even Milford Sounds tours.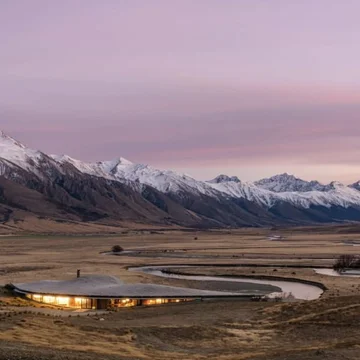 The Lindis
Located in the Ahuriri Valley of New Zealand's South Island, The Lindis provides modern yet comfortable accommodation, with breathtaking river views all in the most exquisite way.
Check Availability
This luxurious lodge has everything you need, from a restaurant and bar to rooms that include private bathrooms with a shower and complimentary bathrobes and slippers. Not to mention WiFi and free private parking available for its guests.
Not only that but daily buffet breakfasts are included and there's a hot tub for you to enjoy all day. The Lindis offers the ultimate luxury for your next getaway.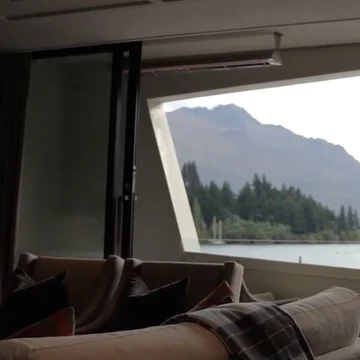 Eichardt's Private Hotel
If you're looking for the ultimate luxurious getaway, then Eichardt's Private Hotel is the one for you. Offering world-class service and that desired celebrity treatment, we assure you that this treat of a destination, overlooking Lake Wakatipu will not disappoint.
Check Availability
Accommodation includes fireplaces, free WiFi, and satellite TV, being sure to keep you comfortable and entertained. Each room also includes a sofa, dining area, tea and coffee facilities, and a private bathroom with both a bath and a shower. You can even opt for a room with a balcony that offers either lake or mountain views.
All of that, and even more adventure awaits you on Eichardt's doorstep! Chat to reception and arrange a holiday full of bungee jumping, kayaking, or wine tours, depending on your mood.
Other Top Hotels in New Zealand South Island
One thing about South Island, New Zealand can be said for sure and that's that there is no shortage of deluxe destinations. Here are ten more of the best hotels in South Island:
Mt Cook Lakeside Retreat, High Country Estate and Luxury Villa Collection in Pukaki
Sofitel Queenstown Hotel & Spa in Queenstown
Radfords on the Lake in Te Anau
Stoneridge Estate in Queenstown
Blanket Bay in Glenorchy
Matakauri Lodge in Queenstown
The George Christchurch
The St. James in Hammer Springs
Hilton Queenstown Resort & Spa
Hotel St Moritz Queenstown, MGallery Collection
Luxurious Hotels in New Zealand, South Island
As you plan your next trip to New Zealand's South Island, consider these luxurious hotels, lodges and resorts.
After you have soaked up all that the South Island has to offer and you would like to visit the North Island as well, be sure to check out some of the top luxury hotels in New Zealand.
Find Luxury Hotels in South Island