Home to one of the new seven world wonders, Machu Picchu, Peru is a destination that's not to be missed if you ever plan on exploring South America. But, the coastal country has much more than meets the eye; think adventurous upscale jungle retreats, lavish summer resorts, as well as other notable historic and eco-tourist sites such as lake Titicaca. All of that and more make Peru's luxury hotels extremely desirable, so you would do well to take a look at the best ones when planning your trip.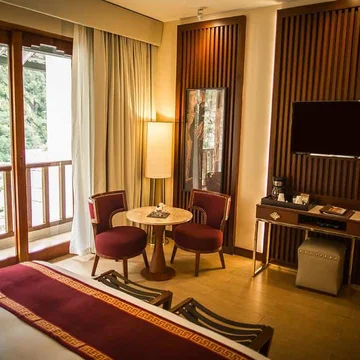 Sumaq Machu Picchu Hotel
The small welcoming town of Aguas Calientes in the Urubamba valley has long been a popular base for exploring Machu Picchu and this scenic region of Peru. The long winding road that leads to the historic site can oftentimes be muddy and this tourist hotspot is bustling in high season, but all of that is offset by the congeniality and undisputed interior splendor of the Sumaq Machu Picchu Hotel.
Check Availability
The hotel offers mystical, guided tours with the help of a local shaman, while the staff is extremely helpful and eager to attend to your every need. The on-site spa is also very respectable, all things considered. The rooms and suites feature coffee machines and a minibar stocked with complimentary drinks. The style is best described as regal, with gold & dark wood tones, exuding a homely ambiance.
The in-house Qunuq Restaurant has a wide variety of locally sourced Andean fusion dishes on the menu, while their very exclusive Munayki tasting menu is a once-in-a-lifetime experience in a romantic setting. The very commodious Suquy Cafe & Bar is the go-to spot for all sorts of drinks and cocktails with a Peruvian twist in an elegant setting.
Whether you're looking for an intimate getaway or an exploration base for the surrounding famous sights, all in all, Sumaq Machu Picchu is surely the best hotel in the region. This is further exemplified by the establishment's perennial presence among the picks of renowned hotel award organizations, such as Condé Nast Traveler.
As such, the hotel's rates for double rooms tend to stand at around the $500 price point, year-round, but certain packages and promotions may drop the price all the way down to $280 per night.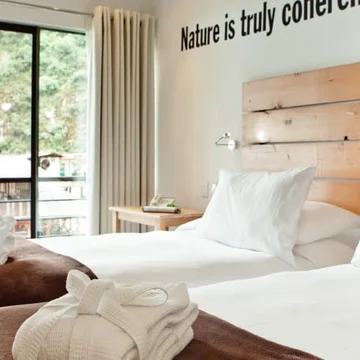 El MaPi
If you found the previous listing too over-the-top in terms of style and general vibe, we don't blame you; it's a very pronounced tendency of most resorts of that stature, but fret not! An ideal secondary accommodation option for exploring Machu Picchu and the vicinity is always available. The superbly trendy El MaPi managed by the Peruvian hotel chain Inkaterra, who certainly know a thing or two about contemporary boutique hotels, doesn't disappoint in any facet.
Check Availability
Although it has a more central location in Aguas Calientes, and as such is a tad less intimate, El MaPi manages to provide guests with an "unfussy, down-to-earth break". The hotel has eight suites and 122 rooms with floor-to-ceiling windows, ensuring the best views of the surrounding scenery. In-room amenities include flat-screen TVs, safe boxes, coffee machines, minibars, free wi-fi, and best of all, complimentary herbal toiletries.
The point where El MaPi might come off as lacking is its facilities, as it has only a bare-bones spa, but the friendly staff more than makes up for certain shortcomings (if we're being harsh) by being incredibly attentive and courteous.
The vibrant La Cafeteria is a great hub for a hearty meal and an amiable conversation with other tourists. Their lunch and breakfast menu might not have much in the way of variety or gourmet cuisine, but the portions are sizable and they offer takeaways. For a snack and a drink or three, El Bar is ever at your service, being open way past midnight, with their happy hours being from 5:30 pm to 7:30 pm.
Entry-level double and triple rooms can be booked for $220 year-round, barring any unforeseen circumstances.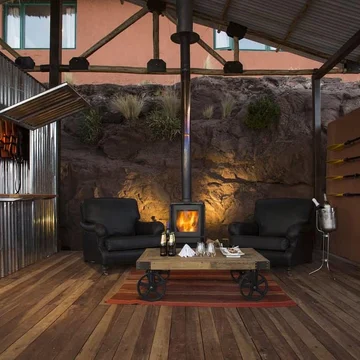 Titilaka
Lake Titicaca, bordering Bolivia and home to more than 530 aquatic species, is the largest lake in all of South America. As such, it presents a genuine natural marvel housing multiple picturesque islands, while the nearby historic sights of Temple Kalasasaya and Cutimbo present a glimpse into the rich Inca heritage. In short, Lake Titicaca is the location for eco-tourists and cultural tourists alike.
Check Availability
The modern, waterfront, award-winning lodge of Titilaka is the perfect retreat from which to explore everything the quaint surrounding area boasts. All of the four room types are spacious and feature views of the lake, while the outdoor transparent Domes provide you with absolute comfort while mimicking the feeling of sleeping under an open night sky.
Since the hotel offers all-inclusive packages, all food and drink options come free of charge. You'll have the opportunity to sample some of the best food in the country since everything that's served is prepared with care and from locally sourced produce. Don't go without trying their mouthwatering ceviche, made from trout in the actual lake. There's also a bar, should you want to enjoy some high-end spirits or wines, although keep in mind that some of the more exclusive ones aren't on the house.
Titilaka offers the unique experience of detachment from the hustle and bustle of an urban lifestyle while allowing you to undergo a transformative, quintessential exploratory experience that will shift your perspectives and fully recharge your batteries.
Year-round double room rates are usually at around the $1000 price point, including excursions, meals, and drinks.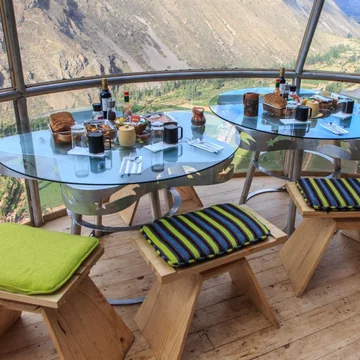 Skylodge Adventure Suites
To put it in mild terms, we're absolutely positive you haven't seen a hotel of this sort. Skylodge Adventure Suites ushers new perspectives of an already familiar and renowned area in Peru, the Sacred Valley of the Incas. An hour and a half away from Cusco by car and then a nearly two-hour climb brings you 1200 ft above ground on the side of a cliff. Yes, that's the location of the Skylodge. Still unclear? Let us explain.
Check Availability
The rooms, or rather the transparent luxury capsules suspended off of the mountainside feature two single beds and one double. They also have curtains that can be pulled back at night to enjoy 300-degree Sacred Valley vistas. The bathroom is an actual cubicle at the end of the capsule. Although, we assume that if you do decide on staying in such a daring environment, you surely won't be there for the amenities, but rather the one-of-a-kind experience.
The food is prepared in advance and brought by the guides, while you get the opportunity to enjoy a meal on nearby platforms. Breakfast consists of eggs, toast, granola, and fresh fruit, while dinner is a four-course delight. Wine is also available, but given the precarious environment, we suggest you take a pass on it. Should you need literally anything, the guides, who also clean, cook, and look after you during the climbs, are more than happy to help.
An all-inclusive accommodation package per night, including meals, drinks, and ziplining, costs $412 per night.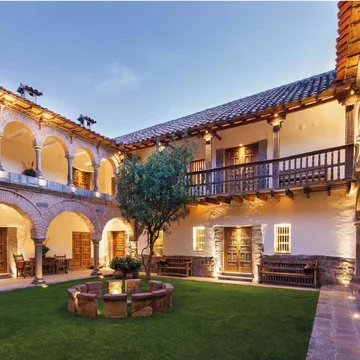 Inkaterra La Casona
Inkaterra La Casona sports a central location in the imperial Inca capital of Cusco. If you'd like to explore Peru's heritage, this is definitely where you should start, aside from Machu Picchu, of course. Nearby sights include the Museum of Colonial Art, the cathedral, and the Plaza de Armas. Furthermore, La Casona boasts of being the first hotel in Cusco and it's situated in a 16th-century mansion, which has since been carefully restored and refitted to a prime luxury hotel.
Check Availability
The eleven suites are immensely spacious and opulent, featuring regal decor, Andean statues & rugs, gilded frames, and tasteful artwork. The hotel also has a spa & massage room, a library, and a lounge area. The heated floors and king-size beds create a cozy atmosphere, while the vast white marble bathrooms further the palatial vibe.
The hotel doesn't have an actual restaurant, but guests who wouldn't like to dine in their rooms can book a table in the dining room, the courtyard, or the terrace. The menu includes exquisite Peruvian fusion cuisine, including delicacies such as Andean trout. The bar has a "cocktail hour" from 6:00 pm to 7:00 pm.
Double room rates start at $360.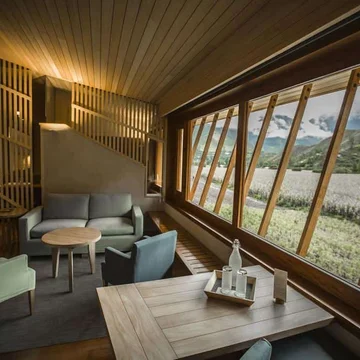 explora Valle Sagrado
Serving as a crossroads of sorts between Cusco, Machu Picchu, and Urubamba, explora Valle Sagrado brings yet another flavor to the Sacred Valley experience with its stylish, modern, wood-laden edifice. The architecture and decor will come off as cozy and almost intimate as it carries a certain European character throughout; or modern Scandinavian, to be precise.
Check Availability
All of the 50 rooms and suites exude the same atmosphere felt throughout the hotel due to the neutral hues and, again, light-wood ceilings, floors, and beams. Snug seating areas, storage space for clothes and hiking gear, as well as decently sized working desks are a recurring theme. The beds are relatively big and very comfortable, while the two separate bathrooms feature whirlpool tubs and showers.
In terms of food options, the menu offered was designed by Virgilio Martínez – "owner of the sixth-best restaurant in the world according to The World's 50 Best Restaurants 2019 ranking". The meals are inspired by the biodiversity in the sacred valley, as well as the desire to innovate when it comes to traditional Peruvian cuisine, so as such, expect to partake in truly balanced and varied dishes. Due to the altitude, some heavier red meats are advised against but are served nonetheless, which is ideal for those of you who don't want to limit your calorie intake while on holiday.
Double rooms can be found at anywhere between $500 and $700 depending on the season, while the prices also include all meals and excursions.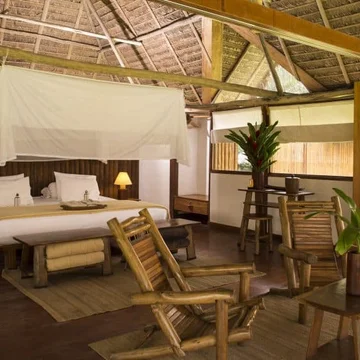 Inkaterra Reserva Amazonica
For the ultimate one-with-nature experience, you shouldn't go without visiting a jungle retreat should you have the opportunity. Inkaterra Reserva Amazonica gives you precisely this – an incomparable rainforest refuge in Peruvian Amazonia. It's located on the banks of the gorgeous Madre de Dios River amidst the lush vegetation, providing a sense of remoteness, yet not taking away your sense of comfort, in what can be best described as rustic luxury.
Check Availability
The 32 cabanas and three suites are commodious, with the latter offering access to a private plunge pool. Most of the cabanas have charming views of the river and surrounding nature, while the bathrooms have rainforest showers and Inkaterra branded toiletries. The only drawback would probably be the fact that electricity tends to be limited to particular hours of the day, but that can be seen as a plus since it allows you to detach and truly enjoy nature – something you'd rarely do of your own accord.
The in-house restaurant is a true treat and something you don't expect to see in a luxury hotel setting. The dishes have a home-kitchen feel to them, and although they're not exactly gourmet cuisine, they're well-prepared using local produce, with the menu featuring a wide array of traditional Peruvian delights. Highlights include lomo saltado, Peruvian causa, and paiche.
All-inclusive entry-level rates start at about $415 but may change depending on the season.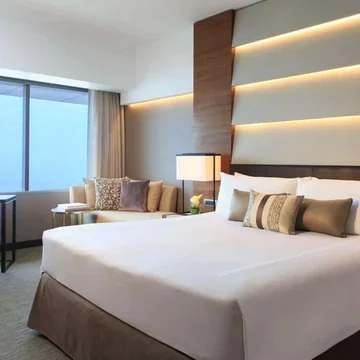 JW Marriott Hotel Lima
The oceanfront establishment of JW Marriott is truly something else. The more than ideal location allows for you respite from the seemingly never-ending din of the busy city center, while the renowned Larcomar mall, which is within walking distance, presents a haven for avid shoppers. The nearby Miraflores district is rich with excellent bars, restaurants, and scenic beaches. All in all, in on-the-go cities such as Lima, it would prove to be a tall feat to find a better positioned luxury estate.
Check Availability
The hotel houses a whopping 300 rooms, two thirds of which are facing the ocean, while the presence of contemporary in-room amenities indicate that JW Marriott targets the modern traveler. Laptop safes, flat-screen TVs, minibars, blackout curtains, and air-conditioning are some of the in-room features, while the rooms and suites themselves are best described as chic, having exquisite seating areas and dimmed lights. The extraordinarily fast wi-fi, which is by no means the norm in Peruvian hotels, will surely prove to be a key point for business travelers.
JW Marriott Hotel also has a proper swimming pool, a sauna, a spa, and a fully-fledged fitness center with fitness instructors offering complimentary classes. Furthermore, the hotel is home to The Majestic casino, offering extra entertainment to the more adventurous sort. It's worth noting that smoking is banned on the hotel premises.
The La Vista restaurant's menu is mostly composed of western a la carte dishes, while the JW Sushi Ceviche Lounge has a variety of seafood specialties, both Japanese and Peruvian. Even though you definitely won't run out of dining options en suite, we strongly suggest that you also check out at least some of the plethora of restaurants in vibrant Miraflores.
Double rooms are usually found at about the $250 price point, but this is prone to change depending on the season and promotional packages.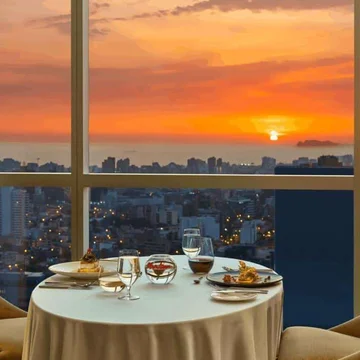 The Westin Lima Hotel & Convention Center
If you want or need to be in the thick of it in Lima, situated on Avenida Javier Prado, The Westin boasts a great location in the business district of San Isidro. The hotel is 30 stories tall and is one of the tallest buildings in all of Lima, so you can rest assured that you'll have excellent views of the sweeping skyline from the top floors. The style of the hotel is extremely upscale and refined, featuring paintings from Mateo Liebana.
Check Availability
The rooms and suites feature floor-to-ceiling windows and are just as classy as the rest of the hotel interior. High-speed wi-fi is complimentary, while cable TV allows you to remain connected with all the contemporary happenings. The signature Westin Heavenly® Beds ensure you'll wake up as fresh as ever, recharging you to take on any and all challenges.
The fitness center is one of the more extensive ones, featuring an array of cardio machines. The hotel also has a pool, a spa, and a sauna, offering further relaxation after a busy day. Additionally, the hotel has a complimentary shuttle service, allowing you to reach your destinations throughout the city with ease.
The fine dining restaurant, Maras, has extremely savory delicacies in the menu, with their highlight being the delectable tuna sashimi. The high-end drinks that are available in the bar are yet another example of The Westin making good on their name that stands for extravagance.
Double room rates can be booked for around $200 in low season, while the price point can go as high as $410 in high.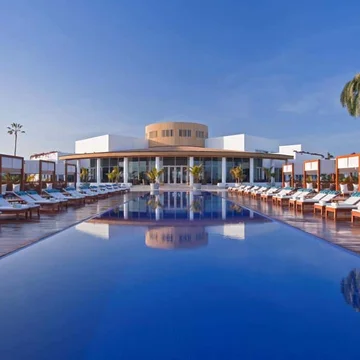 Hotel Paracas
The town of Paracas is notorious for its excellent summer resorts, but the most outstanding of them all probably is the eponymous Hotel Paracas, also by Marriott. 160 miles south of Lima, Paracas Bay has many attractions no matter whether you're looking for a tranquil seaside retreat or an adventurous break in the sun. Nearby, the Islas Ballestas and the Reserva Nacional de Paracas are some of the sights you could explore, while the tourist center of Paracas is filled with shops, restaurants, and bars.
Check Availability
The 120 rooms of the resort are spread across separate buildings, and each offers unique perks such as garden views, ocean views, beach proximity, etc. The key characteristic of all of them is that they're vast and commodious, while also featuring king-size beds, sitting areas, working desks, and outdoor terraces. Hotel Paracas also has the perfect trifecta of a wellness center & spa, a fitness center, and two expansive swimming pools.
The three on-site restaurants are definitely the best eateries in all of Paracas. Chalana serves scrumptious seafood, Trattoria is the dedicated Italian hotspot, and Ballestas offers traditional Peruvian as well as Mediterranean cuisine.
Double rooms can be found from $220 in low season.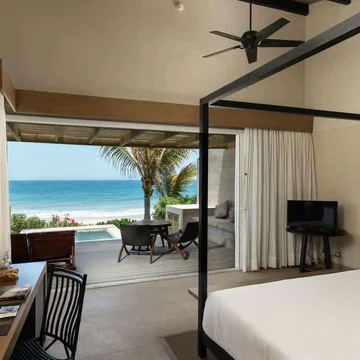 Arennas Mancora
Our last but not least entry in this Peruvian edition of luxury hotels is Arennas Mancora. Nicely situated on Peru's north coast, the hotel presents the ultimate picturesque summer retreat. The hotel's Las Pocitas Beach, 15 minutes away from the town of Mancora, is away from the bustle of energetic tourists, making the establishment one of few that can safely boast being an absolute all-in-one resort. By that, we mean that you'll relish the fact that you never have to leave the property for any reason whatsoever.
Check Availability
The exclusive 22 rooms all have big outdoor areas with tables, chairs, and loungers, while the interior is best described as gracefully stylish. Designed in a minimalist fashion, there's little to distract you from the allure of the exotic outside scenery, further amplified by the floor-to-ceiling glass sliding doors. Blackout curtains are available for a dash of privacy, while minibars, safes, flat-screen TVs, and complimentary toiletries are a given.
The large swimming pool is a true delight, while the bliss of the ocean is readily experienced via the private beach, which is reconstructed in a manner that blocks unpleasant (for some) gusts of ocean wind. Other than that, though, facilities may come off as lacking for some, as the hotel doesn't have its own gym or spa, but the bar & open air restaurant is unambiguously lovely.
Speaking of, breakfast, lunch, and dinner menus are available all day, so you won't have to stick to certain preset periods. Moreover, should you end up craving Mediterannean, or Japanese, or even Italian cuisine, the kitchen will be more than happy to oblige. Although, you ought not to miss out on their delicious Nikkei skewers.
Double rooms can be booked in the $200 range, which may vary depending on the season.
Find Luxury Hotels in Peru