One of the hottest honeymoons spots in the Indian Ocean, Seychelles is a breathtaking archipelago consisting of 115 islands. Half of its landmass is listed as a nature reserve – and although this is an ultra-popular touristic destination, there are still untouched and secluded spots where you can indulge in total "barefoot elegance". The area is brimming with Coco de Mer palms, exotic birds, and coral reefs creating a haven of legendary beauty. The luxury hotels in Seychelles offer an unmatched level of service and tropical style interiors that blend perfectly with the beautiful natural surroundings.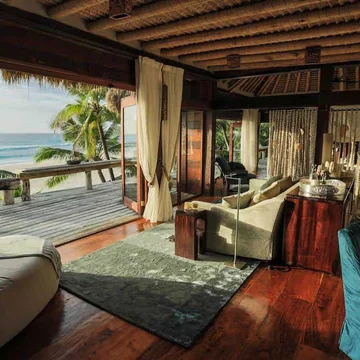 North Island
A true paradise, North Island Seychelles is set on a private island surrounded by four white-sand beaches. This is a car-free island where you can experience the embrace of tropical forests, granite peaks, and colorful flowers. The Silhouette Island and Mahe, which are excellent diving sports, are just a couple of kilometers away. North Island offers a haven of luxury which is frequently visited by A-listers and celebrities including Prince Williams and Kate who visited the resort for their honeymoon in 2011.
Check Availability
The resort was designed by the Cape Town-based architects Silvio Rech and Lesley Carstens who used solely natural materials including indigenous takamaka trees, casuarina trees, rosewood, giant bamboo and sandblasted pine imported from South Africa. The resort's eleven beachfront villas epitomize barefoot elegance with spacious rooms, wood latticework ceilings, and artisan-made furniture. The open-plan flow of the villas creates an airy ambiance. Additionally, all villas have direct access to the turquoise waters of East Beach.
The hotel's two restaurants Sunset Beach and The Pizza Bar & Lounge promise some delicious culinary treats. The daily menu is prepared by the Michelin starred chef Akira Back who likes to pair local ingredients with flavors from all around the world. Attention to detail shows in every dish served in hand-made ceramics.
At this all-inclusive resort, rates start at $5700.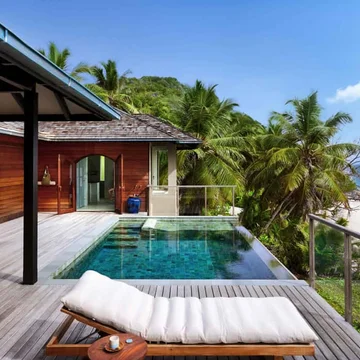 Six Senses Zil Pasyon
Another private island, Six Sense Zil Pasyon is located in the Granitic Islands. Here, you can expect maximum privacy and intimacy while still being close to ten other islands including Praslin, La Digue, and Curieuse Island. Don't miss visiting Cocos Island which is considered to be the best snorkeling spot in Seychelles.
Check Availability
The resort has 28 villas set amidst lush tropical vegetation. Guests can choose from one-bedroom pool villas, two-bedroom pool villas, and four-bedroom residences. Starting at 2,150 square-meters, the rooms are spacious, airy, and infused with natural light. The ocean-inspired color palette creates a relaxing ambiance, while the four-poster king-size beds adorned with silk linens guarantee a good night's rest. The swing seat in the bedroom overlooking the ocean is a nice touch. The bathrooms are sleek with electronic toilets, rain showers, deep soaking tubs, and organic toiletries. For an elevated experience, book some of the Hideaway Pool Villas where you can relax on your own private deck by an infinity pool. All guests have their own GEM (Guest Experience Maker) who is there to create personalized experiences according to the guests' preferences.
At the on-site restaurants, guests are in the hands of chef Richard Lee who creates delicious dishes such as tongue-tingling ceviches, citrus-soaked mango, and egg-grilled lobsters. Additionally, the Island Cafe offers a la carte menu and English breakfast.
Guest rooms start at $1400.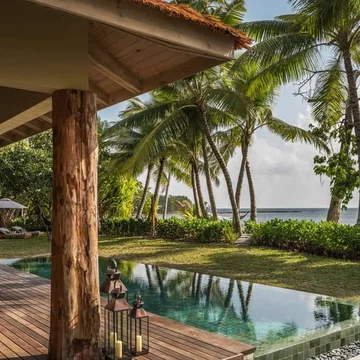 Four Seasons Resort Seychelles
Situated on the southwest coast of Mahe, Four Seasons Resorts boasts one of the best locations in Seychelles. It has its own private beach surrounded by picturesque mountains and overlooking Petite Anse Bay. Here, you can laze your day away on comfortable sun loungers in the company of turtles that roam free on the beach.
Check Availability
Four Seasons Resort offers villas, suites, and residences. Some are set by the beach while others are tucked deep in tropical forests. All units at the resort are surrounded by palm trees, bananas, mango trees, and cinnamon trees. Expect European-Colonial style interiors paired with some top-notch amenities including a flat TV screen, satellite channels, iPod docks, minibar, in-room safe, DVD players, air-conditioning, and high-speed Wi-Fi. No matter the location of your villa, the views are sensational from everywhere. Inside, you can relax on comfortable canopy beds, watch some movies, or just marvel at the views from a comfortable sun lounger.
Water sports enthusiasts will be happy to learn that the resort offers equipment for kayaking, sailing, surfing, paddle-boarding, windsurfing, and boogie boarding. All guests get complimentary surfing lessons. The enticing spa offers a number of treatments including couples' massages, caviar body wraps, chakra balancing, manicures, and pedicures.
Guest rooms start at $640.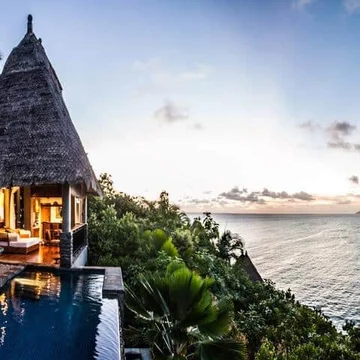 MAIA Luxury Resort & Spa
Popular among honeymooners and couples, MAIA Luxury Resort & Spa is located on a secluded peninsula on the west coast of Mahe Island. The hotel has a private beach where guests can enjoy turquoise waters in a calming and relaxing ambiance.
Check Availability
The resort has 30 tropical-style villas set by the beach or on a hilltop. Picture thatched roofs, plush seating area, and a neutral color palette. What sets MAIA villas apart from other villas on the island are the large outdoor decks equipped with a plunge pool, sun loungers, tables, chairs, and bar area. The rooms are very comfortable with king-size beds, dark wood furniture, and elegant curtains. The relaxing ambiance continues in the sleek bathrooms equipped with stone sinks, deep soaking tubs, rainfall showers, and Hermes toiletries.
With a beachfront infinity pool, two restaurants, two bars, a modern fitness center, a yoga studio, and a watersports center, MAIA Luxury Resort guarantees fun moments. Additionally, the resort organizes a number of excursions to the nearby islands and painting sessions with renowned artists from the area.
The guest room starts at $1100.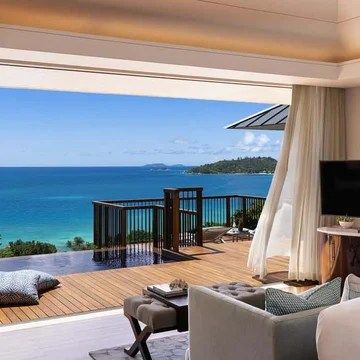 Anse Takamaka, Praslin Island
Raffles Seychelles
Raffles Seychelles is a luxurious resort set on the beautiful Praslin island. This is the second-largest island in Seychelles and is not as populated with tourists as Mahe. However, if you want to visit the world-famous beaches in Mahe Anse Lazio and Anse Georgette, the resort organizes daily trips every day.
Check Availability
Ranging from 1,200 to 2,700 square meters, the resort offers some of the largest accommodations in Seychelles. Guests can choose between villas set on a hilltop, tucked in tropical gardens, or on the beach. High-end travelers usually go for the beach villas from where guests can experience the most beautiful sunrises in Seychelles.
Decor-wise, the villas feature a tropical style enhanced with contemporary details. There are coral patterned rugs, pink sofas, and tray ceilings. The bathrooms are large and equipped with walk-in showers, double sinks, huge tabs, and luxurious toiletries. At the outdoor pavilions, comfort is guaranteed. Take a dip in your own private pool, relax on comfortable hammocks, or explore your artistic side – all units have easels with sketching paper. Butler service and round-the-clock service is available to all guests in the villas.
Take a gastronomic journey through the flavors of India and China at Curiseuse Restaurants. Here, chef Sunil Dutt prepares delicious dishes such as Indian curries, Thai salads, and Chinese stir-fries.
Guest rooms start at $1150.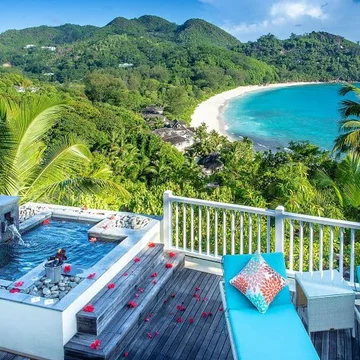 Banyan Tree Seychelles
Another ultra-luxurious resort, Banyan Tree Seychelles is located on the south-western coastline of Mahe Island. This is a secluded spot surrounded by palm trees, cliffs, and lush vegetation. After all, if George Harrison once owned this property, then it must be worth paying a visit.
Check Availability
The resort has 22 Ocean View Pool Villas spread across the resort's tropical gardens, some of which are also set on the beach. The Four Intendance Bay View Pool Villa is ideal for couples and honeymooners as it features a private pool, veranda, comfortable sun loungers, and hammocks. With that being said, all units at the resort are ideal for romance – the Spa Sanctuary Pool Villa has a private sauna with a steam room and outdoor sunken bath, while the Ocean View Pool Villa is equipped with a living pavilion, floor-to-ceiling windows overlooking the ocean, and a private pool.
Diving, mountain biking, snorkeling, and fishing to boating across a gilded lake surface, the Banyan Tree resort has a lot in store for water sports enthusiasts. What's more, the resort organizes helicopter scenic flights which will be an ideal gift for your partner. At Saffron, guests can enjoy Thai and Southeast Asian specialties, while Au Jardin d'Epices offers Mediterranean cuisine.
Guest rooms start at $940.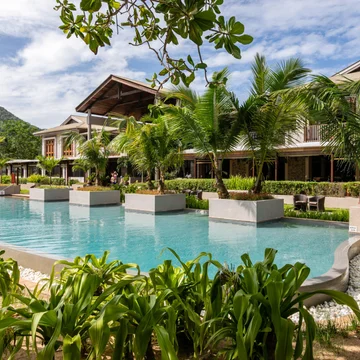 Kempinski Seychelles Resort
Situated on the south end of Mahe, Kempinski offers sumptuous accommodation in a remote area of the islands called Baie Lazare. There isn't much within the immediate area, however, the picturesque lagoon and the white sand beaches will keep you entertained. The charming Beau Vallon Village and Victoria are 40 minutes away.
Check Availability
Guests can choose between Sea View Garden Rooms and Hill View Rooms. The colonial style of the property and the peaceful ambiance usually attracts families and high-end travelers. Guests like to spend their time on the furnished balconies equipped with chairs and desks from where one can enjoy the most beautiful sunsets over the islands. Inside, you can have good rest on canopy beds with romantic curtains and plush seating areas. The relaxed ambiance continues in the spacious bathrooms equipped with mirrors, walk-in shower stalls, and deep soaking tubs. Round-the-clock and in-room services are available to all guests.
Families can always book an adjoining room if they need some extra space. As expected from a hotel of this stature, the amenities are top-notch and they include a flat TV screen, satellite channels, Nespresso machine, in-room safes, iPod docks, and pillow menus.
With a fully-equipped spa, infinity pool, 24-hour fitness center, and a kids' club, Kempinsii guarantees some pleasant experiences. Adventurous spirits will appreciate the surfing, biking, snorkeling, kayaking, and paddle boarding equipment at the resort.
Guest rooms start at $400.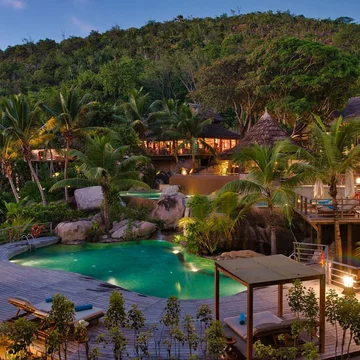 Anse Kerlan, Praslin Island, Seychelles
Constance Lemuria
The first five-star hotel in Praslin, Constance Lemuria, recently had a complete renovation after it reemerged once again as the most luxurious resort in the area. The hotel's location is a bit isolated, so if you want to explore the area you'll need to rent a car.
Check Availability
The inviting lobby oozes warmth with wooden ceilings and stone floors, while the fountains create an airy ambiance. Throughout the well-maintained gardens, guests can find plenty of secluded spots for relaxation. All villas and suites are overlooking the beach and have a tropical style with thatched roofs, tile floors, and wooden furniture. The contemporary yet modern feel in each unit is achieved by using natural materials such as wood, bamboo trees, pink granite, and marble. Highly appreciated by high-end travelers are the two-bedroom villas appointed with private pools. They also have a sundeck area, huge terraces with sun loungers, and indoor and outdoor bathtubs.
One striking feature of Constance Lemuria is the 18-hole golf course overlooking the ocean. What's more, there are also tennis courts, a modern fitness center, mountain bikes, and equipment for non-motorized water sports. After a workout, guests can relax by the infinity pool with cascading waterfalls or at the resort's three white-sand beaches.
Buffet breakfast is served at the Legend Restaurant, while ocean-inspired dishes can be enjoyed beneath the shades of Takamaka trees at Takamaka.
Prices start at $1170.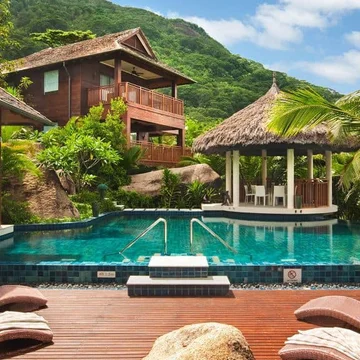 Glacis, Mahe Island, Seychelles
Hilton Seychelles Northolme Resort & Spa
Household names such as Hilton usually come together with a killer location. Hilton Seychelles delivers on this promise with a secluded location on the western coast of Mahe, overlooking the scenic Beau Vallon Bay. Victoria is a 10-minute drive away, while in the immediate area there are numerous shopping and dining options.
Check Availability
The private beach equipped with numerous hammocks, sun loungers, and cushioned sofas guarantees relaxing moments. Guests can also use a free shuttle to get to Beau Vallon Beach. As you might expect from a 5-star retreat, Hilton also has a large freeform pool where you can spend your days under a shady cabana with tropical cocktails in your hand. Another spot for relaxation would be the lavish spa that has views over the Indian Ocean. Massages, facials, wraps, and scrubs – the spa has an extensive menu and the professionals working there use solely ELEMIS products for the treatments.
The resort offers sumptuous tropical-style accommodation in villas scattered throughout the resort. We strongly recommend the King Sunset Villa perched high above a tropical forest overlooking the ocean. Here, you can relax on a sun lounger and take in the views from your balcony or unwind in a jacuzzi.
Hilton has three on-site restaurants. Mahe serves dishes inspired by Creole cuisine, the Hilltop Restaurants offers Italian and Asian specialties, while the Oceanbar is all about small bites and fresh juices.
Guest rooms start at $400.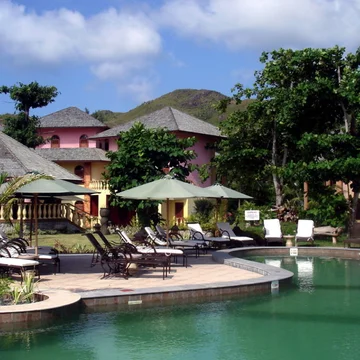 Castello Beach House
Couples are drawn to this hotel set on the famous Anse Kerlan beach on Praslin island. The hotel is set on the beach and is surrounded by tropical gardens, palm trees, and stone paths.
Check Availability
Guests can choose between 26 suites and one pool garden villa, all featuring Creole style. The ocean-inspired palette, hand-made furniture, and tile flooring create a cozy ambiance in each unit. Top-notch amenities include air-conditioning, flat screen TVs, satellite channels, laptop safes, free Wi-Fi, and mini-fridges. The Family Suite can accommodate up to six guests, while the pool villa is ideal for hosting parties as it has a large living room, kitchen, four bedrooms, and an infinity pool.
The private beach has everything you need from hammocks and loungers to cabanas and bars. Additionally, the hotel also has a large swimming pool and a kids pool. Castello organizes excursions to the neighboring islands and has sailing, kayaking, and scuba diving equipment. Bird watching is a popular activity at the resort; Seychelles is the home of 15 endemic bird species.
Breakfast is a leisurely affair at the on-site restaurant. The menu includes tea, coffee, cold cuts, eggs, bread, and pastries. For lunch, you can expect Asian cuisine and international fare served in a cozy setting.
Guest rooms start at $400.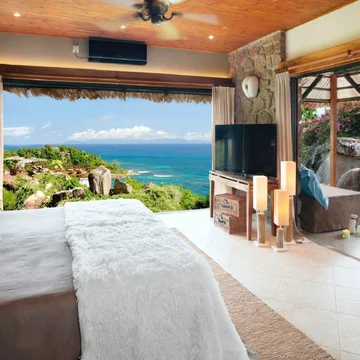 Le Château De Feuilles
It's hard to resist the charming Le Château De Feuilles. The resort is set amidst lush vegetation in Pointe Cabris is Praslin. Near the hotel is Vallee de Mai, the UNESCO World Heritage Site where five endemic palms grow including coco de mer.
Check Availability
The rooms have stone walls, honey-colored furniture, and palm-thatched roofs which create a chic ambiance. All rooms are furnished in a French style with soft furnishings, linen sheets, and rugs all in a neutral color palette. High-end travelers usually book the deluxe ocean suites as they offer the best views over the Indian Ocean. These suites are also excellent for business travelers as they have an office with a 20-inch iMac computer.
All guests staying at the resort have access to the island of Grande Soeur. There you can discover excellent snorkeling spots, a white sand beach, and barbeque facilities. Other activities at La Chateau include biking, trekking, and fishing.
At the on-site restaurant, guests can expect a buffet breakfast and four-course menus for lunch. The extensive lunch menu features specialties such as smoked swordfish salad, spaghetti with shrimps, fish curry with rice, and grilled beef fillet.
Guest rooms start at $660.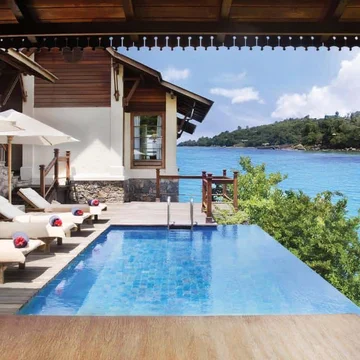 JA Enchanted Island Resort
Located on Round Island, JA Enchanted boasts a prime location within Sainte Anne National Marine Park. Long Island and Moyenne Island are close to the resort. The area around the hotel is brimming with palms, red flowers, mangos, and bananas.
Check Availability
This is a small resort with only 10 villas. Each villa is perched on stilts and is built in the traditional Creole style. Inside, you can expect spacious rooms with high ceilings, custom-made furniture, and soft furnishing. The floor-to-ceiling windows infuse the rooms with natural light, while the wood ceilings and delicate lightning create a romantic vibe. Bathrooms have equally stunning views as the rooms and you can take a shower while you marvel at the Indian Ocean. The best part? All units have their own private pool. Take a dip and order some drinks and small bites, the butler will be willing to assist you around the pool. What's more, all villas have direct access to secluded swimming coves.
If you do need to leave your comfy villa, you should definitely visit the wood-paneled library where you can read a book and enjoy some fresh drinks. Another relaxing spot includes the enticing spa offering more than 30 treatments in a soothing setting overlooking the ocean.
Guest rooms start at $600.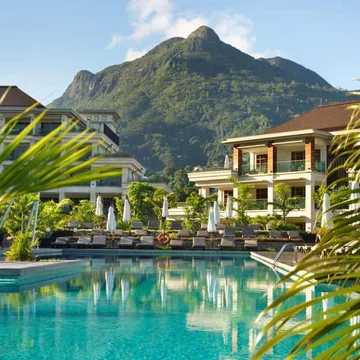 Savoy Seychelles Resort & Spa
Situated on the famed Beau Vallon Bay, Savoy Seychelles offers unforgettable moments on one of the most beautiful beaches in Seychelles. The resort is located in a vibrant area tucked with restaurants and shops. Don't miss to visit Gekko Bar where locals and international travelers mingle every night. Additionally, the city of Victoria is a 10-minute drive away.
Check Availability
Rooms are decorated with a neutral color palette and offer exceptional comfort with high-end amenities including flat TV screens, air-conditioning, in-room safes, free Wi-Fi, and coffee machines. Bathrooms are equally cozy with deep soaking tubs, rain showers, and luxurious toiletries. And if you crave some extra comfort, you can always book some of the suites which have furnished balconies with a jacuzzi overlooking the ocean.
The highlight is the infinity pool which is centered in the middle of the hotel. This is the biggest pool in Seychelles and it has a lovely pool area surrounded by palm trees. Take a dip and freshen up or enjoy some snacks at the bar – guests usually spend all their days here. With that being said, aside from the pool, you should definitely visit the lovely Beau Vallon Beach which is constantly listed as one of the best beaches in the world. For some luxurious pampering, book a treatment at the Savoy Spa appointed with treatment rooms, an indoor pool, a sauna, and a hammam. The menu features Ayurvedic and Swedish treatments available for both singles and couples.
Guest rooms start at $300.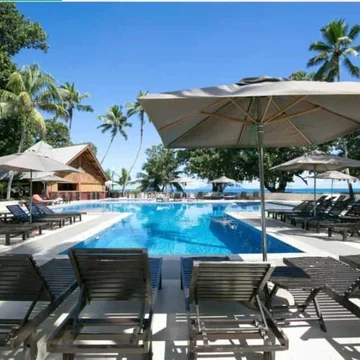 Berjaya Beau Vallon Bay Beach Resort and Casino
Berjaya Beau Vallon boasts an excellent location on the Beau Vallon Beach at Mahe. In the immediate area, there are some dining and shopping options, while Sunset Beach and North East Point Beach are a short drive away. Additionally, Victoria's city center is 10 minutes away.
Check Availability
The resort has a private beach where guests can relax on comfy sunbeds and cabanas. Most guests spend their time by the large pool overlooking the ocean. Here, the swim-up bar creates a lively ambiance and they are usually parties during the weekend. Guests can choose between rooms and suites which are appointed with high-end amenities. The bathrooms are cozy but small.
With its crystal clear waters and colorful reefs, Beau Vallon Bay is a popular spot for snorkelers and divers. That's why the hotel has an on-site PADI dive center where guests can take some snorkeling and diving classes. What's more, the hotel also offers equipment for sailing, water skiing, surfing, and fishing. Caribbean Poker and American Roulette Blackjack can be played at the lively Casino Bar which is always crowded.
Berjaya Beau Vallon has three on-site restaurants where guests can savor Chinese and Creole cuisine.
Guest rooms start at $300.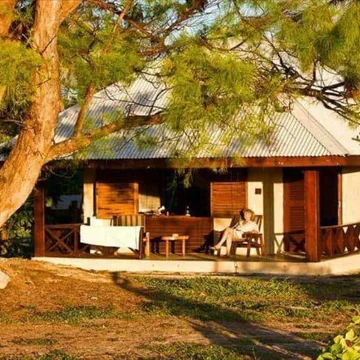 Bird Island
A truly exclusive location, Bird Island is the most remote island in the Seychelles archipelago, located 60 miles away from the island of Mahe. This tiny island has a diverse flora and fauna and numerous untouched spots where you can find moments of peace. This is a very tranquil area, usually visited by high-end travelers who want to retreat from today's busy world.
Check Availability
The lodge offers 24 detached chalets all scattered amidst lush tropical vegetarian. Every unit has its own balcony appointed with chairs and desks. The interiors are not luxurious, however, their rustic style blends ideally with the beautiful surroundings. Stretch out on your canopy bed or take a long refreshing bath in the cozy bathroom – the units at Bird Island are all about relaxing moments. There are no TVs here, the lodge invites guests to tune in the present moment and take in the beautiful vistas surrounding the island.
Bird Island offers numerous fun activities including excursions around the island, paddling around the island, snorkeling, kayaking, and fishing. Don't miss to book a tour for turtle spotting at Passe Coco. Or if you're lucky you may end up swimming together with some of the giant turtles that roam free around the island.
Guest rooms start at $420.
Find Luxury Hotels in Seychelles