10 Luxury Hotels in Koh Tao | Resorts for Idyllic Stays in Thailand
Nestled in the Gulf of Thailand, Koh Tao is a laid-back island that attracts countless visitors from across the globe. It is home to palm-fringed beaches, captivating coral reefs, and has a myriad of fascinating marine life to explore.
The island offers a tranquil environment that's perfect for an unwinding escape. If you're an adventure-seeker, there are plenty of outdoor activities on offer like scuba diving, snorkeling, rock climbing, and hiking.
Amongst the sandy shores and exciting activities, you'll find several opulent accommodations for a world-class experience. Whether you want to stay in one the most expensive hotels in Koh Tao or luxurious private villas with ocean views, there are plenty of options for a blissful vacation.
Let's take a look at the best Koh Tao, Thailand hotels for an unforgettable island experience.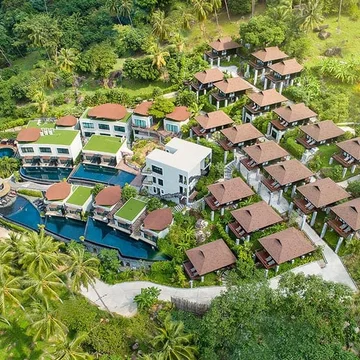 The Tarna Align Resort
If you're seeking a luxurious stay in a central location, the Tarna Align Resort is an excellent option. This luxury hotel is situated atop a lush hill above the famous Sairee Beach, and it's only a 5-minute drive to the glistening waters.
Check Availability
The Tarna Align Resort boasts a variety of airy rooms with natural light and breathtaking views of the sea, garden, or pool. Each stylish room is individually decorated and features amenities such as a flat-screen TV, balcony, and a spacious bathroom with comfy bathrobes and slippers.
If you opt for an upgraded room, you'll have comforts like a whirlpool tub and a private terrace. For a relaxing experience, enjoy a refreshing massage treatment or head to one of the three on-site restaurants for authentic Thai food, sushi, or a creative cocktail.
When you're ready for more adventure, the hotel offers diving lessons to discover the underwater world and colorful fish. The hotel also features a saltwater pool that's designed to train divers. Other fun activities on offer include snorkeling, cooking classes, bike rides, dinner on a boat, and island hopping.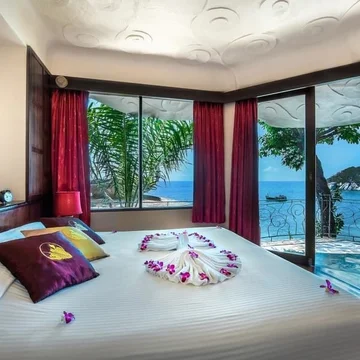 Jamahkiri Resort & Spa
Jamahkiri Resort and Spa offers deluxe accommodation with world-class services and picturesque ocean views. It is one of the best Koh Tao, Thailand, resorts for a relaxing trip on the south side of the island in Thian Og Bay.
Check Availability
The seaside hotel features several elegant rooms and unique pavilions with traditional Thai designs. The hotel rooms are equipped with comforts such as a minibar, private balcony, and some have a jacuzzi.
At this stunning Koh Tao resort, you can stroll around the lush tropical gardens or enjoy a cocktail at the relaxing outdoor pool. You'll also have access to a private beach and a PADI-certified diving center.
The hotel is home to a sumptuous spa with a steam room and air-conditioned treatment room where you can have an invigorating traditional Thai massage. The spa is a haven for relaxation with the peaceful water features and melodies of birds in the background.
To further awaken your senses, head to the Jamahkiri Restaurant for an exquisite culinary experience with fresh seafood dishes. There is also a cellar with a wide selection of wines from all around the world.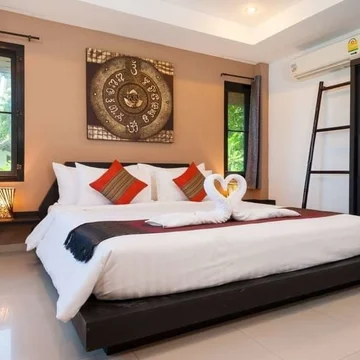 Koh Tao Heights Boutique Villas
Koh Tao Heights Boutique Villas is positioned amongst lush tropical gardens and coconut trees with stunning vistas of the Gulf of Thailand. There are many outdoor seating areas where you can admire the view, and Sairee Beach is only a 4-minute drive away.
Check Availability
Here you'll find beautiful boutique and pool villas, and if you're planning an extended stay, there are studio apartments to rent as well. The one-bedroom villa is ideal for couples heading on a romantic getaway, while the two-bedroom ones offer comfortable accommodation for those traveling with family or friends.
The tastefully decorated Thai-style rooms provide luxurious living space with scenic gardens, a private infinity pool, and some have a jacuzzi. This luxury hotel also offers travel assistance, taxi, and bike rental so you can easily explore Koh Tao island.
Other fun activities that can be arranged include snorkeling, island boat tours, diving, rock climbing, and Thai cooking classes. You'll also find plenty of local restaurants, bars, and shops near the premises.
Langkhai Garden
If you're looking for a peaceful escape away from the bustle of the center, Langkhai Garden is one of the best villa resorts Koh Tao has to offer. This eco-friendly luxury resort is surrounded by the glistening ocean and luxuriant jungle landscapes.
Check Availability
Each stylish villa boasts a private infinity swimming pool and a sea view terrace. You'll also have an airy living area, a fully furnished kitchen, and a Smart Tv with Netflix. Additionally, you'll be provided with a smartphone to contact the resort at any time.
For exhilarating island adventures, the concierge service can organize activities such as snorkeling trips, scuba diving, massages, and a private yoga class with stunning sea views. If you want to explore the scenic surroundings, bicycle rentals are also available.
Additionally, the resort offers transport to nearby points of interest. A few popular spots include Sai Daeng Beach, Shark Island, and Aow Leuk Beach.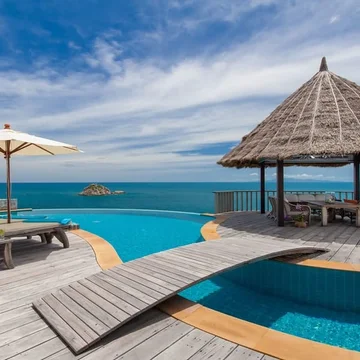 Villa Sabai Jai Koh Tao | Eagle, Gecco and Turtle Villa
Villa Sabai Jai offers a relaxing environment to unwind in Koh Tao. Here you can escape everyday life with a stay in one of the exclusive boutique pool villas. It's ideal for those traveling in groups as each villa features three to four bedrooms as well as en suite bathrooms, a seating area, and a kitchen.
Check Availability
The steps beside the villa will take you to the sparkling sea, where you can relax and discover dazzling marine life. There is also a glistening outdoor pool to take a dip and marvel at the views of the ocean and Shark Bay.
When it comes to dining, you can indulge in a delicious complimentary breakfast. There are also a few restaurants within walking distance, and food delivery can be arranged. On the other hand, staying at this luxurious self-catering accommodation is an excellent time to showcase your culinary skills.
Other enjoyable experiences on offer are spa treatments, rock climbing, kayaking, hiking, and exploring the island on a motorbike. If you're a fishing enthusiast, the luxury hotel provides free transport to and from Mae Haad Pier.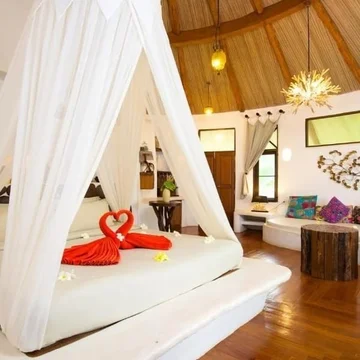 Koh Tao Cabana Resort
This beachside resort on Koh Tao island is perfect for those seeking a more intimate vacation with the white sandy shores of Sairee Beach just a short stroll away. Koh Tao Cabana Resort offers a number of suite villas, from secluded honeymoon cottage villas to deluxe treehouses.
Check Availability
The cottages are positioned amongst the lush tropical jungle, on the beachfront, or elevated with awe-inspiring ocean views. Each features modern décor, bamboo furnishings, and a semi-open bath area. Some villas include additional bedrooms and a private plunge pool.
Relax on the secluded wood deck or cozy up to a good book in the breezy seating area. You can also enjoy refreshing beauty and massage treatments at the Kajavari Spa.
After a relaxing spa experience, head to the Rim Lae Restaurant for mouth-watering Thai fusion dishes. The beachfront restaurant's menu features authentic Asian creations using fresh ingredients sourced from local markets and nearby islands.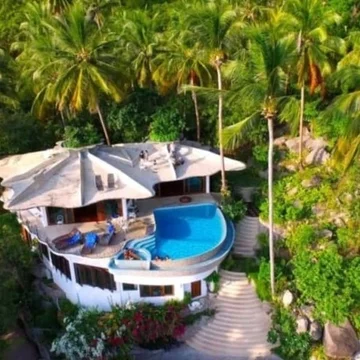 The villas are within walking distance of the sandy shores, and you'll have access to the 24-hour car and driver service. There are several room options that can accommodate up to eight individuals. If you're traveling with your furry companion, small pets are allowed upon request.
Each villa is equipped with superb amenities for a comfortable trip, including free Wi-Fi, air-conditioning, and flat-screen TVs. Some villas have private swimming pools for you to take a dip and admire the stunning views of the Gulf of Thailand.
You can also wander around the scenic garden or enjoy a relaxing massage. If you want to explore the island, you can arrange trips at the tour desk or rent a motorbike for some self-guided adventures. Popular points of interest near the property include Mango Bay, Mae Haad Bay, and Nangyuan Island.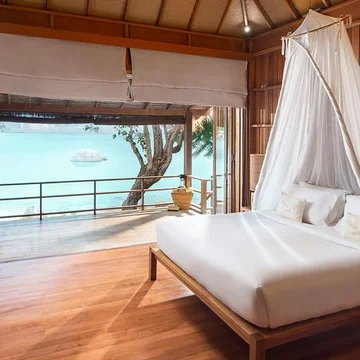 Haadtien Beach Resort
If you're looking to stay in one of the best luxury hotels in Thailand, the Haadtien Beach Resort is a superb option. This upscale resort is set on 18 hectares of lush land at Thian Og Bay.
Check Availability
There are seven types of villas on the premises, including world-class family villas with a private pool and intimate beach villas. The inviting villas boast eye-catching wood décor and luxurious amenities for a comfortable stay.
Some of the room amenities are free Wi-Fi, minibars, and terraces with picturesque jungle and beach views. If you opt for an upgraded villa, you'll have separate living areas, a private plunge pool, and outdoor daybeds to relax and soak up the sun.
For more unwinding experiences, the hotel offers a range of soothing treatments at Tien Spa. Other hotel services include diving lessons and three on-site swimming pools to cool down from the warm weather in Koh Tao.
Indulge in classic Italian dishes at a beachside bistro or sip on an innovative cocktail at The Beach Bar. You can also enjoy delectable meals made with fresh seafood and local ingredients at the in-Sea Bar and Grill.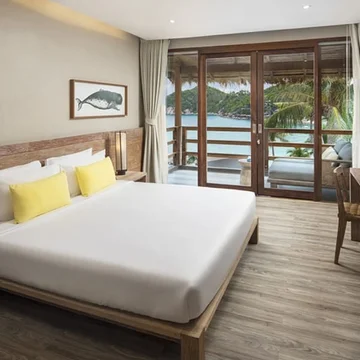 Beach Club by Haadtien
The Beach Club is an extension of one of the best resorts in Koh Tao. It offers beachfront accommodation with magnificent views of Shark Bay. Here you'll experience barefoot luxury with warm hospitality and exceptional services.
Check Availability
The modern rooms feature chic wooden décor and boast beautiful ocean views from the expansive windows. Some of the room amenities include flat-screen TVs, minifridges, furnished private balconies, and some have large soaking tubs.
The resort is an excellent pick for younger travelers or those who are young-at-heart. Relax on a sun lounger with a drink in hand or head to the spa for a pampering experience. There are also diving lessons and cruises available if you're looking to explore the underwater world.
The Beach Club shares the same dining options as Haadtien Beach Resort that will have your taste buds tingling during the trip.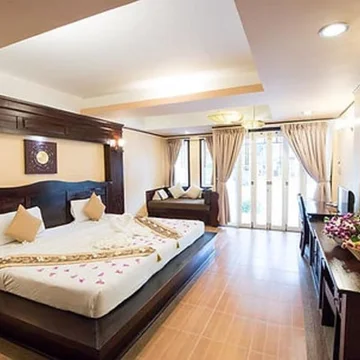 Montra Resort
If you're looking for family-friendly accommodation on the island, Montra Resort is a great option. This beachfront dive resort is located near Mae Haad Pier and offers plenty of thrilling experiences for travelers of all ages.
Check Availability
The stylish rooms feature cozy dark wood-carved decor and comforts such as flat-screen TVs, complimentary toiletries, and minibars. Upgraded suites have rainfall showers, large soaking tubs, and private balconies with stunning pool and ocean views.
The resort is renowned for the massive infinity pool, where kids can splash around while adults enjoy a drink or snack from the in-pool bar. There are three pool levels and a jacuzzi to relax and enjoy the sunshine.
You can also partake in Thai cooking classes to learn more about the cuisine and culture from friendly, experienced chefs. For more exquisite culinary experiences, head to the resort's beachfront restaurant and bar for fine cuisine with an elegant atmosphere.
If you're considering a destination wedding, the resort offers special packages for weddings and honeymoons so you can start the next chapter in a tropical paradise. There is also a fully equipped conference room that's ideal for meetings and seminars.
Relax at Luxurious Koh Tao Hotels
Now that we've looked at the best luxury hotels in Koh Tao, when will you be heading on your tropical island escape? Relax on deluxe daybeds while marveling at the spectacular views of the Gulf of Thailand.
All these luxurious resorts offer a splendid stay with world-class services and mesmerizing surroundings for a luxury all-inclusive experience in Thailand. If you're looking for more inspiration for your next vacation, check out this guide on luxury island resorts.
Find Luxury Hotels in Koh Tao