Best Luxury Hotels in Cornwall | 5-Star Places to Stay on Vacation
If you're looking for a luxury, all-inclusive place to stay on a trip to Cornwall, you've come to the right place. This post covers nine of the best luxury hotels in Cornwall for you to consider for your home away from home. These spots offer top-tier service, great location, breathtaking coastal views, and spacious rooms to ensure their guests enjoy the best of the best during their stay.
Cornwall is a hidden luxury hot spot and a wonderful place to spend your precious time away from work. Filled with world-renowned beaches and stunning rugged landscapes, this is the place to be on an English getaway. Read on to find the best place to stay in Cornwall for an unforgettable vacation on the coast.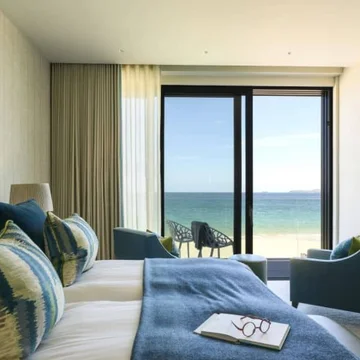 Carbis Bay Hotel & Estate
Carbis Bay Hotel & Estate is a magnificent coastal estate that exudes luxuriousness. Boasting a 25-acre private beach and exceptional facilities, staying at this hotel will be a dream come true for any vacationer. Guests have direct access to Carbis Bay Beach, one of the most beautiful beaches in the world.
Check Availability
Situated on the golden beach sand, you'll find the hotel's impeccable Beach Club & Spa, where you can get a relaxing massage, a facial, or an aromatherapy treatment. You can even get your hair and makeup done in the club salon. If you're not utterly relaxed from a day at the beach, head into the Beach Club & Spa for a seaweed wrap to help you rest and rejuvenate.
Carbis Bay Hotel has different accommodation options you can choose from, including studio, one-bedroom, and two-bedroom beach suites. These rooms offer spectacular ocean-facing views and elevators directly down to the sand! There are also larger, more secluded cottages in the nearby valley, just a short stroll away from the beach.
When you're not enjoying your fabulous hotel suite, head down to the award-winning Sands Restaurant in the hotel for delectable Cornish seafood. Guests rave about the dining experience here, and the cocktails at the bar are fantastic.
If you're in need of entertainment, Carbis Bay Hotel has got you covered. There are several stunning coastal trails you can explore in the hotel's surroundings. If you don't feel like leaving the hotel, however, you can find plenty of action in the grand hotel lounge where there's a beautiful bar and live entertainment in the evenings.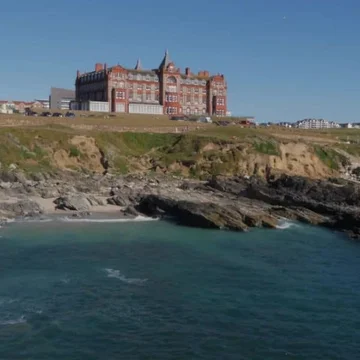 The Headland Hotel & Spa
The Headland Hotel & Spa is in a prime position, sitting atop a cliff overlooking Cornwall's gorgeous Fistral Beach. Boasting impeccable seaside views and even better service, you'll feel like royalty when you stay at The Headland.
Check Availability
This 5-star hotel has recently introduced its impressive million-dollar Aqua Club, a fantastic luxury spa and swimming center for guests. The spa boasts a roomy terrace overlooking the ocean, three indoor pools, and heated spas where you can relax and rejuvenate.
There's even a Meditteranean restaurant inside that offers exclusive fine dining for guests. If you walk into the club feeling stressed, you will surely walk out with a healthy dose of perspective and a stunning lack of knots in your shoulders.
There are three other restaurants in the hotel you can try out, and The Headland has been awarded a prestigious AA Rosette Award for its high-quality fine dining experiences. What could be better than enjoying a 5-star meal on a terrace that catches the sea breeze? And when the sun goes down over the water, you'll be glad you booked a room here for your vacation.
Besides its numerous high-quality facilities, The Headland also offers exceptional accommodations for guests. You'll be greeted by chic, modern rooms, classy finishings, and tasteful decor that exudes luxurious living. The staff will also assist you in finding anything and everything you need to enjoy the best possible experience.
Getting bored at The Headland is practically impossible, thanks to its fantastic location and wealth of activities on offer through the concierge service. You can take a 5-minute walk to the Newquay Golf Club, book surf lessons with the hotel, or go stand-up paddleboarding in the ocean. This 5-star hotel in Cornwall has it all.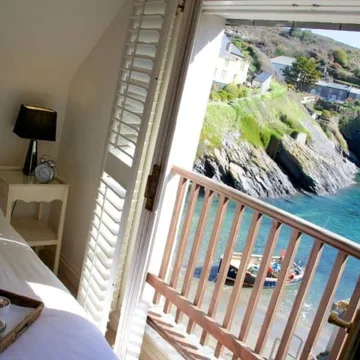 The Lugger Hotel – 'Bespoke Hotel'
When it comes to luxury hotels in Cornwall, The Lugger Hotel is undoubtedly one of the best, offering a fantastic blend of traditional Cornish charm and high-end vacationing. Housed in a 17th-century inn nestled in a picturesque valley, this hotel provides the ultimate escape in a quiet, relaxing location.
Check Availability
With only 24 en suite rooms on offer, you'll need to book early to secure your spot at this 5-star gem. There are also three private cottages you can book if you really want to spoil yourself and have the utmost privacy. The cottages are perched right on the water's edge, offering even more seclusion from the hubbub of routine life.
When you're not lounging around in your pristine hotel suite, you can explore the harbor nearby or the surrounding conservation area. You can't ask for a more peaceful place to take a morning stroll, thanks to the breathtaking cliffs and headlands in the hotel's elegant surroundings.
The Cornish Coastal Path is nearby, a famous walking trail that meanders through the lush and expansive moorlands. If you're headed to the coast to retreat to nature, this is definitely the place to do it. Portloe is one of the best places to stay in Cornwall.
The rugged landscape of The Lugger Hotel makes it one of the most idyllic places in Cornwall for a fabulous vacation, not to mention the sea air, which should do any guest a world of good. The hotel also has a gorgeous bar where you can sip on a cocktail by the fireplace.
If that isn't relaxing enough for you, you can book a treatment with the on-site masseuse to release all of your stress and tensions.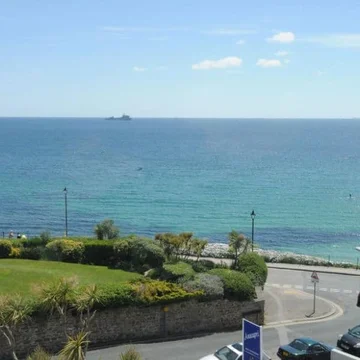 Hotel Anacapri
This posh bed and breakfast, and one of the best Cornwall hotels, overlooks Falmouth Bay and the Blue Flag beach of Gyllyngvase. If you're traveling with your significant other, this would be the perfect setting for a romantic getaway. Wake up to the sounds of the waves crashing and seagulls calling, and enjoy an intimate breakfast on the sun terrace. This hotel features panoramic views of the ocean that will astound you.
Check Availability
The hotel offers a range of delicious breakfast foods, with everything from fresh fruit to Full English breakfasts and more.
The deluxe ensuite rooms in Hotel Anacapri have everything you need for a comfortable stay, including king-sized beds to meet the highest of standards. The B&B is also home to one of the best bars in Falmouth. It was built way back in 1906 and still possesses some of its original foundations. After a long day of coastal walks and exploring the bay, you can cozy up with your partner and enjoy a delectable cocktail ala Anacapri.
One of the great things about this hotel is its proximity to Cornwall attractions. You'll be within a ten-minute walk of the stunning Pendennis Castle, an iconic Cornwall tourist attraction built by Henry VIII. This 16th-century artillery fort was used to defend Cornwall and played a vital role in the World Wars. Besides its rich history, this coastal castle is also breathtakingly beautiful.
You can climb the magnificent stone staircases all the way to the top of the castle, where you'll be greeted by panoramic views of Falmouth Bay. There's even a castle cafe where you can grab a bite after a full day of sightseeing.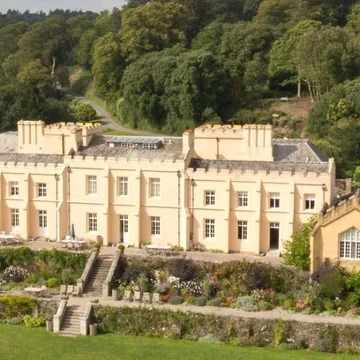 Pentillie Castle & Estate
Built in 1698, the stately Pentillie Castle is situated on a private estate overlooking the pretty River Tamar. Not unlike the fairytale castles of your childhood storybooks, Pentillie Castle is so impressive, you can even hire it out as a filming location.
Check Availability
Visitors also hire out the castle for corporate retreats, spiritual retreats, and destination weddings that fulfill the grandest of fantasies. The moorland hills roll endlessly in the surrounding woodlands, and the countryside setting will take your breath away no matter the occasion.
Of course, you can also have the castle all to yourself as a private vacation home. The spacious rooms are overwhelmingly luxurious, offering expansive views of beautifully landscaped gardens. Each room is individually decorated with country-house-style finishes that meet modern elegance. There is room in the castle for up to 50 guests!
You can enjoy a bubble bath in a clawfoot tub in your private suite, play billiards in the games room, or cozy up around the firepit. There's also a grand dining hall and drawing room with a roaring log fire, the perfect place to relax and catch up on your reading.
When you're not relaxing in your suite, head out to the massive swimming pool for a dip or roam the woodland gardens on the ground. You couldn't ask for a more magical location than the Pentillie Castle & Estate.
If the castle tickles your fancy, you might also be intrigued by the most expensive hotels in the world.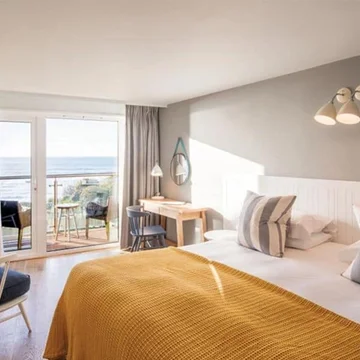 Watergate Bay Hotel
Escape to the coast at the decadent Watergate Bay Hotel in Newquay, one of the best hotels in Cornwall. You won't believe your eyes when you see the hotel's selection of suites, village apartments, and beach loft rooms. Enquire about the suites with balcony baths, where you can soak and unwind in front of a magnificent, sweeping ocean view. These suites also have walk-in rain showers and luxurious furnishings so that you can vacation in style.
Check Availability
The Watergate's village apartments are also superb, offering more space than the suites, plus your own kitchen and dining room. For the utmost luxury, try out the hotel's beach lofts. These apartments have floor-to-ceiling glass sliding doors that welcome the sunrise hues into your bedroom each morning. You'll fall in love with the sunset from your private balcony, too.
As fancy as the Watergate Bay rooms are, that's nothing compared to the hotel facilities. Watergate Bay Swim Club is the creme da la creme of hotel gyms, offering more of a wellness experience than a place to work out. The 25-meter infinity pool isn't just big; it's also bordered by floor-to-ceiling glass. If you find yourself here at sunset, the view from the water will knock your socks off.
Shockingly, we're not done yet. Watergate Bay just keeps on giving! The Swim Club also has its own cafe, an outdoor hot tub, Finnish spa, cardio room, and a lounge with an ocean view. And if all that isn't enough to relax you, you can join a self-reflective yoga session with one of the hotel's professional instructors.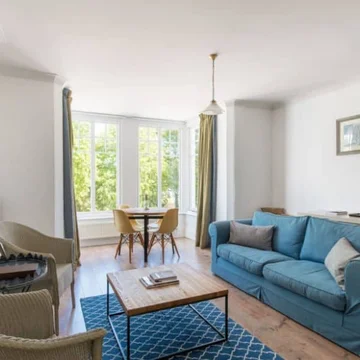 The Rosevine
Tucked away in the coastal village of Portscatho, The Rosevine is an elegant hotel with stunning rooms and an indoor swimming pool. Enquire about the suites with their own terrace, as these usually have French doors leading out to beautiful gardens.
Check Availability
You can also book a sea-facing family apartment if you're traveling with kids, or the hotel's Family House, a generous four-bedroom home with its own kitchen and living space. Singles and couples, don't worry. You can also enjoy the premium studio suites for something more intimate.
If you're traveling with kids, check out these kid-friendly luxury family resorts.
Dine in style at the Rosevine Restaurant, a gorgeous place for a candlelight dinner. You can order a divine three-course meal, and the staff is more than friendly and accommodating. They also serve afternoon tea at 2:30 pm, including a fabulous selection of foods served beside a wood-burning stove in the restaurant lounge.
When you're not indulging in a three-course meal or relaxing in your hotel suite, you can take a short walk down to the Porthcurnick beach, just a stone's throw away from the property. If you've never been to this beach before, you'll adore the sandy cove.
There are loads of coastal trails you can take from the shoreline, as well as a snack shack where you can buy delicious treats. Porthcurnick is also a relatively quiet beach, which is ideal if you're trying to relax on vacation.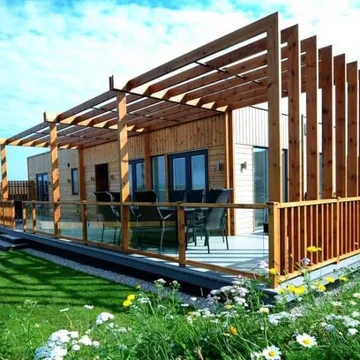 Landal Gwel an Mor Luxury Lodges
Landal Gwel an Mor is an award-winning, five-star resort dedicated to curating luxurious vacation experiences. Their facilities go above and beyond, including a well-being spa, nine-hole golf course, indoor pool, and wildlife center.
Check Availability
You can see cute creatures like rabbits, owls, deer, and badgers on a guided nature night walk or book a grassland safari on the resort's website.
Of course, you don't have to be an animal lover to enjoy this resort, as there is plenty to do as a guest. You can also use the tennis courts, book private archery lessons, or visit the peaceful Clover Lake at the top of the resort.
This lake is around 2-acres, where you can enjoy a spot of fishing for trench or try the many swimming areas. The lake is part of the resort, so there will be no crowds to contend with, and you can enjoy a peaceful getaway like no other.
After a full day of activities (or some treatments at the spa), head to Terrace Bar & Restaurant for a fantastic meal. Of course, it wouldn't be luxury without an extensive wine list, and Terrace has got you covered in that department. Offering wines from around the world in addition to Champagne and Prosecco, you're bound to enjoy your dining experience here.
The restaurant is also open for breakfast, lunch, and high tea for all the resort guests. If you're staying in a lodge, you can even get your five-star meals delivered to your door to enjoy amazing food in the comfort of your home away from home.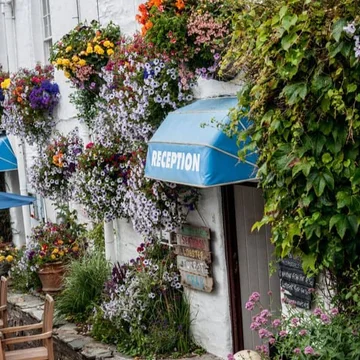 Port Isaac, North Cornwall
Port Gaverne Hotel
Nestled in a quiet cove on Cornwall's dramatic North Coast, Port Gaverne is another five-star, Rosette-rated hotel with charm to spare. Much of the stylish decor is inspired by the quaint fishing village vibe of Port Isaac, but everything is modernized, fresh, and clean-cut.
Check Availability
Boasting antique furniture and period features in gorgeous, modern rooms, the rooms at this luxury hotel are truly picturesque. Each room is individually decorated, giving it a unique boutique hotel feel you'll adore.
Previous guests rave about the incredible service at the Port Gaverne. So you rest assured you'll be greeted by warm, welcoming faces and top-tier accommodations during your stay.
In keeping with the traditional Cornish feel, you can enjoy a hearty Cornish breakfast every morning at the hotel restaurant. Guests can also snack on freshly baked bread and homemade petit-fours every morning. The hotel also runs a cafe just seconds away from the lobby called the Pilchards Cafe, where you can listen to live music and sip on Cornish craft beers.
If you're looking for things to keep you busy in the area, you can take a short drive to Tintagel Castle, another famous English fortress in Cornwall. Or, make your way down to Padstow Harbor to check out the boats docking at sunset. Of course, you can also walk down to Port Gaverne Beach, which is just steps away from the hotel lobby.
Port Gaverne Hotel has won numerous prestigious awards, including the almighty Michelin Plate Award and a Cornwall Tourism Award. This hotel specializes in seaside luxury, and you won't regret booking one of their superb rooms for a luxury break in Cornwall.
Still hungry for exquisite hotels to try this vacation? Why not expand your options with these luxury United Kingdom hotels.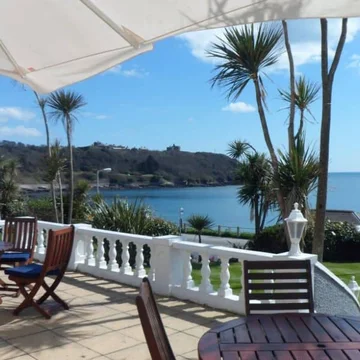 Royal Duchy Hotel
Positioned right on Falmouth's seafront stretch, you can enjoy spectacular sea views from your room at this luxury hotel. The sun rises and streams light in through the windows in the mornings, and you can even spot the Pendennis Castle across the bay. This luxury hotel offers truly Instagram-worthy views that will definitely leave your friends a little jealous.
Check Availability
You'll find all the amenities and facilities you could dream of at this Cornwall vacation spot. The Royal Duchy has a leisure center with an indoor heated pool for guests, perfect for a dip during wintertime. You can also give your muscles a well-deserved break on the heated ceramic beds and let your tensions melt away. Don't forget to try out the saunas and steam room to open up your pores and release some stress, too.
Head to the hotel restaurant for the ultimate fine dining experience at one of the best restaurants in Falmouth. The menu offers an array of traditional British dishes but with a modern, creative twist. The kitchen will whip you up a fabulous meal using local produce and ingredients, and the restaurant has a great atmosphere about it.
Light and airy, adorned with chandeliers, and grounded by excellent service from the staff, you can't go wrong with dinner here. Make sure to book a table on the sun terrace for a breathtaking view of Falmouth Bay to go along with your meal.
If you're looking for a killer cocktail, the restaurant's bar has got you covered. It also has an extensive wine list where you're sure to find something that suits your taste. You can kick back on the terrace lounge any time of day and order anything off the menu, including local Cornish wines, gins, beers, and ciders.
Find Luxury Hotels in Cornwall