Luxury Hotels in Wales | Best 5-Star Historical Gems & Castle Suites
While Wales is only a small country in the United Kingdom, it boasts a rich history and culture. The Welsh are known for their love of music, storytelling, and muddy rugby. When you visit Wales, you'll be able to explore the beautiful green countryside or take in some of the country's ancient ruins, like Maen Llia and King Arthur's Cave.
The sleepy country might be a wonder for nature lovers, but it also appeals to those with a taste for luxury. Spend your day wandering through medieval castles and discovering the natural beauty before returning home to a dreamy country manor or grand building.
With five-star spas, world-class restaurants, and breathtaking scenery, you'll have a hard time picking just one hotel. The Welsh's genuine hospitality is carried through each of these gems, so it won't be hard finding a magical spot that steals your heart.
Best Luxury Hotels in Wales
Coastal views of the Irish Sea, mountainscapes, and sweeping views of rolling green hills accompany your stay in Wales. From self-catering apartments to a contemporary art hotel with three dining rooms, this guide delves deep into the best hotels in Wales.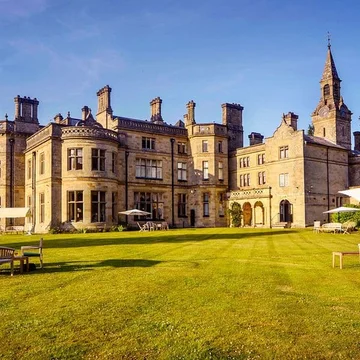 Palé Hall
Conjuring up images of Wales leaves little room for straying away from the idea of staying in an idyllic countryside manor. Part of its charm comes from the fact that Palé Hall is nestled deep within the land, far from city living, surrounded by lakes and the edge of Snowdonia National Park.
Check Availability
Each room has been individually styled to please all kinds of travelers, from light and airy suites to cozy rooms with Paisley décor. Keeping in line with the classic, olden-day Wales style, stained glass windows, striking artworks, antiques, luxurious chandeliers, and alluring fireplaces give the Palé Hall rich character.
Facilities and activities on the ground aren't meant to get the adrenaline pumping. Rather, they embrace the quietness and remoteness of the surroundings. Explore the immaculate gardens before discovering the nearby national park. Alternatively, snuggle up in the library with a classic or book yourself a day at the luxurious on-site spa.
You'll be in an utter relaxation mood here, which means that leaving the grounds is probably unlikely. Palé Hall has several restaurants led by a Michelin-Star chef; feast on canopies in the garden, enjoy tea time under the sun, or drool over their tasting meal near the fireplace.
On top of providing you with an experience that's close to a dream, you'll be delighted to know that Queen Victoria and Winston Churchill deemed this one of their favorites.
The rates at the Palé Hall start at £266 per night.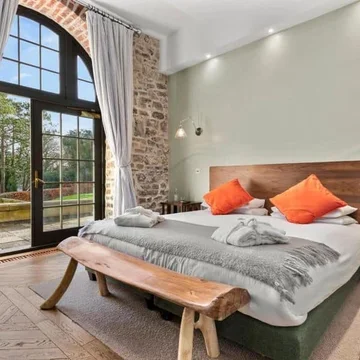 Slebech Park Estate
While being luxurious, Slebech Park Estates also honors the rustic charm that Wales is renowned for. Hidden away in the countryside, this manor sits beautifully amongst the trees, showing off romantic views of the winding Cleddau Ddu River.
Check Availability
Upon entering the 18th century estate, you'll feel as though you've stepped back in time. High ceilings, exposed wood, and arched windows give you the feeling of staying in a castle. As you venture around the grounds, the secret tunnels, hidden waterways, and church ruins become a playground for the adventurous.
Even though this estate remains true to its heritage, they haven't forgotten about providing their guests with luxury. Indian head massages, reiki, and spa treatments can be done from the comfort of your idyllic suite.
When it comes to booking a quaint castle-inspired bedroom, those with a more refined palette should reserve the 'Top Notch' room. Rain showers, a two-seater jacuzzi bath, and access to the fairytale garden are some of the perks. Just to add a touch of playfulness, the bath comes fitted with disco lights and a radio – perfect for anniversaries, honeymoons, or birthdays.
Double rooms for Slebech Park Estate start from £85 per night.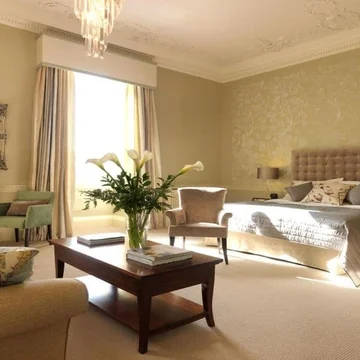 Plas Nanteos Mansion
Nanteos Mansion offers a romantic kind of seclusion in the dreamy Welsh countryside. The quintessential Georgian Mansion was built to impress, with grand staircases lit up by crystal chandeliers and floor-to-ceiling windows showing off the area's natural beauty.
Check Availability
In terms of your suite, it's worth splurging on luxury. Their 'King Suite' is everything and more and the perfect place to spend a loved-up weekend with your partner. The opulent suite features a glamorous, vintage design with a cozy ornamental fireplace to keep you two snug. Slip-on your fluffy robe and enjoy the creature comforts with a twist. A rain shower, spa bath, silk-lined wardrobes, and Egyptian cotton linens will make you feel like a Lord or a Lady.
Expect to fill your bellies with a full traditional Welsh breakfast each morning. As the day progresses, freshen up for some afternoon tea in the garden surrounded by decades-old trees and rolling fields of green. Come evening time, enjoy fine dining with local produce under a glowing chandelier. Before tucking in for the night, end off a day of treats with cocktails, quality whiskey, or aged wine at the Library Bar.
Entertainment is available for those who are craving relaxation. There are three looped walks on the grounds which trail alongside the lake. Reading rooms also make for a lazy day spent getting lost in a book. If an adventure is the way to your heart, plenty of activities are scattered around the coast and inland, such as museums, farms, delis, adrenaline-pumping activities, and sailing.
Idyllic rooms at the Nanteos Mansion start from £139 per night.