Luxury Hotels in Wales | Best 5-Star Historical Gems & Castle Suites
While Wales is only a small country in the United Kingdom, it boasts a rich history and culture. The Welsh are known for their love of music, storytelling, and muddy rugby. When you visit Wales, you'll be able to explore the beautiful green countryside or take in some of the country's ancient ruins, like Maen Llia and King Arthur's Cave.
The sleepy country might be a wonder for nature lovers, but it also appeals to those with a taste for luxury. Spend your day wandering through medieval castles and discovering the natural beauty before returning home to a dreamy country manor or grand building.
With five-star spas, world-class restaurants, and breathtaking scenery, you'll have a hard time picking just one hotel. The Welsh's genuine hospitality is carried through each of these gems, so it won't be hard finding a magical spot that steals your heart.
Best Luxury Hotels in Wales
Coastal views of the Irish Sea, mountainscapes, and sweeping views of rolling green hills accompany your stay in Wales. From self-catering apartments to a contemporary art hotel with three dining rooms, this guide delves deep into the best hotels in Wales.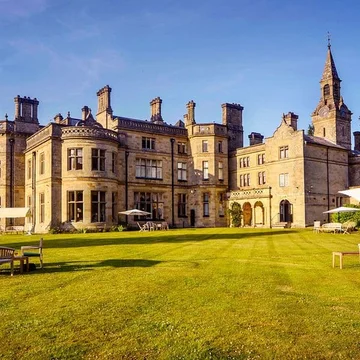 Palé Hall
Conjuring up images of Wales leaves little room for straying away from the idea of staying in an idyllic countryside manor. Part of its charm comes from the fact that Palé Hall is nestled deep within the land, far from city living, surrounded by lakes and the edge of Snowdonia National Park.
Check Availability
Each room has been individually styled to please all kinds of travelers, from light and airy suites to cozy rooms with Paisley décor. Keeping in line with the classic, olden-day Wales style, stained glass windows, striking artworks, antiques, luxurious chandeliers, and alluring fireplaces give the Palé Hall rich character.
Facilities and activities on the ground aren't meant to get the adrenaline pumping. Rather, they embrace the quietness and remoteness of the surroundings. Explore the immaculate gardens before discovering the nearby national park. Alternatively, snuggle up in the library with a classic or book yourself a day at the luxurious on-site spa.
You'll be in an utter relaxation mood here, which means that leaving the grounds is probably unlikely. Palé Hall has several restaurants led by a Michelin-Star chef; feast on canopies in the garden, enjoy tea time under the sun, or drool over their tasting meal near the fireplace.
On top of providing you with an experience that's close to a dream, you'll be delighted to know that Queen Victoria and Winston Churchill deemed this one of their favorites.
The rates at the Palé Hall start at £266 per night.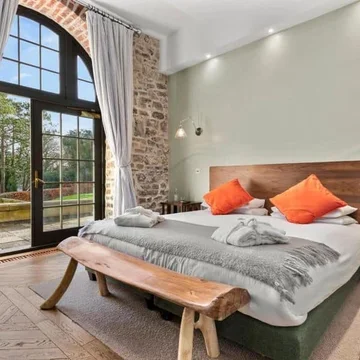 Slebech Park Estate
While being luxurious, Slebech Park Estates also honors the rustic charm that Wales is renowned for. Hidden away in the countryside, this manor sits beautifully amongst the trees, showing off romantic views of the winding Cleddau Ddu River.
Check Availability
Upon entering the 18th century estate, you'll feel as though you've stepped back in time. High ceilings, exposed wood, and arched windows give you the feeling of staying in a castle. As you venture around the grounds, the secret tunnels, hidden waterways, and church ruins become a playground for the adventurous.
Even though this estate remains true to its heritage, they haven't forgotten about providing their guests with luxury. Indian head massages, reiki, and spa treatments can be done from the comfort of your idyllic suite.
When it comes to booking a quaint castle-inspired bedroom, those with a more refined palette should reserve the 'Top Notch' room. Rain showers, a two-seater jacuzzi bath, and access to the fairytale garden are some of the perks. Just to add a touch of playfulness, the bath comes fitted with disco lights and a radio – perfect for anniversaries, honeymoons, or birthdays.
Double rooms for Slebech Park Estate start from £85 per night.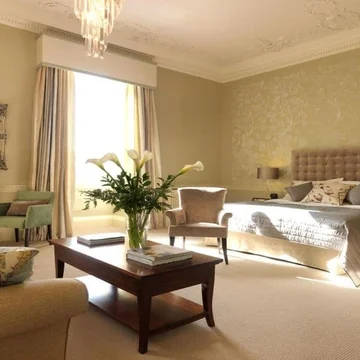 Plas Nanteos Mansion
Nanteos Mansion offers a romantic kind of seclusion in the dreamy Welsh countryside. The quintessential Georgian Mansion was built to impress, with grand staircases lit up by crystal chandeliers and floor-to-ceiling windows showing off the area's natural beauty.
Check Availability
In terms of your suite, it's worth splurging on luxury. Their 'King Suite' is everything and more and the perfect place to spend a loved-up weekend with your partner. The opulent suite features a glamorous, vintage design with a cozy ornamental fireplace to keep you two snug. Slip-on your fluffy robe and enjoy the creature comforts with a twist. A rain shower, spa bath, silk-lined wardrobes, and Egyptian cotton linens will make you feel like a Lord or a Lady.
Expect to fill your bellies with a full traditional Welsh breakfast each morning. As the day progresses, freshen up for some afternoon tea in the garden surrounded by decades-old trees and rolling fields of green. Come evening time, enjoy fine dining with local produce under a glowing chandelier. Before tucking in for the night, end off a day of treats with cocktails, quality whiskey, or aged wine at the Library Bar.
Entertainment is available for those who are craving relaxation. There are three looped walks on the grounds which trail alongside the lake. Reading rooms also make for a lazy day spent getting lost in a book. If an adventure is the way to your heart, plenty of activities are scattered around the coast and inland, such as museums, farms, delis, adrenaline-pumping activities, and sailing.
Idyllic rooms at the Nanteos Mansion start from £139 per night.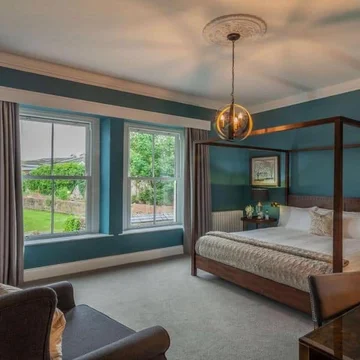 Mansion House Llansteffan
Spread across 5-acres of enchanting Wales countryside, you can't help but marvel at this Georgian mansion that overlooks Carmarthen Bay and rural Wales. It's also not too far from the seaside, making it a magical escape for ocean-lovers who can spend hours trailing along the sands.
Check Availability
Although the place looks like it carries a royal heir, this country house was once a simple farmstead. The past 20 years have allowed this hotel to be transformed into a gem for luxury travelers. On top of being a classy hotel, the grounds boast a top-class restaurant and an exceptional wedding area.
The Mansion House Llansteffan has eight rooms to choose from, each being extraordinarily unique and luxurious. The most exquisite rooms are the 'Superior Kings,' which feature a wonderful en-suite bathroom, locally made luxury bath products, flat-screen TVs, and rich, cotton fabrics.
If you're still looking for a luxury all-inclusive experience, but maybe something not as large, their 'Luxury Double Suites' are just as spectacular. They come fitted with tea and coffee facilities, soft bathrobes, and views of the immaculate gardens.
As mentioned earlier, the restaurant on the grounds is well worth visiting for all three meals. While dishes still feature that hearty Welsh goodness, they provide you with a gastronomical experience that isn't quite like typical 'hotel' food. The two-rosette chefs bless you with original dishes that have been beautifully prepared – local produce such as Welsh lamb and Carmarthen Bay seafood regularly features.
Rooms at the Mansion House Llansteffan start at £175 per night.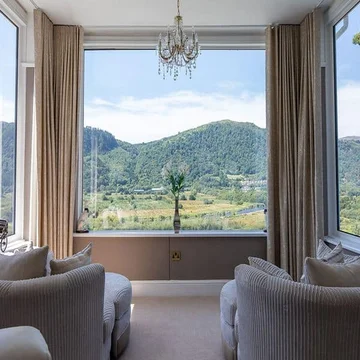 Plas Maenan Country House
The Plas Maenan Country House was built to evoke the exuberance and grandioseness of an era when Europe's noblest families ruled vast estates. The inside is magical, but when the sun is shining, nothing beats gazing across the tidal Conwy river and spotting Welsh sheep wandering through the meadows.
Check Availability
This luxurious country house hotel sits on 6 acres of woodlands, providing its guests with dreamy views of the woodlands and mountains. The exquisite views can be enjoyed on the spacious suite terraces, the on-site restaurant, or between wanders in the forested gardens.
The hotel caters to travelers of all kinds when it comes to accommodation, whether you're looking for a family suite, a luxurious mountain view room, or a French-style room that boasts a balcony with utter privacy.
All of the rooms have original and quirky features that give it a homely feel while still oozing with luxury. Deluxe king-sized beds, flat-screen TVs, walk-in showers, and separate sitting areas leave you feeling pampered and refreshed.
Plas Maenan Country House is situated perfectly for those seeking adventure. After indulging in breakfast on the glass terrace, you can venture to Snowdonia to embark on various hiking or cycling trails or explore the charming town of Conwy. The coastal town of Llandudno is excellent for soaking up the summer weather or snacking on the iconic Welsh fish and chips.
Luxury suites are available from £243 per night.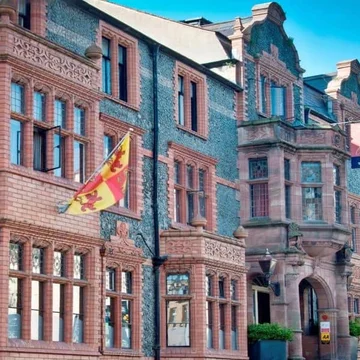 The Castle Hotel
In the heart of Conwy town, the Castle Hotel is a historical gem restored to keep its original framework and traditional aesthetic. With its roots dating back to the 19th century, this Georgian coaching house maintains an authentic atmosphere of Welsh culture with picturesque views over Conwy Bay.
Check Availability
All suites are individually decorated with period features, but staying in the 'Deluxe Historical Suite' is an absolute treat for those who want to feel like royalty. Regal bathrooms feature freestanding baths with premium toiletries, while a plush king-sized mattress nestled between a traditional four-poster bed is perfect for snuggling on chilly evenings.
It's not only the accommodation that attracts both locals and globetrotters – the hotel is also said to have one of the best restaurants in Wales. With local produce sourced from the surrounding farms and a variety of wines from across the world, a night here is the perfect end to a wonderful day exploring Conwy's historic district.
The rooms at the Castle Hotel average £195 per night.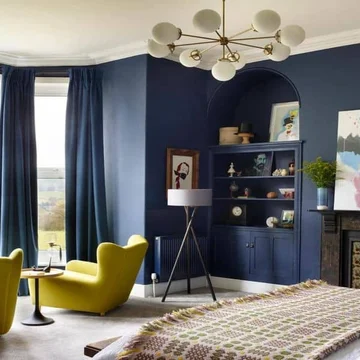 The Royston
The Royston is a 5-star hotel in Wales awarded the title of being the best hotel in the country in 2019 by The Times. Set amongst the pastures, the contemporary rooms have awe-inspiring views of the Cambrian Mountains and surrounding countryside.
Check Availability
Each enchanting suite has a unique character and style, and you'll notice the eclectic mix of the past alongside contemporary design. Artworks curated by local artists, original large fireplaces, one-of-a-kind vintage furniture, and beautifully restored wooden wardrobes add a touch of old charm. But it's the super-sized king memory foam mattresses, enormous windows with mountain views, and Egyptian cotton sheets that bring the feeling of leisure.
Enjoy gentle walks around this magical wooded setting that reveals fruit and vegetable patches and quaint greenhouses. All of the fresh produce features in the rustic yet delectable meals served at breakfast and dinner. You also have the option of requesting a packed lunch, which is ideal for exploration around the peaceful surroundings.
Close by is the small town of Llanbrynmair which has many amenities, including charming pubs with local beers, restaurants with fresh ingredients from nearby farms, and well-stocked shops for any shopper's needs. Outdoor activities include white water rafting on the River Wye or canoeing and kayaking down mountain streams.
You can expect to pay £240 per night in one of the superior suites.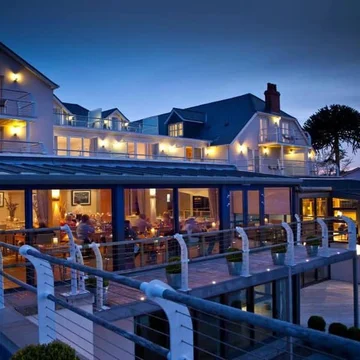 St Brides Hill, Saundersfoot
St Brides Bay Spa Hotel
St Brides Spa Hotel has something for everyone – historic surroundings and landscapes of rolling hills that wow families, lavish suites perfect for romantic honeymoons, as well as meeting rooms designed specifically to impress business professionals looking for a quality stay-cation.
Check Availability
Nestled on a cliff top overlooking the Pembrokeshire Coast National Park, the sweeping sea view can be enjoyed from the heated swimming pool or the magnificent spa. The spa facilities are all about embracing the seaside, with treatments encompassing marine sourced products. Sea salts exfoliate the body, while organic seaweed wraps stimulate the blood and lymph nodes. On top of the tranquil spa, the hotel boasts exceptional fitness facilities.
Rooms at St Brides Spa Hotel combine the classic features of a glamorous hotel with the quintessential touches of a seaside holiday home. When you're not marveling at the views, snuggle up in front of the flat screen with one of the films from their collection. You'll be kept cozy and comfortable with the luxury Hypnos mattress, spa toiletries, and robes and slippers.
Watch the sunrise from your ocean-view balcony in comfort before beginning your day with a fresh breakfast buffet in their award-winning restaurant that offers a seasonal menu. Depending on your preference, there is an array of dining spots to choose from. Whether that be fine dining in the restaurant overlooking the dramatic cliffs or cocktails on the terrace that peer over the ocean.
Their luxury suites with ocean views start from £370 per night.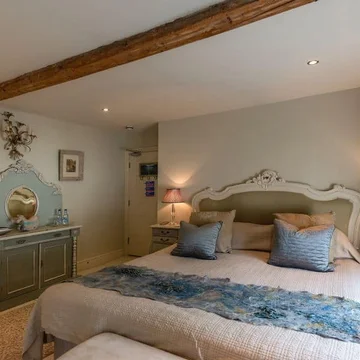 The New White Lion
The New White Lion is a luxury boutique hotel oozing with fairytale charm. Situated near the Brecon Beacons and the Cambrian Mountains within the dramatic countryside, this hideaway is designed to refresh and reinvigorate its guests.
Check Availability
From the moment you approach their front door, you can tell that this is no ordinary hotel. Once inside, unwind by taking in the stylish surroundings and feeling like royalty. Each of the rooms are inspired by Welsh folklore legends and characters.
There's no denying that it can get chilly up in the Welsh highlands, but keep in mind that this is why these luxury Wales hotels are so magical. An enormous fireplace is a perfect place to warm up with a bottle of quality wine. Back in your suite, luxury bathrobes and hot water bottles keep you snug and warm – they're also great companions for movie nights spent in front of the flat-screen TV. Keeping with the Welsh hospitality, warm drinks are awaiting your arrival.
When it comes to filling the itinerary, many places of interest surround the hotel. Venture to the Wales Botanical Garden to visit orchard houses and giant greenhouses, or explore the Dinefwr Castle perched on a hill overlooking the Tywi Valley.
Alternatively, stay on the grounds and join the hotel for afternoon tea – after all, it's something you can't miss if you're vacationing in the United Kingdom. Feast on traditional Welsh cakes cooked on a baked stone, enjoy freshly baked scones and of course, brew up a selection of blended loose leaf teas.
Bed and breakfast rates for the hotel start at £155 per night.
To Conclude the Best Luxury Hotels in Wales
Wales is a country that is known for its historical castles, pleasant coastal towns and alluring villages, green hills and sleepy sheep. But the country also offers a spectacular range of luxury hotels.
These top hotels in Wales offer an unforgettable experience with luxurious amenities and services that will make your stay a memorable one. Some of these hotels have been around for centuries and feature beautiful historic buildings that date back to medieval times but still add modern touches like flat-screen TVs, open fireplaces, and contemporary furnishings.
The hotels in this guide will also provide you with a taste of authentic Welsh culture and hospitality as you enjoy incredible food from local chefs during your trip. With absolutely breathtaking views, landscaped grounds, four-poster beds, and afternoon teas, Welsh hotels are all about providing you with a marvelous, luxury experience.
Find Luxury Hotels in Wales