Hawaii is always a good idea. With its perfect climate, numerous beaches, and scenic landscapes, this world-renowned destination lures travelers year-round. In Hawaii, guests can explore the delicious Hawaiian cuisine, mingle with the charming locals, and visit some of the most impressive volcanoes in the United States. Curious adventurers will have a whale of a time in Hawaii as the island is all about fun outdoor activities: surfing, snorkeling, kayaking, biking, paddling, hiking…you name it.
If you're ready to embrace the Aloha Spirit and embark on a big adventure, stay tuned! In this article, we've reviewed the best luxury hotels in the United States – Hawaii, so you can pack your bags as soon as possible.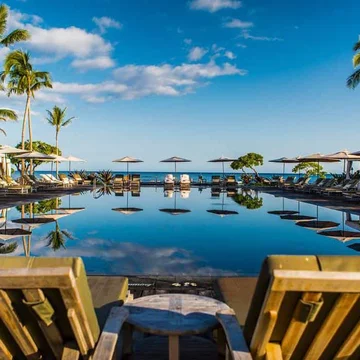 Kailua-Kona, Hawaii, United States
Four Seasons Resort Hualalai
The Four Seasons Resort in Hualalai is situated on the Kohala Coast in the northwest region of the Big Island (Island of Hawaii). At the Big Island, guests can enjoy the scenic landscape filled with active volcanoes, numerous beaches, and rainforests. The resort is 30 minutes away from Kailua Kona – an area filled with dining and shopping options, while Kona International Airport is a 15-minute drive away.
Check Availability
The rooms are airy, bright, and feature a mixture of local and contemporary design. Traditional accents include earth-toned fabrics, canopy headboards, and artworks from local artists. All rooms feature expansive balconies that give way to mesmerizing ocean views. The bathrooms are sleek with marble floors, deep soaking tubs, and separate showers, while lava rock showers are available in the oceanfront rooms. Amenities include flat TV screens, well-stocked minibars, in-room safes, dining table with chairs, bathrobes, and slippers. In-room dining is available 24/7.
Many state-of-art-facilities are available at Four Seasons Resort Hualalai – 25 meters lap pool, a lavish spa with a number of treatment rooms and a sauna, a spacious gym, and access to the PGA-designed golf course.
Dining-wise, Four Seasons Resort Hualalai is exceptional. Guests can enjoy Californian cuisine with an Italian twist at the Hawaiian beach house either on the sand or in an open-air dining room. Fresh sushi and exotic cocktails are served in the Ulu Sushi Lounge.
Prices for double rooms start at $845 a night.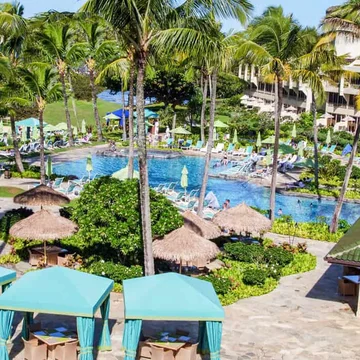 Kauai, Hawaii, United States
Princeville Resort
Princeville Resort is situated on Kaui's northern shore. Within a short distance of the hotel is Hanalei, an area filled with a number of dining and shopping options, while Anni Beach and the scenic Hanalei Lookout are only a 10-minute drive away. The resort allows guests to engage in a number of fun outdoor activities in the area including hiking at Na'Pali coast, surfing in Hanalei Bay, or kayaking in the Hanalei River.
Check Availability
Rooms at the resort are tastefully fashioned with an earthy color palette and traditional Hawaiian decor. Room features balconies and views of the ocean, the garden, and the mountains. Bathrooms are well-maintained and feature marble floors, tub combos, and glass showers. A good night's rest is guaranteed due to the king-size beds that feature comfortable mattresses and 300-thread-count linens. Amenities include flat TV screen, iPod docks, robes, slippers, and free Wi-Fi, and as it's with most luxury hotels in the world, butler service and turndown service are available upon request.
One striking feature of the Princeville Resort is the 24/7 infinity pool overlooking the ocean and the mountains. Here, guests can immerse in the lovely views while getting their swim on or laying on the comfortable sun loungers. Small plates and exotic cocktails are prepared by the Nalu Kai Grill & Bar. The resort is also the home of a small sandy beach where waters are particularly calm and ideal for snorkeling.
Villas cost $444 year-round.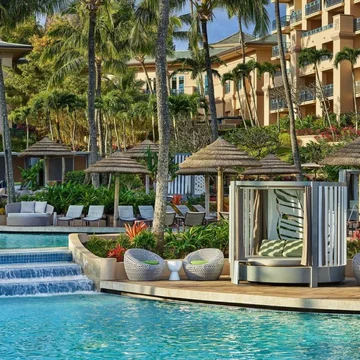 Maui, Hawaii, United States
Ritz Carlton Kapalua
The RItz-Carlton hotel brand is well-known for providing guests with world-class service and decadent amenities. At Kapalua, Ritz-Carlton seduces guests with one-of-a-kind island luxury that stretches across 22,000 ocean-view acres in the northern part of West Maui. The area is peaceful and guests can enjoy the scenic landscapes, the nearby golf course, and Hawaiian cultural sites. As it might be expected, there's an abundance of sandy beaches and excellent snorkeling options.
Check Availability
At Ritz Carlton Kapalua, guests can choose from 466 guestrooms, suites, and presidential suites all equipped with high-end amenities. All units are fashioned with tropical decor and feature hardwood floors, four-poster beds, and unique artworks from local artists. The ambiance is cozy and romantic; rooms are filled with natural light coming from the large windows. Sleek bathrooms feature oversized soaking tubs, rain showers, and luxurious toiletries.
The staff at the hotel is very welcoming, friendly, and happy to assist with anything you might need, or answer any inquiries regarding the city or the hotel. The lavish spa features a marvelous 24-hour outdoor pool, treatment rooms, and grotto whirlpools. Guests' favorite treatments are massages with Hawaiian herbal ingredients.
The Banyan Tree restaurant features tropical decor and a warm atmosphere. Here, guests are invited on a culinary journey provided by executive chef Isabelle Holan which brings a modern interpretation of Hawaiian cuisine and local products.
The price for a double room per night starts at $499.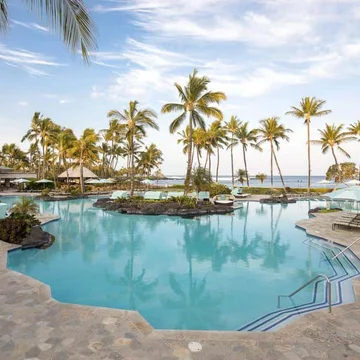 Puako, Kohala Coast, Island of Hawaii, United States
Fairmont Orchid
Fairmont Orchid is an island retreat situated on the Kohala Coast of the Big Island. The immediate area is peaceful with only a number of nearby resorts and the popular 36-hole golf course Frances H. Guests can explore some of the beaches near the resort including Mauna Kea Beach, Anaeho'omalu Beach, and the Hapuna Beach State Recreation Area.
Check Availability
The resort boasts 540 rooms all fashioned in a modern Hawaiian decor. The rooms and the suites feature a pastel color palette as the architecture of the hotel; styled with light brown carpeting and Hawaiin artworks, the rooms and suites are airy and bright; featuring private balconies with mesmerizing ocean views. Standard amenities include air-conditioning, flat TV screen, Keurig coffee makers, electric kettles, minibars, in-room safes, and free Wi-fi.
The hotel's award-winning Spa Without Walls invites guests to embark on a spiritual journey guided by a number of talented therapists. Guests can choose from eight private outdoor huts surrounded by waterfalls, six oceanfront cabanas, and three indoor treatment rooms.
The hotel provides guests with direct access to a private beach. Aside from that, Fairmont Beach also features a 10,000-square-foot oceanfront pool surrounded with elegant palm trees and rock gardens.
Prices start at $399 per night.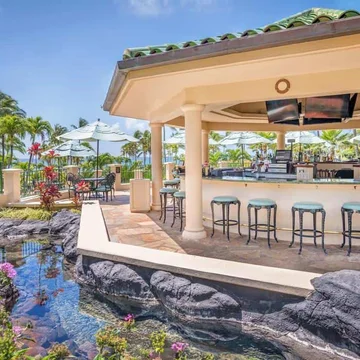 Poipu, Kauai, Hawaii, United States
Grand Hyatt Kauai Resort & Spa
Grand Hyatt Kauai Resort is situated in Poipu on the southern shores of Kauai. Poipu Beach is a 5-minute drive away, while the award-winning Poipu Bay Golf Course is reachable with a 10 minute car ride.
Check Availability
The hotel features spacious and bright rooms with modern Hawaiian decor. Colored in neutral tones with some orange, green, and blue accents, all rooms are tastefully fashioned with carved wood headboards and hardwood floors. In each room and suite you'll find a flat TV screen, iHome, coffeemaker, minifridge, and electric kettle. Balconies open to expansive and partial ocean views. Marble bathrooms are spotless with double sinks, large walk-in showers, and high-tech toilets.
Grand Hyatt features a saltwater lagoon, three large pools, and a lazy river with a waterslide. Moreover, there's an adult-only pool where couples can relax under shady cabanas. The nearby Captain's Bar provides small plates and delicious cocktails by the pool.
Fine dining is served under thatched-roof bungalows perched above a koi-filled lagoon – we can't think of a better way to experience the rich culinary traditions of Hawaii. The best way to start your morning is with some fresh pastries, yogurt, granola, fruit juice, tea, and coffee at the Seaview Terrace.
The rates per night start at $370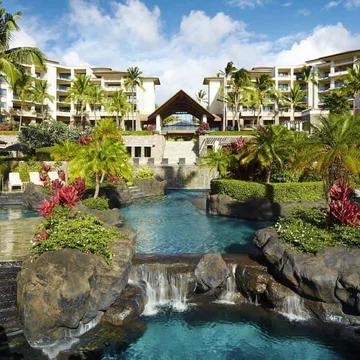 Lahaina, Maui, United States
Montage Kapalua Bay
Montage Kapalua Bay is situated on a 24 acres oceanfront property in the lovely Kapalua area of West Maui, just a few steps to the Kapalua Golf Club Bay Course. Kapalua Bay Beach is a short walk away, while the vibrant downtown area Lahaina is a 20-minute drive away.
Check Availability
The hotel's residential-style accommodations overlook tropical gardens or the Pacific Ocean. Each unit is equipped with a number of high-end amenities including a gourmet kitchen, three spacious bedrooms, and a living area. The Premier Ocean View Penthouse is the most luxurious accommodation in the hotel featuring 4 bedrooms, three private lanais, and a fully outfitted gourmet kitchen. Here, guests can enjoy some breathtaking views of the Pacific.
Guests will appreciate the nice touches each room offer such as a recipe book with some local Hawaiian dishes and bags of local coffee. Amenities include a flat TV screen, air-conditioning, iPod stereos, mini bar, and coffee making facilities. Bathrooms are spacious and feature deep soaking tubs, walk-in showers, and double vanities.
One striking feature of Montage Kapalua Bay is the impressive spa that stretches across 5 acres of lush tropical gardens divided with a beautiful stream. This wellness center features an outdoor infinity pool, hair salon, indoor and outdoor treatment rooms, barbershop, a spacious fitness center, and a yoga studio. Additionally, the resort features a cascading pool with waterfalls with levels that fall toward the sea. Overlooking the pool, Cane & Canoe serves Hawaiian cuisine in an extravagant interior inspired by a traditional Hawaiian canoe house.
The Bedroom Ocean View Residence with one-bedroom starts at $1,450.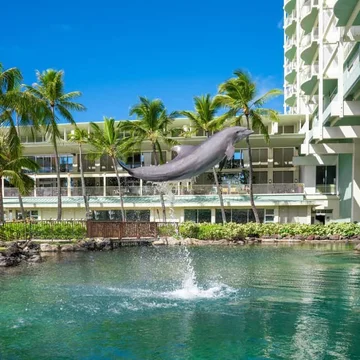 Honolulu, Oahu, United States
The Kahala Hotel & Resort
The Kahala Resort is located in one of the most exclusive and luxurious neighborhoods in Oahu – Kahala. The area is quiet and there aren't many properties nearby. The Hanauma Bay State Nature Preserve boasts a beautiful sandy beach that's a 20-minute drive away, while it takes a 25-minute drive to reach the Makapu'u Point Lighthouse Trail.
Check Availability
Guest rooms feature chic tropical decor and are colored in a cream palette with some blue, yellow, and green accents. The floor-to-ceiling windows infuse the rooms with natural light and give way to some beautiful lagoon or mountain views. Fashioned in soft linens, the king-size beds are comfortable and cozy. Sleek bathrooms feature marble sinks, deep soaking tubs, and glass showers, while amenities include air-conditioning, flat TV screen, luggage stands, robes, and slippers.
The Kahala Resort opens to a charming sandy beach dotted with colorful umbrellas and comfortable sun loungers. There's also an oceanfront pool surrounded with cabanas. One of the hotel's stand-out features is the Dolphin Quest. The hotel arranges swimming with Atlantic bottlenose dolphins in a protected part of the lagoon.
Buffet breakfast and seafood dinners are served at the Plumeria Beach House. If you're up for some Hawaiian and Mediterannean dishes, head over to Hoku's where executive Chef Eric Oto infuses time-honored specialties with Pacific ingredients in a sophisticated setting.
Single rooms with Juliet Balcony start at $450.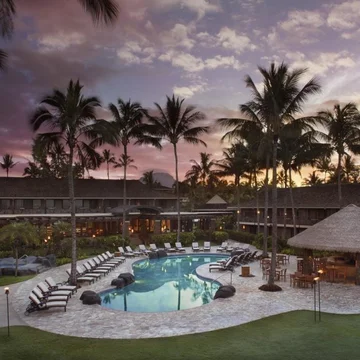 Poipu, Kauai, United States
Ko'a Kea Hotel & Resort
Ko'a Kea Hotel & Resort boasts an oceanfront location on the southern side of Kauai. During the wintertime, the beaches near the hotel have calmer waters so they are ideal for swimming and snorkeling, while in the summertime during higher tides they are better for surfing.
Check Availability
Even though the rooms are a bit smaller than those offered at other resorts in the area, they have a cozy and warm atmosphere. Delicate lighting, sculptures, ocean-themed artifacts, and unique artworks add to the romantic ambiance in the rooms. Amenities include a flat TV screen, air conditioning, Bose sound system, in-room safe, minibar, and free Wi-Fi.
The hotel's stand-out feature is the sandy beach where guests can participate in a number of outdoor activities including snorkeling, wakeboarding, and surfing. A charming pool lies right in front of the beach. Guests can take a dip in a hot tub pool or laze the day away on comfortable sun loungers. The tiki-style pool bar serves exotic cocktails and small bites all throughout the day.
The award-winning restaurant Red Salt invites guests to taste some Hawaiian dishes prepared with local ingredients. The Hawaiian inspired bites are prepared by the executive chef and Kauai native Noelani Planas.
Standard rooms with an ocean view start at $540.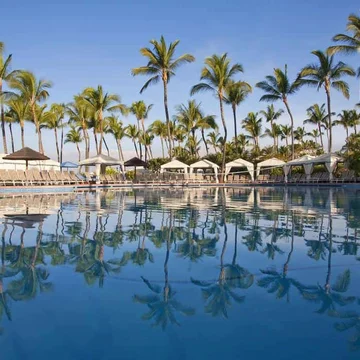 Maui, Hawaii, United States
Grand Wailea
Packed with numerous high-end amenities and offering world-class service, Grand Wailea is one of the most luxurious resorts in Maui. The hotel is situated in the exclusive resort community of Wailea where it's surrounded by a number of upscale hotels including Four Seasons Resort Maui at Wailea, Wailea-Beach Resort-Marriott, and Fairmont Kea Lani. This is one of the oldest resorts in Wailea, which is why it occupies a prime location on the gorgeous Wailea Beach.
Check Availability
At the resort, guests can pick between guest rooms, suites, and villas all featuring chic Hawaiian decor. All units at the resort feature expansive balconies equipped with cushioned teak furniture. Amenities include iPod docking stations, Nespresso machine, flat TV screen, air conditioning, and in-room safes.
The hotel's spa is a tonic with 40 treatment rooms, a Roman tub, saunas, cascading waterfalls, Swiss Jet showers, and Japanese furo. This award-winning spa has an extensive menu featuring healing treatments, massages, therapies, and facial and body care treatments.
The main draw here is the hotel's 25,700-square-foot pool. This is actually one large pool that consists of 9 smaller ones that span over six levels. This is a pool that wows with its immense scale and is most guests' favorite spot for an Instagram shot.
The dining options at Grand Wailea are as spectacular as the other amenities at the resort. Here, guests have the option to choose between four restaurants and two bars. The award-winning chef Alvin Savella prepares seasonal Polynesian and Hawaiian cuisine in an elegant setting overlooking the lagoon. Vegetarian menus are available at Bistro Molokini and an extensive a la carte breakfast can be enjoyed at the Grand Dining Room.
Rooms with garden views start at $947, while the rates for the rooms with ocean views start at $1050.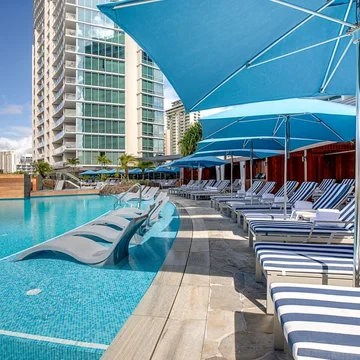 Waikiki Beach Honolulu, Oahu, Hawaii, United States
The Ritz-Carlton Residences
This luxurious hotel is located in the center of Honolulu's Waikiki area close to the vibrant Kalakaua Avenue Strip. Shopaholics will appreciate the nearby neighborhood Luxury Row where a number of high-end brands can be found including Chanel, Gucci, and Miu Miu. Guests can reach the beautiful Kahanamoku Beach with a 10-minute walk, while the Diamond Head Beach Park is a 10-minute drive away.
Check Availability
The Ritz-Carlton Residences provides guests with spacious apartment-style accommodation. You can choose between a standard room which can accommodate up to three people, suites, deluxe suites, and premier level suites. The rooms are sophisticated, elegant, and filled with natural light coming from the floor-to-ceiling windows. Every unit opens to a furnished balcony with views over the Pacific or the hotel's gardens. The cream and blue color palette create a Mediterranean atmosphere, while nice touches such as bedside lamps and throw cushions create a romantic ambiance.
Suites are equipped with high-end amenities including kitchens featuring microwaves, refrigerators, and two-burner stovetops. Amenities include Nespresso machine, electric kettle, flat-screen Smart TVs, free Wi-Fi, and safes also come standard, as do pull-out sofas and desks.
The Ritz-Carlton offers a myriad of facilities typical for a high-end hotel including a lavish spa with a number of treatment rooms, a 24/7 fitness center, and an outdoor infinity pool. The hotel's apartment-style residences are created for travelers who want to cook their own meals, however, the hotel also features on-site restaurants. Dean & DeLuca serves modern French cuisine, while at Sushi Sho the renowned chef Keiji Nakazawa creates dishes that combine seasoned rice with more than 40 kinds of fresh fish.
The Ocean View Room starts at $525.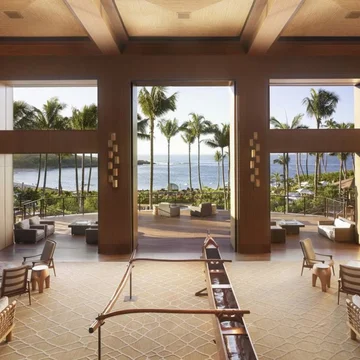 Lanai City, Lanai, Hawaii, United States
Four Seasons Resort Lanai
The Four Seasons Resort Lanai is situated on the island of Lanai on the northwest coast of Maui. Lanai is known for being the world's largest pineapple plantation. The area is peaceful and quiet, while dining and shopping options are available in the nearby Lanai City.
Check Availability
At Four Seasons Resort Lanai guests can choose from 213 guest rooms and suites. All units are fashioned with Hawaiian decor woven textures, rich wood tones, and subtle blue tones. Expect Honduran mahogany floors, Nepalese wallpapers, traditional rugs, and koa wood furniture.
Bathrooms feature a spa-like atmosphere with large soaking tubs, glass-enclosed shower stalls, double sinks, and handmade toiletries. High-end amenities include in-mirror televisions, Nespresso machines, iPads, flat TV screens, integrated lightning, temperature, and privacy controls.
As you might expect, Four Seasons Resort Lanai features a myriad of amenities including a private beach, nine restaurants and bars, an amazing golf course, and a kid's club. The resort also boasts a lavish spa with an extensive menu featuring ocean-inspired massages, facials, and beauty treatments. Guests will have plenty of opportunities to exercise at Four Seasons; three tennis courts are available, a spacious golf course designed by Jack Nicklaus, and a 24/7 fitness center featuring Matrix cardio and weight-training equipment.
Oceanfront rooms start at $1,470.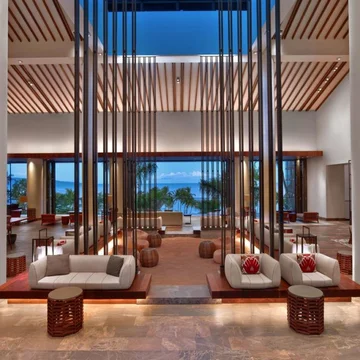 Wailea, Maui, Hawaii, United States
Andaz Maui At Wailea Resort
From the moment it opened its gates to guests in 2013, Andaz Maui immediately became a magnet for the well-heeled clientele. The resort is located in the heart of Wailea and there are a number of upscale dining and shopping in the immediate area including The Shops at Wailea.
Check Availability
Andaz Maui features 297 guest rooms all featuring elegant and minimalist decor. The rooms are quite modern and feature a subtle nautical color scheme with some gold accents. King-size beds are fashioned with soft linens and guarantee a good night's rest, while the wooden furniture, clean lines, and floor-to-ceiling windows add to the elegant and modern ambiance.
You can enjoy your own private tropical paradise in the oceanfront villas featuring three bedrooms, a gourmet Miele kitchen, four bathrooms, a Viking outdoor grill, and a private plunge pool. All units in the hotel open to a furnished balcony. Make sure you book a room with an ocean view. Amenities include a flat TV screen, minibar, air-conditioning, and in-room safes.
The hotel organizes guided hiking tours for guests who want to explore Maui's beautiful area. Lace-up your shoes and discover Maui's iconic coast and the lush rainforest in the eastern part of the island. Or, book a helicopter tour and experience Maui's amazing views from the air.
Standard rooms with partial ocean views start at $839.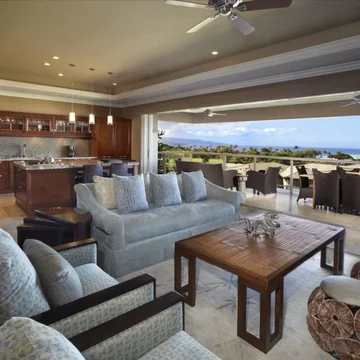 Wailea, Maui, Hawaii, United States
Ho'olei at Grand Wailea
Ho'olei is a luxurious resort situated in Wailea in the southern part of Maui. The hotel offers villa accommodation and is part of the Grand Wailea Resort. In the area, there are a number of upscale hotels including Four Seasons, Fairmont, and Wailea resort. Wailea Beach is a 10-minute walk away, while the Big Beach is a 20-minute drive away.
Check Availability
At Ho'olei, guests can stay in Hawaiin-style villas. Villas are spacious and resemble apartment-style lodgings with three bedrooms, two baths, and a kitchen. The Ho'olei villa is the most luxurious accommodation option featuring a private lanai ideal for watching sunsets. The lanai is equipped with a wooden desk, plush outdoor couches, and a grill area.
All rooms are decorated with a beige color palette and feature dark wooden furniture and island-inspired artwork. The marble bathrooms have deep soaking tubs, glass showers, and double sinks.
Guests staying at Ho'olei have direct access to Wailea Beach which is considered to be one of the best beaches in Maui. The resort also features a lagoon-style pool with two hot tubs, waterfalls, and caves. The pool area has a number of cushioned sun loungers and umbrellas as well as a massage cabana for spa treatments.
Villas start at $1,300.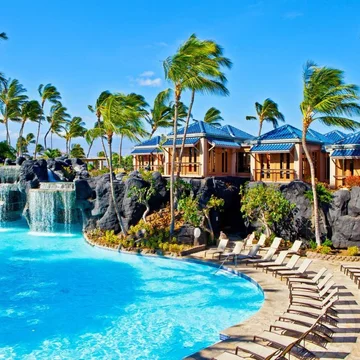 Hilton Waikoloa Village
Hilton Waikoloa Village is an oceanfront property located on the Kohala Coast in Hawaii. This is a mega-resort featuring numerous amenities including 8 restaurants, three large pools, museums, and a spa.
Check Availability
There's plenty to do at the resort, so you probably won't spend much time in your accommodation. That being said, Hilton Waikoloa Village offers luxurious rooms and suites equipped with everything you need including free Wi-fi, coffee makers, electric kettles, complimentary DVD rentals, slippers, and bathrobes. The decor is elegant with some island influences featuring local artworks, soft furnishings, and dark wood furniture. All units at the hotel open to private lanais where guests can relax on patio furniture.
Suites offer panoramic views of the ocean, garden, or mountains and come with a dining room, two separate bedrooms, and a living area.
The resort boasts two sparkling, oceanfront pools featuring a winding river, and a 175-foot twisting water slide. Adults can spend their days in the secluded adults-only pool area surrounded by shady cabanas and cushioned sun loungers.
KPC, the hotel's oceanfront restaurant, offers guests locally sourced cuisine and exotic cocktails. Don't miss to try some of the Hawaiian seafood specialties while you savor the spectacular sunsets. Quick and tasty snacks are served at the Lagoon grill overlooking the lagoon.
Standard rooms start at $250.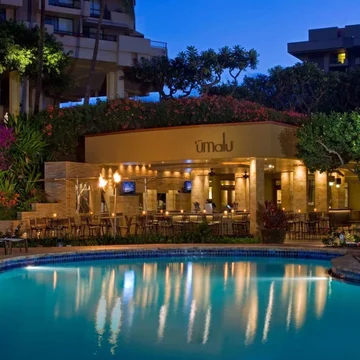 Maui, Hawaii, United States
Hyatt Regency Maui Resort and Spa
The Hyatt Regency boasts an oceanfront property on the Kaanapali Beach in western Maui. The area is filled with a number of space hotels, restaurants, and shops. Hyatt Regency prides itself on being an eco-friendly hotel and is the first hotel in Hawaii to achieve LEED status.
Check Availability
The hotel has 779 guest rooms and 31 suites spread across three towers. Rooms have views over the ocean, the West Maui Mountains, the golf course, and the hotel's lush gardens. Rooms are tastefully decorated with a neutral color palette and feature warm wood, island-inspired artworks, and soft furnishings. Oceanfront rooms feature a lanai with a glass balcony.
For some extra comfort, book the Deluxe Ocean Suite featuring a master king bedroom, separate living area with a full-size sofa sleeper, two bathrooms, a dining area wet bar, and multiple lanais with panoramic ocean views.
Guests at the hotel have the opportunity to experience authentic luau (traditional Hawaiian party) on Kaanapali beach. Exotic cocktails, beating drums, and Hawaiian dancers, Hyatt Regency has been voted for hosting the best Maui Luau. At Japengo, guests can explore some Asian dishes infused with island flavors. Here, talented chefs serve a menu of steaks and seafood on an outdoor patio overlooking the Pacific and the resort's waterfalls.
Double rooms start at $319.
Find Luxury Hotels in Hawaii