Luxury Hotels in Las Vegas | 5-Star Accommodation in Sin City
Las Vegas is renowned for its vibrant entertainment scene and is America's gambling capital. The lights in Sin City are never dim, and people are always winning big or losing big at the city's plethora of casinos.
However, you don't have to risk anything when it comes to choosing one of the best Las Vegas luxury hotels. Sin City has a myriad of deluxe hotels ready to welcome just about anyone with incredible service. After a night of gambling, partying, or going through with the infamous Vegas quickie marriages, you're guaranteed a great place to stay.
The following luxury hotels in Las Vegas offer the amenities you can expect at any hotel, and they have additional opulent offerings and facilities. Delicious cuisine, relaxing spas, crystal-clear pools, panoramic city views, and on-site casinos are just some of what awaits at these hotels. Without any further ado, let's dive into the list of the best hotels in Vegas for an opulent stay.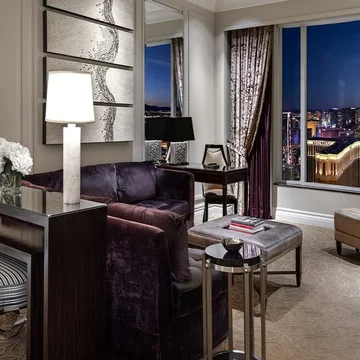 If you can't already tell from the name, the Venetian Resort takes inspiration from Italy and its city of Venice. One of the top hotels in Las Vegas, it boasts two staggering towers with over 7 000 suites, all exuding elegance.
The rooms here all take influence from Italy, with Roman shades, soaking tubs, and extravagant designs found in the bedrooms and living rooms. The bathrooms are extremely spacious and feature free products from Paiza.
Outside, you'll find over 30 restaurants and bars with a mouthwatering menu of Italian cuisine and other global delicacies, as well as a variety of drinks.
Afterward, you can either shed off those calories or enjoy a spa treatment at the Canyon Ranch Spa & Fitness center. And, of course, there's a casino you can visit if you think lady luck is on your side.
Guests can spend their days in or by one of three pools with luxe cabanas, with some sporting private plunge pools. Join in on a gondola ride through the Grand Canal for a true Venice experience, either shared with other travelers or taken in private. You can also shop up a storm at many well-known stores dotted around the hotel.
Read a more in-depth review of the Venetian Resort, which is often touted as the best resort in Las Vegas.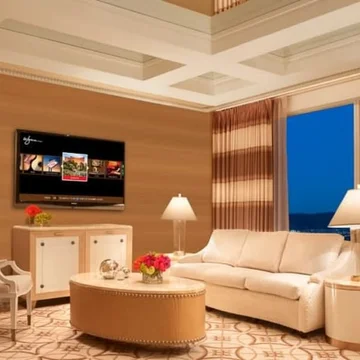 Las Vegas Strip, Las Vegas
Wynn Las Vegas
A calm atmosphere coupled with flora, waterfalls, and lagoons outside, and art adorning the walls is the essence of Wynn Las Vegas. The golden, curved, and sophisticated design of the luxurious hotel is just a preview of what awaits in its confines.
Check Availability
Rooms here feature incredible Las Vegas strip views enjoyed with floor-to-ceiling windows. The beds boast overstuffed pillows and a bedside control panel that allows you to practically do anything from turning on the flat-screen TV, closing the blinds, and ordering room service without leaving the comfort of your bed.
Wynn Las Vegas is the quintessential Vegas hotel, earning your presence thanks to offering all of what makes Sin City popular.
You get the city's shopping experience at The Wynn Esplanade and Wynn Plaza, with plenty of high-end stores lining the area. Then enjoy a gastronomic experience at one of the 15-plus restaurants serving American, Japanese, and Chinese fare. Afterward, you can dance away the night to playlists curated by some of the world's best DJs or take on the odds at the casino.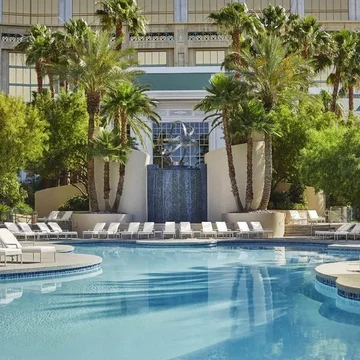 Las Vegas Strip, Las Vegas
The Four Seasons Hotels Las Vegas
The Four Seasons staple of hotels is globally renowned for superior services and incredible facilities. Their Vegas offering certainly lives up to this reputation and is one of the best luxury hotels in Las Vegas – thanks in part to a $30m renovation in 2012.
Check Availability
The non-gaming property offers a sense of serenity not found in many of the city's properties, making it the best hotel in Vegas for avoiding the typical hustle and bustle of Sin City. This is despite the fact that it's nestled inside the lively Mandalay Bay.
Choose from over 400 rooms and luxury suites which are an incredible blend of classic and modern hotels. Artwork is draped on the walls, and they boast mahogany finishes, and marble flooring gives the rooms a tranquil feel. Enjoy views of the raucous strip courtesy of the floor-to-ceiling windows or be entertained by a series or flick on a 55-inch flat-screen TV.
Further your quiet escape at the spa or by lounging by the peaceful pool surrounded by green trees. Choose from Italian and American cuisine at the on-site restaurants, where you can also satisfy your sweet cravings with various desserts.
While not the place to hear slot machines jingle, they aren't too far away, thanks to the property's convenient location.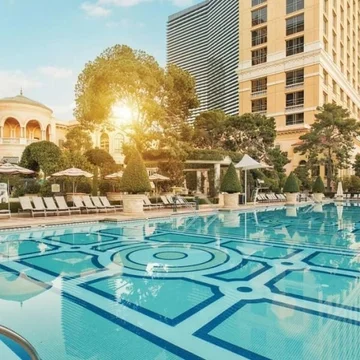 Bellagio Resort & Casino
The Bellagio is one of the best hotels in the Las Vegas Strip, thanks to its central Strip location and many incredible facilities. The MGM Resorts International property features over 3 900 rooms and is home to the famous dancing fountain.