Over the bright neon lights and many exceptional hotels lies a unique set of unrivaled luxury waiting to lace you in leisure. With some of the best 5-star hotels globally, Las Vegas holds the Royal Flush in the gamble on the best luxury suites around.
Whether cruising along the Las Vegas Strip or somewhere downtown, you're always a dice roll away from the best hotel suites in Vegas. Some of which are considered the most expensive hotels in the world.
Las Vegas is your ultimate playground if you're looking for exciting nightlife, never-ending live shows, or a taste of the most renowned gourmet restaurants and luxury hotels. Keep reading to learn more about the best in all-inclusive luxury suites at Sin City's finest hotels.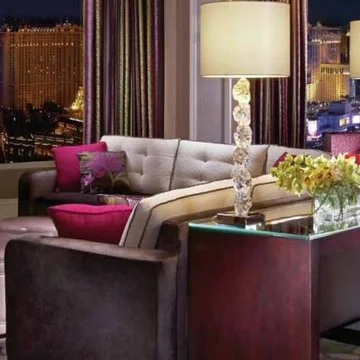 Bellagio's Grand Lakeview Suite
Out of the many hotels in this neck of the woods, the Bellagio is almost synonymous with luxury living and lavish suites. With the Bellagio fountains welcoming you at the grand entrance, you can imagine that there'll be some marble en-suites somewhere.
Check Availability
Welcome to the Grand Lakeview Suite, one of the suites in Las Vegas with just about every kind of amenity you can hope for from a 5-star luxury hotel. This opulent and elegant suite is a two-bedroom fitted with King beds and an advanced comfort quilt-top mattress for a brilliant night's sleep.
This suite also has separate living rooms and a dining room. Enjoy your favorite gourmet meal from one of their excellent restaurants before adjourning to the Italian marble whirlpool tub coupled with a powder room and steam showers. Catch a movie while soaking up the bubbles on the flat-screen television before saying goodnight, watching over the Bellagio fountains.
If you're especially fond of sustainability, rest easy knowing that all the beautiful furniture you see is made from Eucalyptus and organic materials. From the carpets to the double towel bar in the bathroom, the Bellagio has thought of just about everything.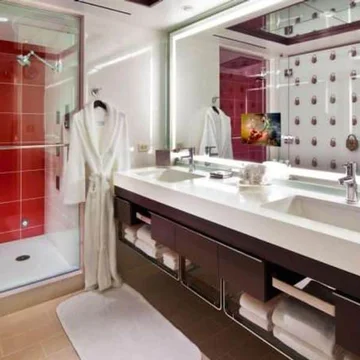 MGM Grand's Skyline Terrace Suite
If you're looking for penthouse suites in Las Vegas with ample living space, an outdoor furnished patio, wet bar, and Whirlpool Spa tub? You're in the right hands at the MGM Grand's Skyline terrace suite.
Check Availability
You've got a wrap-around terrace suite offering fantastic views of the Las Vegas strip and media room that may have you never wanting to get out of those gorgeous plush robes and slippers. With two levels, you'll find this spacious suite has space for four people around your dining table when you're in the mood to entertain.
Freshen up in the separate shower and get ready for a night of shining and dining at the l'Ateleri de Joel Robuchon or Nellie's Southern Kitchen restaurants before dancing at the Hakkasan nightclub. Luckily, you also have the opportunity to be entertained at the large casino and gaming floor. You can expect amazing live shows from names like the Jabbawockeez and Cirque du Soleil.
Since you're only ten minutes away from the McCarran International Airport, you could easily arrange a luxury airport transfer to hop between work and play. At the MGM Grand, neutral tones and mahogany accents envelop you into a calm, relaxing environment, where everything is about your absolute leisure and pleasure.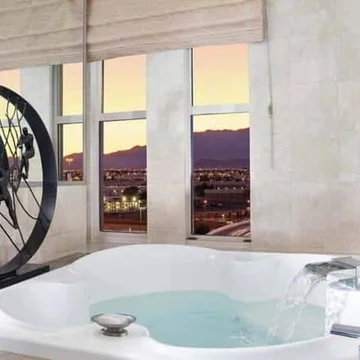 Once you're settled into your home away from home, enjoy the usual room amenities like a coffee maker, king-sized bed, and wet bar. You've also got en-suite bathrooms and a separate living room for private movie nights while the light streams in from the floor-to-ceiling windows.
Find yourself between the Desert Pines Golf Club for business meetings or the outdoor swimming pool and private cabanas for leisurely catching up on that novel. Step outside the hotel room and be wowed with the many entertainment options. Catch a drink at the Nine Fine Irishmen or scream it out on the 180° roller coaster, on-site.
Experience the bliss of New York in Nevada with the 150 ft. Statue of Liberty replica and explore the favorite attractions, like the friendly neighborhood Bar at Times Square. Head to High Limit Bar for unique cocktails or experience Coyote Ugly in the real-life saloon inspired by the movie itself.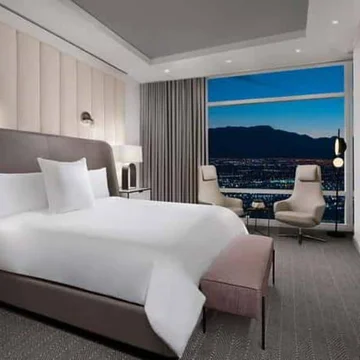 Aria Resort and Casino's Sky Suite Penthouse
Aria Sky Suites offers you the best of Sin City before leaving your suite. The Two bedrooms penthouse has floor-to-ceiling windows with views of the mountain. That view, coupled with the chic, stylish and sophisticated decor, makes this feel like the home you never knew you needed (in Vegas).
Check Availability
If you're looking for exclusivity, this is it. With a private pool, separate living room, and dining area out in the spacious communal lounge area. Or separate vanity and private water closet for each bedroom?
While the rooms and sky villas are all the privacy you can ask for, you may want to kick back with some fun and some of your favorite people. Work up a sweat in the fitness center, follow some of their personalized itineraries or just go with the flow and explore everything on offer at the Aria hotel.
With Aria Las Vegas penthouse suites, you're guaranteed luxury airport transportation, personal concierge, access to the private Sky Pool, and complimentary beverages and snacks in the Sky Suites lounge. You're privy to the first pick of just about anything at Aria. From the tee time at the Shadow Creek Golf Course to your preferred dining hours. You even get a private elevator.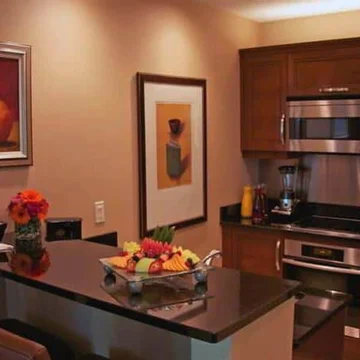 The Signature's Balcony Suite
Luxury suites are internationally known at the Signature hotel and are quite a prominent name surrounding the cream of the crop in the hospitality industry. They're pretty good at ensuring that your every need is catered to and that you won't have to lift a finger while you're there.
Check Availability
When you walk into your beautifully decorated, modern-style suite, you'll notice a dining table for homely dinners, a spacious living room for leisurely chills, and a full kitchen. The rooms also come with a Queen-sized sofa bed for afternoon (or after clubbing) naps.
In the bathrooms, you can enjoy the deluxe suite that has a deep soaking tub. There's also a guest bathroom to secure privacy from your visitors. You'll even have a bathroom T.V for added atmosphere while soaking your troubles away.
The hotel also offers lovely amenities like an outdoor pool, spa bath, and in-room massages. You can enjoy the Signature's lounge after a day of relaxation and enjoy some of the local nightlife afterward.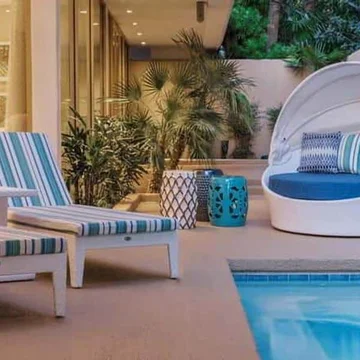 Make yourself at home with a private backyard that hosts a heated pool, chaise lounges, spa pool, and music system to add your unique vibe to the space. You can wake up to excellent Keurig-made coffee and enjoy it in the master bedroom or living area.
When you're ready, ask the butler to get you some breakfast. Be spoiled by the personal concierge service, 24-hour villa menu with private catering. And, the available on request bartender.
Although, leaving the room is just as delightful. Wander through Siegfried and Roy's Secret Garden and Dolphin Habitat with complimentary access. Enjoy some leisure time at the spa, or find yourself in stitches at the Aces of Comedy Club. You can book your favorite shows with top comedians like Amy Schumer, Ian White, Daniel Tosh, David Spade, and Ray Romano.
Treat yourself to a late dinner in your villa or experience the local delicacies, fresh from the kitchen at one of the many on-site restaurants. You'll be spoiled for choice between the Pantry, Osteria, Costa, and Tom Colicchio's Heritage Steak.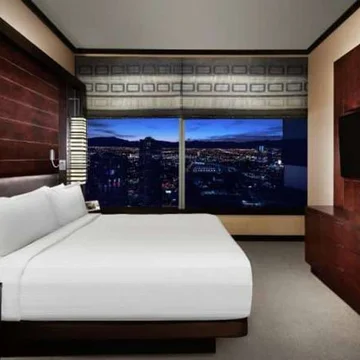 Vdara Hotel and Spa's Loft
Wake up to clear views of Las Vegas from all angles in this panoramic suite with two master bedrooms and a sunken living area below the stairs. These modern suites are another home away from home with a dining area and kitchenette.
Check Availability
The basic room amenities consist of luxurious linens to get knotted up when you head to bed with plush robes to keep you warm. The living space is open, spacious, and welcoming, with a touch of chic luxury in light greys and deep browns. With enough space for a guest powder room, you're always ready to entertain.
Spend the day sunbathing in the rooftop terrace pool or take a dip in the plunge pools. Sip your afternoon tea at the on-site cafe and get some fresh snacks to stash in your room. The Vdara hotel is a stone's throw away from Aria Las Vegas casino and resort.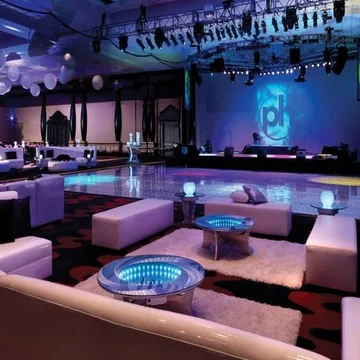 With over 1800-square-feet of space, you can enjoy things like clear north and south views of the Las Vegas strip and luxury dotted all around. From the modern decor to the finishing touches like a dining table, pool tables, and floor-to-ceiling windows that add a more refined look to the suite. and the more refined finishing touches like a dining table, pool table, floor-to-ceiling windows, and so much more.
These hotel suites are perfect for bachelor and bachelorette parties. You may want to ensure that you and the crew have successfully secured your complimentary limo service. Get the group together and prepare for a night (or five) of fun exploration of Sin City.
Check out the full-service spa and salon services, like a deep tissue massage and a reflections signature facial before painting the town red.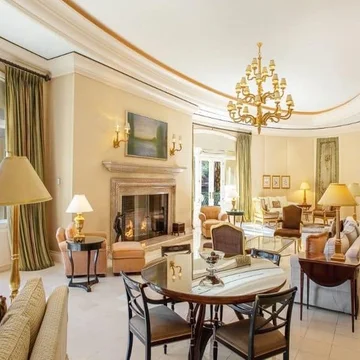 Rio Hotel and Casino's Palazzo Villa
This vibrant all-suite hotel has floor-to-ceiling windows and views of the Las Vegas Valley's neon glory. Here, you can expect some of the best in modern decor, with bright colors, warm tones, and amenities that will swoon you.
Check Availability
You can choose how many rooms you'd like, from the one to six-bedroom villas, as one of your preferred Las Vegas suites. Each bedroom has its private hot tub out on the balcony, making this feel like four en-suite bathrooms.
The room amenities and Bvlgari bath products in the powder rooms are just one leisure aspect. At the Palazzo Villa, you're also privy to a salon, private dining area equipped with a cozy fireplace for late-night entertaining.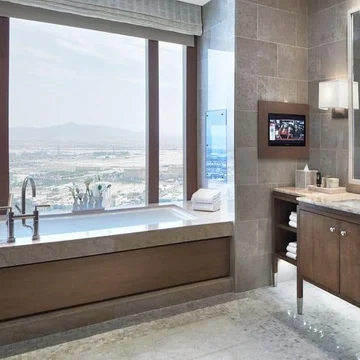 Alongside the luxurious Venetian in Las Vegas, the Palazzo Resort offers pools, spas, and excellent entertainment with hotel amenities. You can unwind in the full-service spa, with facial treatments and massages. Once you've destressed, enjoy the rooftop terrace pools while overlooking the Las Vegas strip and if you're feeling lucky, try your hand at the casino.
Whatever you're in the mood for, you are fully taken care of in this luxury establishment. Whether you're hoping to wine-and-dine your significant other at one of the 80-different restaurants or just keen to be around the upbeat atmosphere, there's something for everyone.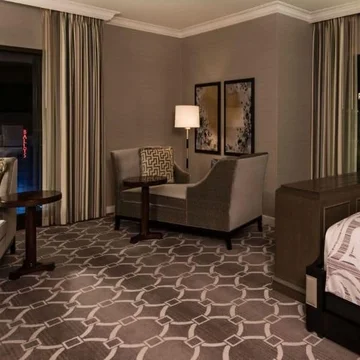 Caesars Palace's Augustus Premium Suite
Caesars Palace is one of Las Vegas's most famous hotels. At this luxury all-inclusive stay, you can lounge around one of the seven swimming pools, get your knots worked out at the upscale spa, or simply enjoy a day out at the shops. Caesars Palace pulls out all stops when catering to their patrons.
Check Availability
The biggest drawcard is the multitude of celebrity-owned restaurants like Gordon Ramsay's Pub and Grill, Hell's Kitchen, Mr.Chow, and so much more. If you're looking for something to get your night started, there are endless possibilities as far as bars and nightclubs are concerned.
Catch your favorite hits at the Omnia nightclub or try specialty cocktails out on Cleopatra's Barge and float around. With so many beautiful suites to choose from, you could find yourself at one of the two-bedroom suites or kick it in your villa; each one is designed to guarantee infinite luxury. The most presidential suite of all suites is the Augustus Premium Suite.
As one of the best Las Vegas suites around, walk into a room with bright white linens dark mahogany browns intertwined with lighter shades that welcome you to your premium stay of lavish luxury.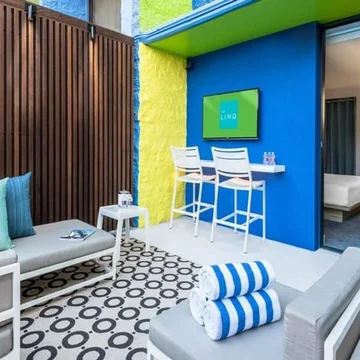 The LINQ's Deluxe Poolside Cabana
Out of all the penthouse suites Las Vegas offers, very few have the playfulness seen at The LINQ. Here, you're guaranteed access to the LINQ promenade and entertainment centers. You're also in close quarters to the High Roller and Ferris Wheel.
Check Availability
But, the main attraction may be the wonderfully decorated, colorful, and spacious Poolside Cabana. Lather yourself in some Gilchrest and Soames bath products, enjoy the rain shower and walk out into a room with white cotton twill sheets.
You can also expect lightwood laminate flooring to warm up the area with modern decor. You're privy to a pool right outside your door at this gorgeous boutique hotel. Catch a couple of drinks outside the wet bar or enjoy a few spa treatments, like a Swedish massage or aromatherapy.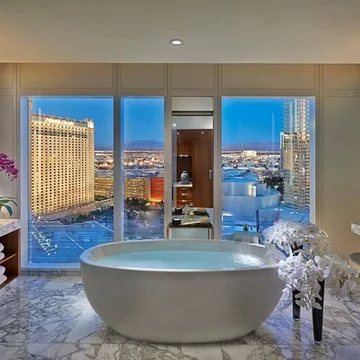 When you walk in, you'll see an oversized master bedroom with glass and Italian marble to bring some regality to the suite. At Waldorf Astoria Las Vegas, you've got a private dinings area, a personal bar, and a pantry to ensure that you're comfortable in your home away from home.
You're also given a Tranquility Spa passport that allows you complimentary access to the spa for anything you'd like off the menu by booking this suite. Allow the hardwood suite to add warmth to your day with bright pops of color, beautiful chandeliers, and super soft linen.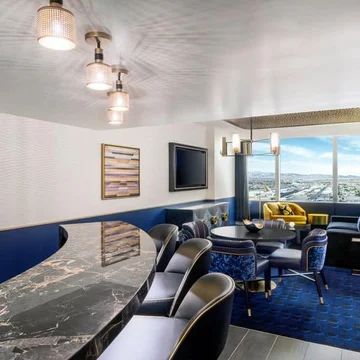 Circa Resort and Casino's Circa Suite
The Circa Resort offers some of the best vegas suites for a party, gathering, or simple besties night out. The fun and colorful hotel offers sports betting on things like swimming and football. Spend your night getting licky at the casino or dining at one of the 12 restaurants and bars on site.
Check Availability
When you choose your suite, you can decide whether you'd prefer a panoramic sunrise or sunset. Your views are equally as important here and make the suite more intriguing. You'll find bright colors lining the walls, unique art, and an "out-of-the-box" style all around this hotel. The suites offer clean lines to add a touch of elegance to the playful decor. While you're here, you can kick it back at the bar and watch your favorite team play or entertain guests around the dining table.
At this luxury suite in las vegas, you can enjoy the Balmain luxury products left to you and prepare yourself for a night out. You can always head out to the fitness center or pool for some extra added endorphins if you're spending the day in.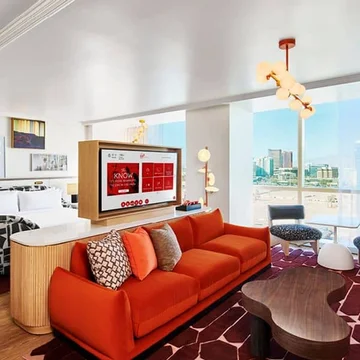 At Virgin Hotels Las Vegas, you're given an all-inclusive stay at one of the best 5-star hotels in Las Vegas. At the resort, you can spend some time with the best-in-class amenities at discounted rates and a couple of wonderful complimentary treats.
The Virgin Hotels Las Vegas Hilton Grand vacations suites like their Chamber Corner King offers an en suite bathroom, entrance through a private door to a walk-in closet, and full media set for cozy nights in or late mornings after a fun night out.
Treat yourself to custom products from Red Flower that you'll use while you clean up in the rain shower.
Final Say on the Best Suites in Las Vegas
On your quest to finding the best hotel suites in Vegas, you'll be in good hands with the luxury hotels in Las Vegas mentioned above.
Be sure to book them well in advance as the best suite in Vegas is usually quite an exclusive thing. Keep an eye out for whether you'd like butler service, private pools, a private entrance, or even an indoor garden to personalize your stay.
If you're a rewards member, you'll be in luck with any correspondence from the chosen hotel chain and privy to incredibly discounted prices. Also, feel free to upgrade at a luxury hotel with some of these rooms and save on some discounted prices.
From the Aria Sky Suites to the Waldorf Astoria Las Vegas, there are many excellent places to spend your time.