Vietnam, the land of incredible cuisine, sandy beaches, and rich history, also happens to be home to many incredible five-star hotels. Today we will discuss our top picks for luxury hotels in Vietnam, spread across Vietnam's islands, capital, and secluded villages. From Hanoi to Ho Chi Minh City, our list includes popular hotel chains, quirky places, and jaw-dropping beach resorts, giving you plenty of variety and options to choose from.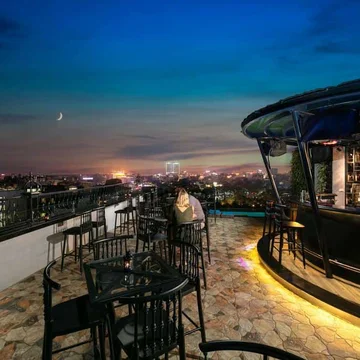 The Oriental Jade Hotel and Spa
The Oriental Jade Hotel, one of the most popular five-star luxury hotels in Vietnam, boasts a central location, a spectacular breakfast buffet, and spacious guest rooms that come with every commodity you can think of.
Check Availability
Located near St. Joseph Cathedral and the Hanoi Opera House, the hotel allows you to explore all the must-see places in Hanoi, as well as the top-rated restaurants in the area. The Thang Long Water Puppet Theater is a five-minute walk away from the hotel, where you can book a fun show and learn all about the local culture.
The service at The Oriental Jade Hotel and Spa is excellent, and their staff is always willing to answer any inquiry and help you with any problem that might arise. Each of the 120 premium guest rooms is air-conditioned and comes with plenty of amenities like a flat-screen TV, complimentary Wi-Fi, a minibar, and a hairdryer. The views vary from room to room, but stunning scenery of the city's main attractions is guaranteed regardless of what room you book. The décor combines ligneous furnishings with pristine white details and linen, resulting in a grandiose yet warm and inviting atmosphere.
The hotel's trendy rooftop bar Sixteen Skybar is one of its most popular features. Here, guests get to enjoy a panoramic view of Hoan Kiem Lake and the Hanoi Old Quarter and an appealing drinks menu brimming with refined wine brands, classic cocktails, and light snacks. The Coffee Lounge, with its boho ambiance and eye-catching furniture choices, is another well-loved on-site spot for warm drinks and spirits. You'll also be glad to know that both a continental and buffet breakfast is available to guests every morning.
Dining-wise, Thang Long Signature Restaurant offers gastronomic delights unlike any other in the area. It's a go-to place for traditional Vietnamese cuisine for both locals and guests. Apart from its dining spots, guests also have access to an outdoor swimming pool and an elegant spa.
The rooms at The Oriental Jade Hotel and Spa start at $70.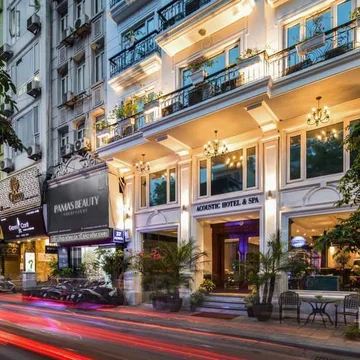 Acoustic Hotel and Spa
Sophisticated and stylish, Acoustic Hotel and Spa is the ideal choice for tourists who love staying in close proximity to the main shopping areas in the city. The hotel is located near St. Joseph Cathedral and the Trang Tien Plaza – one of the most popular shopping malls in Vietnam's capital, with luxury shops like Dior, Burberry, Cartier, and Louis Vuitton. Bike rental is provided by the hotel in case you prefer to discover new cities while cycling. Alternatively, you can make use of the hotel's convenient car hire service.
Check Availability
The rooms and suites at Acoustic Hotel and Spa are suitable for families, couples, and solo travelers alike. Chic in nature, they come with a balcony, a sizable bed with a plush bed frame, gorgeous paintings and artwork, a flat-screen TV, and a desk area. The color palette relies on an elegant black and white combination, while some suites feature a bright red wall. The bathrooms follow the same color palette and are quite spacious, offering a separate bath and shower areas and large, well-lit mirrors.
Guests have access to a well-equipped fitness center and the Indigo Spa – a relaxing oasis with a long menu of treatments and massages. Its namesake – Indigo Restaurant, offers a combination of local and western cuisine that's bound to satisfy even the pickiest of guests. Acoustic Hotel and Spa's Eclipse Sky Bar is a local attraction in and of itself; it's widely regarded as the best place to enjoy a Hanoi sunset along with a delicious spirit or cocktail.
The rates at Acoustic Hotel and Spa start at $50 a night during low season.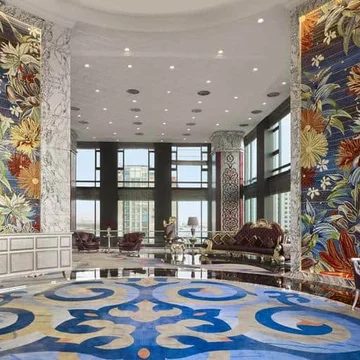 Ho Chi Minh City, Vietnam
The Reverie Saigon
The Reverie Saigon oozes opulence and glamor the minute you enter the hotel's premises. High ceilings, expensive and distinguished artwork that graces the walls, and an enormous golden Monumental Clock that adds to the glitzy interior of the reception – The Reverie Saigon is the place to be if you aren't a fan of understated hotel décor.
Check Availability
The rooms and suites are every bit as extraordinary as the common hotel areas – the floor-to-ceiling windows reveal a magnificent view of the Ho Chi Minh City and allow the natural light to bring out the crystals found in many meticulously placed details. The color scheme varies, giving you the option to choose your favorite color combinations. The king-sized beds are comfortable, large, and stylish, perfect after a long day of exploring, while the bathrooms have deep tubs, rain showers, and complimentary Chopard toiletries.
The Reverie Saigon is located at the center of District One, near the Opera House and Union Square. Even though there are plenty of delicious restaurants to be found in the area (like Warda Shisha Lounge and Restaurant), the hotel's on-site The Royal Pavilion is one of the most popular dining spots in the city where you can enjoy Cantonese cuisine in a lavish environment. The Romeo and Juliet Restaurant offers authentic and scrumptious Italian dishes, with Italian décor and an inviting ambiance. Café Cardinal is where delicious breakfast is served, while during the evenings you can book a table and savor the French cuisine as well as an irresistible array of imported cheeses. The hotel also boasts a spa, sauna, and a fitness center.
The rates per night at The Reverie Saigon start at $300 a night.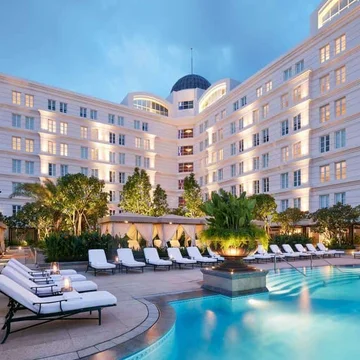 Ho Chi Minh City, Vietnam
Park Hyatt Saigon
You might have heard of the historic and fabulous Park Hyatt Saigon from the movie Good Morning, Vietnam. This grand building stands in the heart of Ho Chi Minh City, a popular area among tourists, overlooking Lam Son Square. When it comes to sightseeing, there are many tourist attractions to explore in the area, like the picturesque Notre Dame Cathedral, for example.
Check Availability
Park Hyatt Saigon's luxury Xuan Spa uses Mekong Delta essences to bring you the most replenishing and relaxing treatments, ideal for anyone who needs to de-stress. The on-site gym is equipped with Life Fitness machines and many modern amenities that will make working out fun and easy. Another option for working out is the hotel's large outdoor pool, where you can enjoy a refreshing cocktail on the lounge chairs post-swimming.
The hotel's signature restaurant, Square One, features both French and Vietnamese cuisine. If you prefer Italian dishes, visit Opera – the second on-site restaurant at Park Hyatt Saigon where a generous breakfast buffet is served daily. In case you ever crave a sugary treat or a French pastry, head over to The Pastry Boutique and prepare to be overwhelmed in a good way.
Choose from 245 rooms and 23 elegantly appointed suites. Decorated in a traditional French style with a mostly neutral color scheme, the accommodation options at Park Hyatt Saigon feature antiques, paintings, and even embroidery by local artists, which any aesthete will undoubtedly appreciate. The large French windows will give you access to the gorgeous views of the city. All rooms and suites come with a Nespresso machine, a flat-screen TV, and white marble bathrooms, while some of the suites come with a private balcony.
You can get a standard room at Park Hyatt Saigon from $300 per night.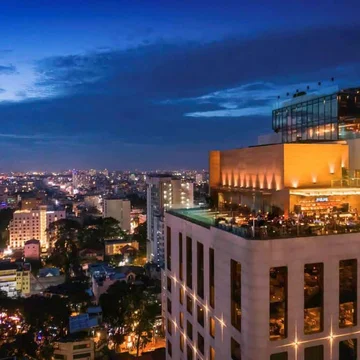 Ho Chi Minh City, Vietnam
Hotel des Arts Saigon
The location and the interior of Hotel des Arts Saigon is ideal for all art enthusiasts and tourists who appreciate a hotel with an endless list of services and facilities to offer. Some of the main tourist attractions in close proximity include the Notre Dame Church, the War Remnants Museum, and the Independence Palace. The famous Diamond Plaza, a luxury shopping center located a short walk away from the hotel, is filled with high-end brands and other activities to fill your time with.
Check Availability
Hotel des Arts Saigon's architecture is breathtaking, especially during nocturnal hours when the lively rooftop bar illuminates the first top half of the building. The rooms and suites are spacious and chic, exuding old-school glamor and featuring amazing views of the city thanks to the sizable windows located on each wall. You can expect to find many room amenities that will make your stay as comfortable and smooth as possible, such as air conditioning, a flat-screen TV, complimentary slippers and toiletries, a Nespresso machine, and large beds with silky soft linen. The private bathrooms are rather lavish, with a deep tub and a separate shower.
The award winning spa at Hotel des Arts Saigon combines techniques from various cultures, maximizing its soothing and transformative powers. There is an outdoor pool where you can get in your daily exercise, as well as various restaurants and bars. Most notably, the Social Club Rooftop Bar, with its panoramic views of Saigon's skyline and inviting rooftop pool, which also happens to be the largest one in the city. Its French Café des Beaux Arts is ideal for a light meal or a drink, and its art-filled surroundings will make you feel like you're on a movie set. Saigon Kitchen serves authentic Indochina and Western cuisine, including a generous buffet.
The cost of a single room per night at Hotel des Arts Saigon is around $100 during low season.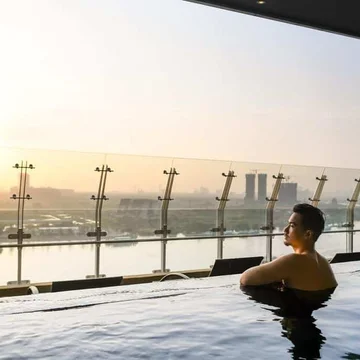 Ho Chi Minh City, Vietnam
Le Méridien Saigon
Situated along on the banks of the Saigon River, Le Méridien Saigon's location is a central one, adjacent to the city's business district. Many popular attractions and urban restaurants can be found in the area – for instance, the Opera House is a short walk away from the hotel, much like Parkson Plaza where you can shop high-end brands like Coach, Bobbi Brown, and Lacoste.
Check Availability
With 345 rooms and 27 suites to choose from, Le Méridien Saigon is one of the biggest and most established hotels in the area. All rooms and suites feature their signature beds and complimentary Malin + Goetz amenities. Perhaps the most charming aspect of Le Méridien Saigon is how appreciative they are of local artists and stunning artwork – every crevice of the hotel is filled with paintings that celebrate the city and its artists, which gives the hotel a pleasant, personal touch. The accommodations have a neutral color scheme and are quite minimalistic style-wise. The en-suite private bathrooms have floor-to-ceiling windows that reveal a view of the city and the river, as well as a separate shower area and large mirrors.
A well-equipped fitness center featuring Life Fitness equipment and views of the Saigon River is located on the premises, in addition to a 26-meter saltwater swimming pool. The soul-soothing hotel spa includes a wide range of treatments and massages, perfect for melting away the stress. If you ever feel like indulging in delicious Asian dishes, simply visit the on-site Bamboo Chic restaurant. Alternatively, Latest Recipe features a menu with many global cuisines on offer, served in a bright and airy space.
The rates at Le Méridien Saigon start at $150 a night.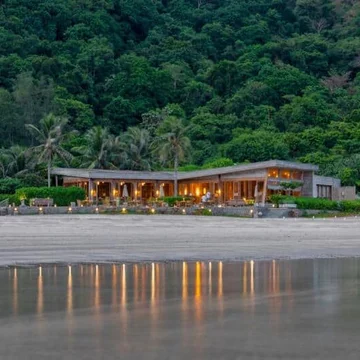 Six Senses Con Dao
If spending your holiday on a secluded island surrounded by sandy beaches and balmy weather sounds like your cup of tea, then look no further than Vietnam's hidden wonder – Six Senses Con Dao. Located in the national park of Con Dao, about an hour-long flight away from Ho Chi Minh City, this beach resort contains fifty villas located on the sandy shores of the South China Sea. Even though there isn't much to do nearby, you can always book a fun experience offered by the hotel like a cooking class, watersports, a historical tour of the area, coastline trekking, or even island hopping.
Check Availability
All villas come with their own secluded infinity pool which allows for much-needed privacy. Since they're located right on the beach, stunning ocean and beach views are guaranteed. Guests get to choose a villa with one, two, three or four bedrooms. The villas have a private balcony, a flat-screen TV, a plush sofa, and an en-suite bathroom. Each villa has an earthy and beachy vibe, with colorful details that bring out the liveliness in the place.
An award-winning spa is one of the many services the hotel offers, which comes with five treatment rooms, an outdoor yoga pavilion, and a meditation pavilion. There are a few dining options at Six Senses Con Dao. By the Beach Restaurant features a lavish breakfast buffet with a Vietnamese street food section, as well as an array of international dishes. And if you want to try authentic Vietnamese food, Vietnamese by the Market is an ideal choice where the skilled Chef No uses nothing but local and fresh ingredients.
The price per night at Six Senses Con Dao starts from $2,400.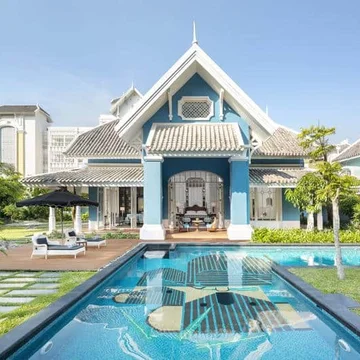 JW Marriott Phu Quoc Emerald Bay Resort & Spa
JW Marriott Phu Quoc Emerald Bay Resort & Spa is one of the most luxurious hotels in Vietnam. Whether you decide to sunbathe on one of its private beaches or book a replenishing treatment in its award-winning spa, prepare to indulge your senses to the fullest. The resort enjoys a splendid location on the biggest island in Vietnam, right on the coast of Khem beach. The town of Duong Dong is located a 40-minute drive away from the hotel, giving you the opportunity to explore its shops and restaurants, and the perfect change of scenery.
Check Availability
The rooms at JW Marriott Phu Quoc Emerald Bay Resort & Spa are elegant and charming, each featuring a private balcony where you can enjoy your morning cup of coffee with a view of the ocean. Five-star amenities are included in each accommodation option – from a minibar to a flat-screen TV, the staff at the resort have ensured that their guests have all their needs met. If you wish to be a bit more indulgent, opt for their legendary multiple-bedroom villas or their Lamarck House – a glamorous seafront wonder with a private pool and seven bedrooms.
Their award-winning Chanterelle spa features a menu comprised of soothing Vietnamese treatments and local massages. A small fitness center is also available for guests, as well as three outdoor pools. Breakfast options include a buffet breakfast, a continental breakfast, and a full American breakfast. In terms of dining, Tempus Fugit is a beachfront restaurant specializing in Vietnamese cuisine that's served in a relaxed and romantic setting. Pink pearl, a favorite among locals and guests alike, offers an exquisite French menu with an extensive wine list.
Standard rooms at JW Marriott Phu Quoc Emerald Bay Resort & Spa start from approximately $300 per night.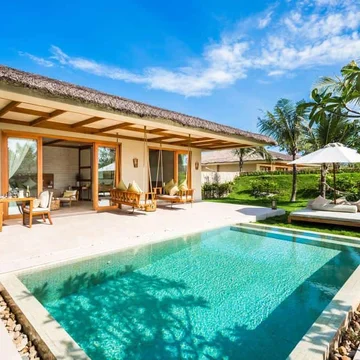 Fusion Resort Phu Quoc – All Spa Inclusive
Fusion Resort Phu Quoc – All Spa Inclusive's remote location in one of the most gorgeous islands in Vietnam is only one of the perks that come with visiting this five-star resort. Choose one of 96 beautifully appointed villas – whether you choose an ocean view, a garden view, or a river view, you won't be disappointed with the view you wake up to.
Check Availability
The villas have a gorgeous neutral color palette that compliments the surroundings impeccably well. Additionally, guests have access to a multitude of modern amenities like a satellite flat-screen TV, a minibar, and an en-suite bathroom with complimentary toiletries. Each villa comes with a private pool and a deck where you can easily get your daily vitamin D intake.
Some facilities that can be found in Fusion Resort Phu Quoc – All Spa Inclusive include a fitness center, a spa center, a sauna, and airport transfer. Breakfast is available from the comfort of your room, the beach, or even in the spa. Alternatively, visit the Secret Garden for a bountiful breakfast buffet and Cantonese and Vietnamese cuisine that will simply take your breath away.
The rates at Fusion Resort Phu Quoc – All Spa Inclusive star from around $200 a night.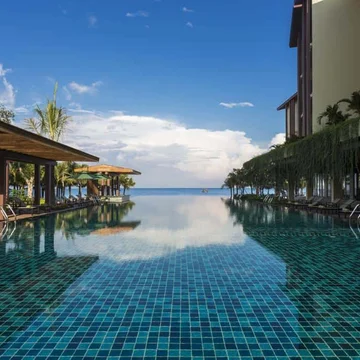 Dusit Princess Moonrise Beach Resort
Situated in Phu Quoc's west coast beach, the dreamy Dusit Princess Moonrise Beach Resort has every commodity for a faultless stay: a luxury on-site spa, a restaurant led by experienced and passionate chefs, exemplary service and staff that will make you feel right at home.
Check Availability
The hotel is popular among business and leisure travelers alike, and its central location allows its visitors to reach the nearby airport in a matter of minutes. Whether you opt for a refreshing cocktail on the deck, watch the sunset from the incredible infinity pool, or book a romantic dinner for two – the hotel offers plenty of relaxing activities to restore your spirits.
A rich breakfast buffet is available in Palm Kitchen, with an array of Vietnamese, Thai, and western dishes that will cater to any culinary preference. Soi 14 Bar is here to quench your thirst and offer a variety of popular wines, cocktails, and spirits. If you prefer taking your meals and drinks to the pool, Dusit Princess Moonrise Beach Resort's Pool Bar is always an option.
Minimalistic, but always offering a stylistic twist inspired by local influences, the accommodation options are comfortable and utterly chic. The private balconies and floor-to-ceiling windows allow for impeccable ocean views, while the commodious and soft beds promise a good night's rest. The wooden details give the rooms an earthy touch, ideal for a beach resort.
A night in a standard room at Dusit Princess Moonrise Beach Resort will cost you around $80 during low season and $150 during high season.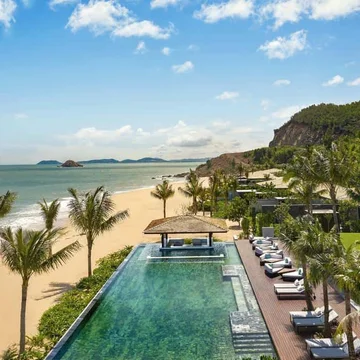 Anantara Quy Nhon Villas
Do you ever feel like disconnecting from the world and visiting a remote beachside five-star resort surrounded by intact, lush nature? If this sounds like your ideal holiday, then look no further than Anantara Quy Nhon Villas. A highly popular option for honeymooners and couples, the villas allow as much privacy as one could hope for without compromising on the views. Thanks to the enormous windows and private decks, guests have access to gorgeous views of the beach and the untouched greenery.
Check Availability
All the villas are different in style, giving your stay a warm and personal touch. What they share is all the amenities that are typical for a luxury resort: oversized tubs, a private pool and sundeck, an outdoor shower, a Nespresso machine, and an in-villa wine cellar. Needless to say, the service is outstanding: from airport transfer to 24-hour private butler service, prepare to have every one of your needs met in an instant.
Due to its remote location, the staff has taken care of the lack of stimulation, so they're offering many thrilling activities for their guests such as history tours, martial art classes taught by experts, and private jet tours. Food will never be an issue while staying at Anantara Quy Nhon Villas – the Sea Fire Salt restaurant serves delicious Vietnamese dishes using local and fresh produce, all the while giving you access to a rare vintage selection of wines.
The price for a standard room at Anantara Quy Nhon Villas starts from $400 a night.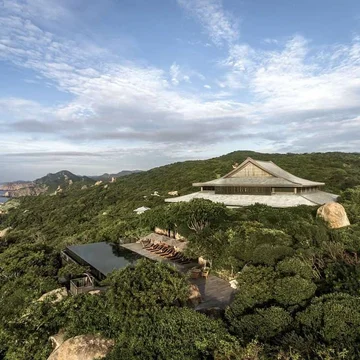 Amanoi Resort
Part of the established hotel brand called Aman, Amanoi Resort is a luxury five-star resort that's considered to be one of the best in the country. The hotel promises a tranquil and secluded stay, not least for the world-class Aman Spa located on the property, where guests can enjoy an extensive menu that includes a Vietnamese massage and Aman Signature treatments. Guests also have access to a tennis court and fitness facilities located on the property.
Check Availability
The resort is nestled among the wonders of the Nui Chua National Park, and while such a location is ideal for a peaceful getaway, it does mean that you will be distanced from any nearby cities. Nha Trang is the closest town to Amanoi Resort and can be reached in a two-hour drive. Luckily, many adventures await near the hotel, courtesy of the hotel's thoughtful staff. Book a snorkeling expedition, a picnic by the sea, a cycling tour, a historical tour, and even a multi-day holistic retreat – Amanoi Resort has it all.
Dining-wise, The Beach Club is open during the day if you're up for a light meal or a drink on the beach, while the artistic and elegant on-site bar, aptly named The Bar, is where guests go for fun during the nocturnal hours.
All villas are secluded deep in the lush surroundings, which gives their guests privacy and a peaceful setting. Their design is inspired by Vietnam and aspires to be as sustainable as possible, so many natural materials are used in their creation. A private pool is featured in every villa, as well as a minibar, a private balcony, and a flat-screen TV. The atmosphere is bright and airy, while the warm tones blend amazingly well with the ligneous furniture. The large king-sized bed is the centerpiece in every villa, putting the beauty in beauty sleep.
Prices at Amanoi Resort start at $950 a night.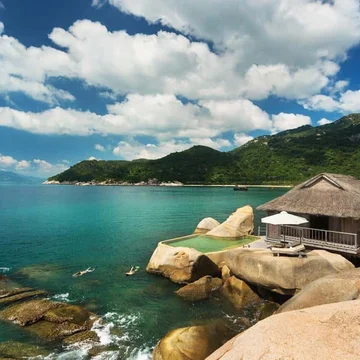 Six Senses Ninh Van Bay
Overlooking the East Vietnam Sea, Six Senses Ninh Van Bay's location is a blend of impressive flora and perfectly sandy beaches in order to bring you the trip of a lifetime. Travelers who love to return to nature whenever they leave their native land will appreciate the natural beauty that's waiting to be explored in this corner of Nihn Van. Even more impressively, the resort's surroundings are home to an endangered breed of monkeys, so don't be surprised if you come across one of them during your stay.
Check Availability
Every villa is secluded from the rest and contains a private deck or a terrace, a pool, a mini wine cellar, and an unobstructed view of the ocean or mountains. They have an eco-chic vibe and are quite spacious and comfortable, ensuring a wonderful time.
Experiences like trekking, romantic cruises, picnics, cooking classes, watersports, and kayaking are at your disposal. If you're not into the outdoors, you always have the option of booking a full-body massage or a pampering treatment at the award-winning Six Senses Spa. Bay Restaurant serves a breakfast buffet, as well as an exquisite dinner menu which is a captivating combination of local and international cuisine. Dinner at their Wine Cave is an experience of its own, with an intimate atmosphere and an ideal wine menu.
The price for a Six Senses Ninh Van Bay villa starts at $500 per night.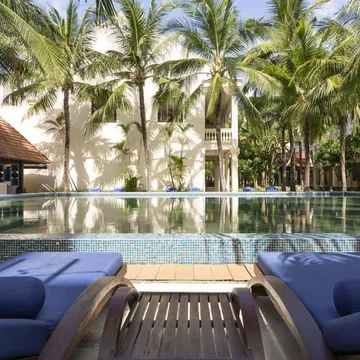 Anantara Hoi An Resort
Situated in the historic Hoi An, near the Thu Bon River, Anantara Hoi An Resort's location will entice history junkies and nature lovers. Many museums, restaurants, and bars are located in the area, giving you plenty of places to explore during your leisure time. This luxury resort, on top of having a spectacular location, offers unique and memorable experiences like river cruises, painting, and bicycle tours, ensuring that there won't be a single dull moment during your stay.
Check Availability
Choose from 94 stunningly appointed rooms and suites. Every room and suite has a living area, a private porch, coffee making facilities, and a desk area. The walls are decorated with original artwork from established artists, while the color scheme is a mix of neutrals and sophisticated pops of bright turquoise. Each room is open and bright, allowing the gorgeous views to sink in easily.
Start your day with a delicious breakfast and a Vietnamese coffee that's served in Lanterns Restaurant, overlooking the river. At night, you have the option of booking a romantic and private candlelight dinner for two featuring Vietnamese cuisine. Another option is the award-winning Hoi An Riverside restaurant which serves signature Vietnamese dishes and local specialties, in addition to over 100 aromatic wines. Art Space is a go-to bar and restaurant for any aesthetes who prefer to take their meals in a space akin to a Parisian museum. Featuring original artwork designed by local artists, Art Space is where inspiring artwork meets scrumptious pizzas.
You can book a standard room at Anantara Hoi An Resort for $100 a night during low season.
Four Seasons Resort The Nam Hai
Four Seasons Resort The Nam Hai is one of the most popular luxury hotels in Vietnam, and after getting acquainted with its amenities and character, you will see why it has an exclusive place on our list. Located a short walk away from Hoi An, the resort boasts an amazing location with lots of variety; from beaches to historical sights, you have many places to discover and explore.
Check Availability
Fitness and outdoor activities are only some of Four Seasons Resort The Nam Hai's strong suits – guests have three gorgeous infinity pools on the property (one of which is heated), on top of four tennis courts and a long list of workouts which are offered at various points in the day, such as biking, yoga, and even tai chi. The on-site spa includes some extremely appealing beauty treatments, scrubs, replenishes, and healing massages. Bookworms will be delighted to know that there is a library on the property with an impressive selection of books waiting to be borrowed.
There are 100 villas available for booking, all of which follow a phong thuy-friendly design. A walk-in closet, a flat-screen TV, and a deep tub are included in each villa, while some of them also come with a private pool. The interior choices are stylish and chic, while the color palette varies. Additionally, all villas are family-friendly, making Four Seasons Resort The Nam Hai a great choice for a memorable family holiday.
Breakfast is served at Café Nam Hai, while La Sen restaurant serves a blend of classic Vietnamese dishes and international favorites.
Find Luxury Hotels in Vietnam