New Zealand's renowned natural wonders are one of the many reasons as to why it attracts millions of tourists every year. From remote islands to glaciers, lakes, and forests, there is plenty of stunning scenery to explore. The outdoors can be harsh and exploring is tiring, so what better way to recharge your batteries than selecting a hotel from our best luxury hotels in New Zealand list in order to bring the right amount of comfort and lavishness to your holiday?
We present to you a varied mix of luxury hotels spread across islands, capitals, waterfronts, and remote locations.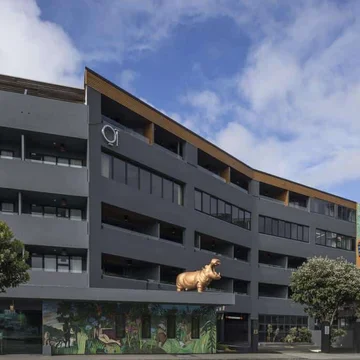 QT Museum Wellington
Combine luxurious art with an equally luxurious hotel and you get the trip of a lifetime. QT Museum Wellington, one of the best luxury hotels in New Zealand, is a magnet for aesthetes all around the world. Located across the Wellington waterfront, the hotel is within walking distance of the Waitangi Park, Courtenay Place, and the Oriental Parade Beach. Te Papa, one of the most renowned museums in New Zealand, is a few minutes away from the hotel.
Check Availability
Choose from 65 beautifully appointed rooms and suites. A timeless black-and-white color palette is merged with eye-catching arduous accents, giving the interior a stylish finish. The rooms, including the en-suite bathrooms, are brimming with sophisticated local art. From luxurious king beds to designer lounge chairs, the rooms ooze opulence and splendor. The bathrooms, equipped with complimentary ALICE amenities, have a splendid bath area and antique-looking, gold-framed mirrors.
Hippopotamus, a famous on-site restaurant, is an experience on its own. To explain the interior as extravagant would be an understatement – low-hanging crystal chandeliers, plush colorful sofas, and patterned carpets are combined in a style that's aptly described as "flamboyant Parisian chic". Keeping up with the Parisian theme, the hotel serves French cuisine and has recently opened its cellar door to the public, giving you the opportunity to taste some of New Zealand's best wine. In case you're in the mood for something a bit understated, visit the equally magnificent Hot Sauce restaurant, serving amazing Asian cuisine.
QT Museum Wellington knows how to satisfy gym rats. There's a spacious fitness center on the property that boasts two swimming pools, and there's also a sauna if that's your preferred relaxation method.
One night at QT Museum Wellington starts from approximately $130.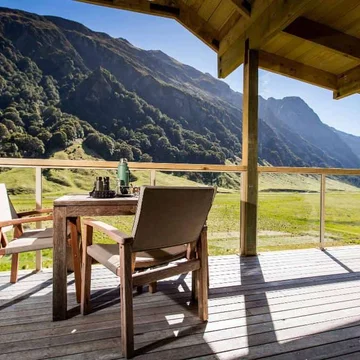 Minaret Station
Minaret Station is a prestigious and secluded resort, located in Wanaka – a remote location that's only accessible by a helicopter. Surrounded by mountain peaks and valleys, this luxury lodge gives its guests a taste of the beautiful nature New Zealand is known for. The town of Queensland is a two-hour flight away from the lodge.
Check Availability
Despite having a remote location, there are a great many things to do at Minaret Station. The experiences offered, mostly helicopter-based, are unlike any other. Guests can book a full day of hail traversing, wildlife spotting, or a private boat cruise. For all adrenaline junkies out there who aren't afraid of heights, a memorable adventure awaits at Aoraki Mt. Cook – the tallest peak in New Zealand, where you can explore the caves and icefalls and have a private picnic on top of the mountain.
The main lodge at Minaret Station contains a cozy library – an ideal place to enjoy a hefty volume near the crackling fire. The bar area offers some tasty spirits and an impressive wine selection. Made with local and fresh ingredients, the meals offered at Minaret Station's restaurant are scrumptious beyond belief. The daily-changing menu ensures that the meals are as fresh as can be. The breakfast buffet is generous and filled with guest favorites, ranging from fresh fruit to buttery pastries.
The Alpine Lodge at Minaret Station offers only four chalets, further emphasizing the exclusivity of the lodge. The chalets, with their private spas, decks ideal for stargazing, and floor-to-ceiling windows that reveal great views of the surrounding nature, are a real treat. Be prepared to spend a couple of days without a TV nearby, since the rooms don't include one. With that said, the raw beauty and spectacular nature of the place will make you forget they ever existed. A hot tub, a king-sized bed, and a kitchenette are also included.
The prices at Minaret Station start from $1,500 a night.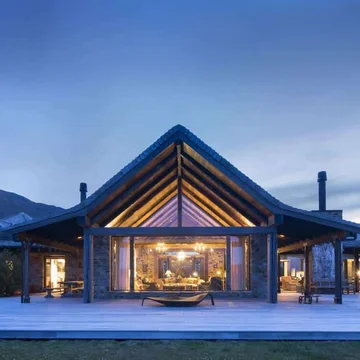 Mahu Whenua
Mahu Whenua is an exclusive and eco-friendly lodge nestled between the towering mountains and sheep stations. Central Wanaka is located a mere 20-minute drive away from the hotel, resulting in the perfect balance of remote, nature-filled holiday and a city break, in case you feel like a change in scenery.
Check Availability
Only four suites are available for rent. Views of Lake Wanaka and the surrounding valleys are the cherry on top of an ultimately lavish accommodation style. The rooms are adorned with stunning details like crystal chandeliers, stone walls, artwork that matches the color scheme, and comfy sofas. Some of the standard amenities that can be found in every suite include flat-screen TVs, generous minibars, and king-size beds.
There are many opportunities to unwind at Mahu Whenua – take advantage of the heated outdoor pool, relax with a book in the cozy library, or take a stroll and let the natural surroundings melt away the stress. Alternatively, adrenaline junkies will be delighted to know that a myriad of activities are on offer, like helicopter tours, heli-skiing, and mountain biking.
Prices at Mahu Whenua start from $1,300 a night.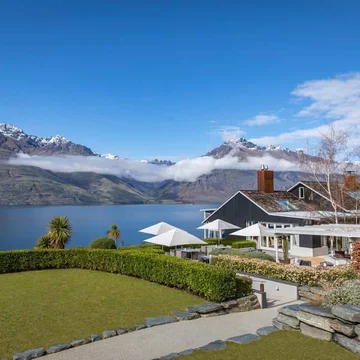 Matakauri Lodge
Matakauri Lodge, a six star resort that's renowned for its impeccable cuisine and world-class service, sits on Lake Wakatipu, one of the most picturesque lakes in New Zealand. Only a ten-minute drive from Queenstown, the location allows for an easy city break in case you need a change in scenery. Otherwise, enjoy the fresh air, natural beauty, and the snow-capped peaks that surround Matakauri Lodge.
Check Availability
An inviting vibe coupled with a contemporary design greets you at Matakauri Lodge. With the help of complimentary champagne at your arrival, the staff will make you feel right at home. Facilities-wise, the hotel provides an incredible chance to relax at its on-site Matakauri spa, offering personalized treatments and replenishing massages. Adjacent to the spa is a hot tub, sauna room, and a heated swimming pool. The well-equipped gym will give you a great opportunity to get your daily endorphin boost without having to leave the property.
A unique dining experience awaits you at Matakauri Lodge. The daily-changing menu includes fresh and local ingredients that make the meals flavorful and incredibly sumptuous. They are made by experienced and award-winning chefs and served in an elegant setting with gorgeous views of the surroundings. Combine the irresistible meals with a world-class wine from their extensive list and you have the formula for a perfect meal.
Matakauri Lodge offers a combination of rooms, suites, and an exclusive villa called Owner's Cottage. Regardless of which you opt for, your combination will include spectacular views of Lake Wakatipu and the surrounding mountains, a private patio, a living room with a cozy fireplace, and a flat-screen TV.
Styled by renowned architect Virginia Fisher, the Owner's Cottage is as indulgent as it can get – the living area, its open fireplace giving a warm touch to the interior, is set against a stunning backdrop that combines the lake's clear blue with the earthy tones of the mountains. The color scheme is an elegant combination of neutrals with golden details which matches the surroundings perfectly. The room opens up to a private deck with a hot tub and lounge area.
The prices at Matakauri Lodge start at around $950 a night.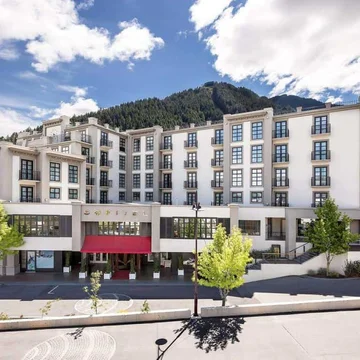 Sofitel Queenstown
An award-winning hotel located in the heart of Queenstown, Sofitel Queenstown overlooks Lake Wakatipu – one of Queenstown's main tourist attractions. Nature enthusiasts also enjoy the lush Queenstown Gardens which are situated only a short walk away from the hotel.
Check Availability
The rooms and suites follow a mix of French art de vivre style and local accents. Spacious, elegant, and unique, they have a neutral color palette with sophisticated pops of color. The chic en-suite marble bathrooms have his and her sink, a spa bath with a separate rain shower, and complimentary French amenities. Rest is especially important while traveling, and luckily, Sofitel Queenstown's comfortable and sizable MyBed will ensure that you get your beauty rest each night. Other amenities featured include an espresso machine, a flat-screen TV, and a pillow menu.
One of the best features of Sofitel Queenstown is the on-site So Spa that includes a fitness center. Keeping up with the trends in the wellness scene, this award-winning spa offers a unique blend of massages and treatments that will melt the stress away.
Explore creative flavors in a sophisticated setting at some of its on-site restaurants. Ideal for an unforgettable date night, the 1789 Lounge's bistro-style menu serves authentic New Zealand cuisine in a sultry ambiance. The lounge, in addition to delicious local meals, serves supreme wine and classic cocktails. Left Bank Bistro, the hotel's breakfast spot managed by a Parisian, is reminiscent of all the Parisian bistros we've seen in our favorite movies – think gorgeous artwork, long drapes, and colorful sitting areas.
You can book a standard room at Sofitel Queenstown starting from around $200 a night.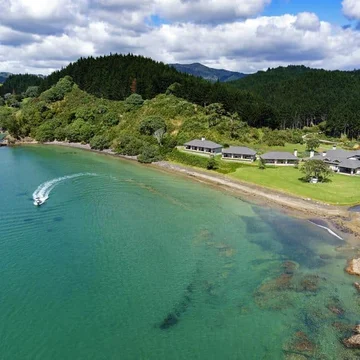 Helena Bay Lodge
Looking for a secluded, exclusive, and romantic resort that's cocooned between breathtaking nature spots? Well, look no further than Helena Bay Lodge, one of the most renowned luxury hotels in New Zealand. This remote and gorgeous resort is located in Helena Bay, part of New Zealand's North Island. Offering no less than four private beaches, the resort overlooks the Pacific, so you will get the chance to enjoy mesmerizing views whether you're at one of its on-site restaurants or you're in your private room.
Check Availability
The staff at Helena Bay Lodge is detail-oriented and extremely hospitable, ensuring that your stay is better than what you'd imagined. The lodge boasts a rather small but well-equipped fitness center, a tennis court, both an indoor and an outdoor pool, and a sauna, so fitness junkies won't have to worry about finding a way to get their daily workout in. There are many opportunities to relax at Helena Bay Lodge, including the treatments and massages offered at the relaxing and luxurious spa.
Although it has a remote location, Helena Bay Lodge features some remarkable on-site restaurants. Take, for instance, Michelin-starred chef Michele Martino, whose mission is to bring flavorful cuisine to your plate using fresh and locally sourced ingredients. Offering more than 2000 carefully-selected bottles of wine, the award-winning wine cellar at Helena Bay Lodge will give you the perfect addition to your meals. For the ultimate date night, the hotel allows you to book a private dinner.
All five suites include walk-in wardrobes, an en-suite bathroom with complimentary amenities and Molton Brown toiletries, and Nespresso machines. The bedrooms, with large windows opening to a stunning ocean view, feature a flat-screen TV and an ultra-comfortable king-size bed with luxury linen.
The rates at Helena Bay Lodge start from $2,300 a night.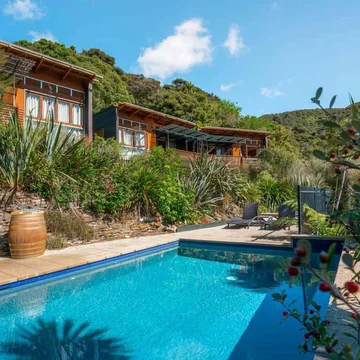 Bay of Many Coves Resort
Bay of Many Coves Resort is an oasis of tranquility and blissfulness. This five-star luxury resort is only accessible by water taxi or helicopter, which is a testament to its exclusivity. The town of Picton can be reached in a 30-minute ferry ride.
Check Availability
The suites at Bay of Many Coves Resort are placed at a great distance from each other, giving you plenty of privacy during your stay. Decorated in an eco-chic and contemporary luxury style, each suite comes with a private deck that overlooks the bay, suede sofas, tea and coffee making facilities, and king-size beds. Complimentary luxurious linens and throws are provided, as well as naturally-sourced toiletries. Some suites come with their own private hot tubs, allowing you to stargaze in style.
The restaurants at Bay of Many Coves Resort offer an incredible blend of delicious locally-sourced meals and award-winning wine. The Foredeck Restaurant has a romantic setting, making it a go-to option for guests if they want to enjoy a candlelight dinner and savor some spectacular culinary delights. The Kumatage Guest Lounge offers breakfast, brunch, and a lunch menu. Apart from sampling their freshly-cooked cuisine, guests can enjoy stunning views of the bay. Lastly, Bright Café is a more casual option, renowned for its delicious coffee and seafood dishes.
Due to its location, guests can partake in fun water-based activities and sports offered at the resort, like paddle-boarding. The hotel includes an outdoor pool, a day spa, and a trek ideal for running or walking.
The suites at Bay of Many Coves Resort will cost you around $730 per night.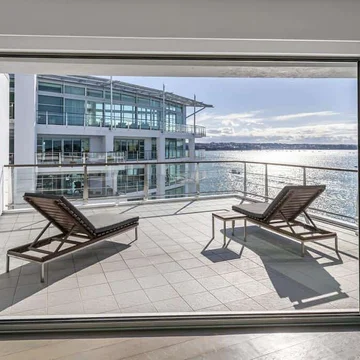 Hilton Auckland
The newly renovated five-star Hilton Auckland boasts a central location right on Princes Wharf Street. Auckland's most iconic tourist attractions can be reached in a ten-minute walk, such as the New Zealand Maritime Museum, the Sky Tower, and The Cloud Convention Center. This area is also renowned for its amazing restaurants, like Barabra, Oh Calcutta, and The Culpeper.
Check Availability
Minimalistic yet elegant, the rooms at Hilton Auckland are spacious and offer gorgeous views of the vibrant Auckland, courtesy of the large, floor-to-ceiling windows. A private balcony, a flat-screen TV, and a desk area are some of the room features that are offered in the accommodation. Certain rooms overlook Auckland's waterfront, and it's definitely a view worth upgrading for. The chic bathrooms contain a separate bath and shower area, complimentary Peter Thomas Roth toiletries, and enormous well-lit mirrors.
Dining and drinks-wise, guests have a couple of options to choose from. FISH, like its name suggests, specializes in seafood served in a classy setting with stunning harbor views. Hilton Auckland's own Bellini Bar too overlooks the spectacular harbor, all the while serving afternoon tea, light snacks, and tasty signature cocktails.
The staff is attentive and prepared to answer any inquiries. Although there is no on-site spa, the hotel's swimming pool offers a great opportunity to unwind after a day of exploring, while the on-site gym has every equipment you might need for an outstanding workout.
Prices at Hilton Auckland start from $180 a night.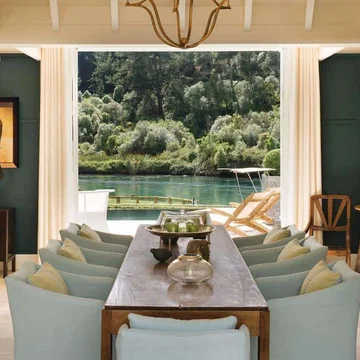 Huka Lodge
Huka Lodge is where a palatial style meets contemporary comfort. Many aspects make Huka Lodge one of the best luxury accommodation choices in New Zealand, such as its unique location on the banks of Waikato River, its premium dining menu, and its sweeping list of services and facilities.
Check Availability
Spread across 17 acres of land right on Waikato River – the longest river in New Zealand, Huka Lodge is close to many sublime natural wonders, like the scenic Huka Falls and the gorgeous Lake Taupo. If you want to enhance your holiday and spend more time outdoors, simply book one of Huka Lodge's experiences that include a helicopter tour, kayaking, bungee jumping and jet boating. You will have the best spots Taupo has to offer at your fingertips.
Utilizing the finest selection of sustainable ingredients, the dining options at Huka Lodge are truly magnificent, especially when combined with a glass of one of their quality wines. The lodge offers more than 20 outstanding private dining venues in case you want to make your dining experience that much more romantic and special.
The library, a cocoon consisting of dimly lit corners and a grand fireplace, is one of the many places where you can snuggle up and read a book or enjoy the company of a loved one. The sizable outdoor pool and hot tub are ideal for relaxing. Workout-wise, you can enjoy a thrilling game of tennis on the tennis court or visit the fitness center.
The rooms differ in terms of style and color scheme. What they do share is a long list of modern amenities, like a Nespresso machine, a generous minibar, and an en-suite bathroom with complimentary slippers, bathrobes, and toiletries.
A standard room at Huka Lodge costs from $1,000 a night.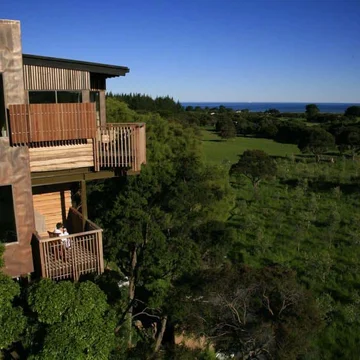 Hapuku Lodge and Tree Houses
Most of us have wanted to reside in a tree house when we were little. If this is something you thought about as a kid, Hapuku Lodge and Tree Houses is here to make your childhood dreams come true. Its luxury tree houses and suites are situated on Kaikoura's craggy coastline and its location allows you to visit Kaikoura' center in a 15-minute drive.
Check Availability
Impeccably furnished with eye-catching ligneous details and warm color scheme, the suites at Hapuku Lodge and Tree Houses are eco-chic and rather commodious. A balcony, a kitchenette, coffee and tea making facilities, a living area with a fireplace, and a flat-screen TV are included in every suite. Admittedly, the tree houses are the main attraction – raised high above and nestled deep within the forest, the all-wood tree houses have an earthy atmosphere and distinctive furnishings that match the natural surroundings. Needless to say, you can expect some stunning views from above.
Hapuku Lodge and Tree Houses's dining room is the main culinary hotspot in the lodge. Here you can find a combination of local cuisine and international favorites, all thanks to Executive Chef Fiona Read. Whether you choose to make use of the hotel's complimentary bikes and explore the area, or you decide to spend a relaxing day at the hotel's spa or lounging around the pool, a fantastic time is warranted.
The rates at Hapuku Lodge and Tree Houses start from around $630 a night.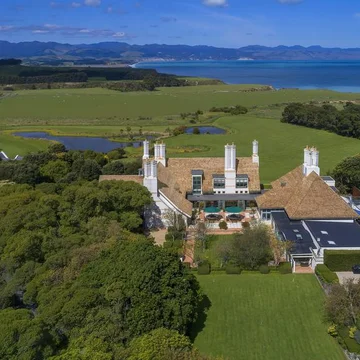 Wharekauhau Country Estate
One of the best luxury hotels in New Zealand, Wharekauhau Country Estate is a frequent home-away-from-home to both celebrities and royalty alike, including Prince William, Duchess Catherine, and Prince George during their Royal Tour of New Zealand. Indulge in world-class service, spectacular cuisine, and opulent suites with breathtaking views of the coastline.
Check Availability
Spread across 3,000 acres of private land, the nature is varied and simply astounding. From rugged coastlines to tranquil lakes and forests, it's eye candy all around. The location may be on the remote side, but the wide range of activities make up for it. Mountain biking, clay shooting, and archery are only a few of the activities available for booking. The luxury on-site spa is a splendid place to unwind, while the pool and gym allow you to get a daily workout.
The "Trust the Chef" lunch menu is one of the culinary highlights at Wharekauhau Country Estate – it's an option that allows you to experiment with your order and taste the best of the local cuisine. Breakfast is a real treat, with standard international options and fresh fruit.
The suites, made with natural materials, include precious antiques, a large fireplace, and a double spa bath. If you want to indulge in style, book the Owner's Cottage, spread across 4,500 square foot. Apart from privacy and tranquil surroundings, the cottage boasts a large patio with an infinity pool, a wine cellar, three bedrooms, high ceilings, a formal study, and even a helicopter landing. The attention to detail is simply unsurpassable. And did we mention that the ocean views are breathtaking?
The rates at Wharekauhau Country Estate start from $900 a night.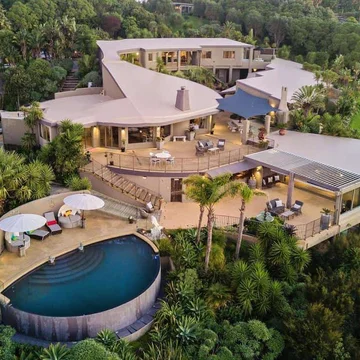 Waiheke Island, New Zealand
Delamore Lodge
Located on a high cliff in the scenic Waiheke Island, Delamore Lodge is a luxury resort that attracts solo travelers, couples, and families alike. Overlooking the gorgeous Hauraki Gulf, the resort prides itself on bringing the best views of the island to its guests.
Check Availability
From the moment of arrival, you will be greeted with complimentary chilled champagne in your accommodation, which sets the tone for the rest of your trip. Each suite allows for maximum privacy and comfort. Let the view sink in from your own private patio, or sunbathe in the outdoor sitting area. The suite includes a spacious bedroom with a Californian-king bed and fine linen, the backdrop of which is the stunning Hauraki Gulf. The bathrooms are elegant and equipped with luxury robes and slippers, a separate rain shower, and a deep bath.
A large library brimming with leather-bound volumes is at your disposal, in addition to an infinity pool that seems to melt with the surroundings and a luxury spa. The activities offered by Delamore Lodge such as olive grove tours, sailing, kayaking, golfing, and paragliding are an incredible way to explore the area.
Their award-winning on-site wine cellar, full of exceptional local wine, is one of the many dining highlights at Delamore Lodge. The dishes are varied and made using ingredients from their own garden. Breakfast is highly personalized and can be served in various places.
The rates at Delamore Lodge start from $190 per night.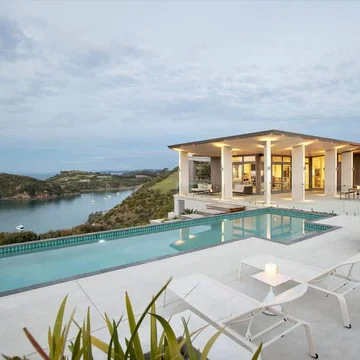 Waiheke Island, New Zealand
Marino Ridge
Become one with nature at Marino Ridge – a five-star resort located on Waiheke Island, surrounded by lush landscape and ocean vistas. The hotel is within close proximity to Oneroa – home to many local stores and beaches, including Matiatia Bay. A private and idyllic bush track connects Marino Ridge to Oneroa, so prepare to be blown away by the natural beauty of this picturesque coastal stroll.
Check Availability
The hotel offers a relaxing patio with a fire pit (an ideal spot for an evening glass of wine), a hot tub, and a heated swimming pool. The breakfast menu changes on a daily basis in order to ensure that you get the freshest meals possible using local and seasonal produce. On-site dining is available in a form of a four-course dinner made by a private chef – an extraordinary chance to taste flavorful meals in an intimate atmosphere.
Minimalistic, stylish, and elegant, the three suites available at Marino Ridge combine spacious rooms with plenty of private outdoor space. In every suite, you will find a large super-king bed or split king twin beds with luxury Belgian linens and woolen throws, coffee and tea making facilities, and luxury bathroom amenities. Thanks to the big floor-to-ceiling windows, you can enjoy the views of Waiheke Island's most stunning attractions from the comfort of your spacious suite.
The suites at Marino Ridge start from $600 a night.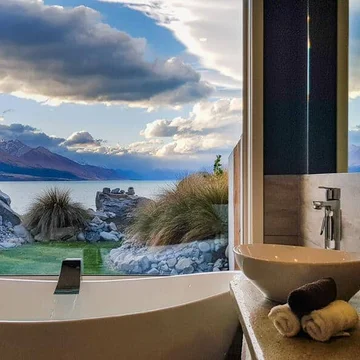 Lakestone Lodge
Lakestone Lodge is the epitome of sustainable luxury. Set on the shores of Lake Pukaki, overlooking the Southern Alps, the lodge is a two and a half-hour drive away from Queenstown. Despite being so secluded, there are plenty of activities offered in the area, so there won't be a dull moment during your stay. Guests can book a romantic stargazing tour, go on a long hike, try mountain biking, book a helicopter tour, and visit the nearby Mt Cook Village – there is no shortage of itinerary options around.
Check Availability
At Lakestone Lodge, you will have the opportunity to enjoy traditional cuisine made with fresh and sustainably-sourced ingredients. Their menus change daily and the breakfast options are incredible – choose from seasonal fruit, homemade muesli, freshly squeezed juices, and delicious pastries. Dinners include a three-course menu and an extensive list of premium New Zealand wines.
The staff at Lakestone Lodge is welcoming, attentive, and ready to give a recommendation for anything you might need, whether it's a favorite local spot or a mountain trail. Though there is no gym, the trails surrounding the mountain, in conjunction with the activities available for booking, make for great improvised workouts.
Lakestone Lodge's guestrooms are chic and open, with large floor-to-ceiling windows, present in every room, that allow for unparalleled views of the turquoise lake and the desolate mountains. Enjoy this view while taking a bath, lying in bed, or relaxing on the sofa. There is no TV or Wi-Fi in the rooms, but with views like that, you won't miss having technology around. The bathrooms have a free-standing deep tub, his-and-her sinks, and a separate shower area.
The rooms at Lakestone Lodge start from $470 a night.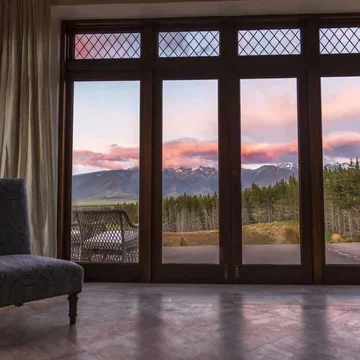 Mt Cook Lakeside Retreat
Just like Lakestone Lodge, the five-star resort Mt Cook Lakeside Retreat is situated on picturesque cliffs overlooking Lake Pukaki. Despite having a remote location, guests can reach Mt Cook Village and Aoraki – the highest mountain in New Zealand, in a half an hour ride. With that said, you don't need to leave the hotel's premises to have a good time – experiences like stargazing, wellness retreats, culinary adventures, and lavender farm strolls are up for grabs. Astronomy enthusiasts will be glad to know that the on-site observatory gives you a unique opportunity to go constellation-hunting.
Check Availability
On top of a small spa with a fitness center, the hotel also boasts a sauna and a tennis court. Breakfast is complimentary and consists of a combination of cooked international cuisine and fresh fruit. With produce carefully picked from the hotel's own garden and quality wine selected from the hotel's own private wine cellar, you can expect the rest of your meals to be exquisite and garden-fresh, all courtesy of Chef Tom.
Various types of villas are available for booking, all of which include uninterrupted views of Lake Pukaki and the surrounding mountains. The villas have a fireplace, a hot tub, and massage facilities that make for the perfect at-home pampering night. The bedrooms, bright, chic, and spacious, feature high ceilings, floor-to-ceiling windows, and king-size beds with quality linen.
Prices at Mt Cook Lakeside Retreat start from $600 per night.
Find Luxury Hotels in New Zealand