Finland is a winter wonderland. Freshly fallen snow adorning the roofs and trees makes for the most magical experience. Finnish Lapland is the enchanting hometown of Santa Claus and there are many opportunities to meet Santa when staying in the area.
If you are in search of luxury hotels in Lapland that consist of all the Christmas-time delights, you've come to the right place. From drinking hot chocolate around the fire to seeing Santa at the Santa Claus Village – Lapland has only the best festive season treats in store.
Luxury Lapland Hotels to see Santa Claus offer so much more than just a meeting with the big man. You'll be left in awe of the Christmas spirit felt in and around Lapland, not only in December, but any time of the year. From winter swimming to snowmobile tours as well, you are promised an exciting stay that will keep all travelers entertained.
From staying in luxury treehouse hotels to sleeping in igloos. Let's see what's in store for you when staying in one of these Lapland Hotels.
Luxe Lapland, Finland Hotels
Your trip to see Santa should be nothing short of amazing. Staying in only the best hotels in Lapland will be the cherry on top of your snow-filled adventure.
In search of the Northern Lights or just keen to see the immense beauty of Finland? Well, whether you are traveling with a family, as a couple or you want to experience this part of the world solo, you'll find something suited to your every need with these Lapland hotels.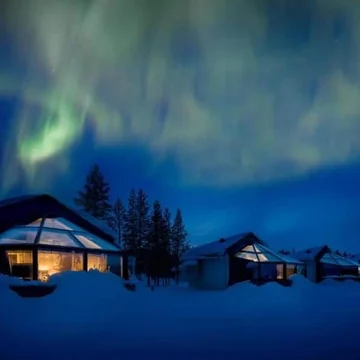 Santa's Igloos, The Arctic Circle
A dreamy escape to an enchanted land. One filled with Santa Claus sightings and many more wonderful winter adventures. Located just 600m from Santa Claus Village, this is the perfect location for families wanting to get involved in everything the village has to offer. Santa's Village is centrally situated in Rovaniemi, which is the provincial capital of Finnish Lapland.
Check Availability
The stylish glass roof igloos will be your home for the duration of your stay in Lapland's Arctic Circle. You'll have a choice between 3 different types of accommodation; standard igloos, igloos with saunas, or igloos with alcoves. There is also an option to connect igloos so that larger groups or families can stay together in a combined unit.
Each unit has a large private bathroom featuring a rain shower. After a hot shower, slip into your luxe bathrobe and slippers that are found in your room. There's also a sleeping mask for later if you need. You are bound to feel right at home with all of these added extras to ensure your ultimate comfort.
The restaurant at the hotel, The Arctic Eye, offers traditional Lapland dishes with a twist of international influences. It's located in the middle of the property with large glass windows so that diners can enjoy the awe-inspiring surroundings while eating.
Santa's Igloos are serious about the Northern Lights. And undeniably the biggest perk of staying at the hotel is the tablets found inside the rooms with the sole purpose of setting off an 'Aurora Alarm' when the lights are visible. So whatever you are up to, you'll have the opportunity to stop what you are doing and gaze up at this incredible phenomenon.
Staying in luxury ice hotels in Finland is popular and sleeping in these glass igloos is a glimpse of what it's like to stay in a hotel made completely of snow and ice. This unique stay in Lapland is sure to keep your entire party smiling. From exciting Christmas-themed activities to indulgent eating at the restaurant, get ready for a winter escape like no other.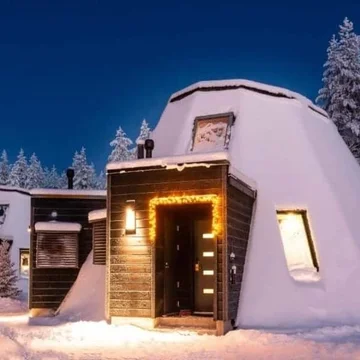 Glass Resort
Located at the heart of Santa Claus Village and just a few minutes by foot to Santa Claus's office, you are bound to see Santa more than once. The resort is made up of private snow-capped apartments, each with its own kitchenette, living room, and upstairs loft.
Check Availability
Each apartment comes with gorgeous floor-to-ceiling glass windows so that you can enjoy the snow-filled wonderland surrounding you. This is also a great way to catch a glimpse of the Northern lights from the comfort of your plush and cozy living room or bedroom.
The Scandinavian-designed interiors and Lappish handicrafts within the accommodation make for an authentic Finnish experience. There is a flat-screen TV in every unit and you'll have access to free WiFi during your stay, although, you'll be so mesmerized by your surroundings you probably won't make much use of either.
For those brave enough to weather the cold in your bathing suit, the premium glass apartments come with their own private outdoor hot spring spa and sauna. A great spot to warm up and relax with a drink after a busy day exploring Santa's Village.
Other activities in and around the area include husky safaris and reindeer safaris,the hotel's tour desk can help you plan these exciting excursions. Both are unique experiences and an excellent way to discover the beauty of the slopes surrounding you.
Whichever day-time activities you choose, you'll be happy to end off your busy day at the Glass Resort Restaurant for dinner. The restaurant is nestled within Santa Claus Village so you'll be having dinner with a view. The restaurant uses locally sourced ingredients so you can expect a delightful culinary experience to top off the day.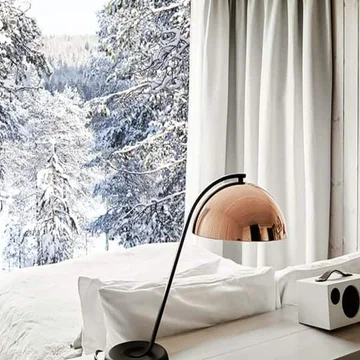 Arctic TreeHouse Hotel
This is an opulent Lapland hotel in Rovaniemi if we've ever seen one. The gorgeous rooms are chic with white interiors and honey-toned wood finishes. The large animal skin blankets scattered around the unit create a cozy and warm feeling inside the glass treehouses, great for snuggling up together on those cold nights.
Check Availability
In the Arctic TreeHouse Suite, your bed faces the glass windows giving you the perfect panoramic view of the snow-capped trees you are nestled between. Use the espresso machine to make yourself a coffee and hop back into bed to take in the beauty around you. At night you'll be gazing at the Northern Lights, which are equally as dreamy.
If you would like to add something special to your trip, the hotel will gladly arrange an exclusive dining experience for you and your guests. Choose between the campfire shelter venue under the starry skies or the private dining room. Another extra luxury service available is booking a chauffeur-driven car for your private use to visit the surrounding attractions.
Now, we know you are here to see Father Christmas and SantaPark is closely located to the hotel to make this a reality. The staff will gladly help you organize a tour at SantaPark which guarantees a meeting of Santa in his office. You can also arrange things like husky tours, visiting the reindeer farm, or a Finnish Sauna, directly with the hotel.
This is one of the only 5-star Lapland hotels where you can stay right in the heart of the forest in thoughtfully designed structures. Being one of the most expensive hotels in Lapland, whether you opt for a TreeHouse or GlassHouse, you are bound to have a cheerful time.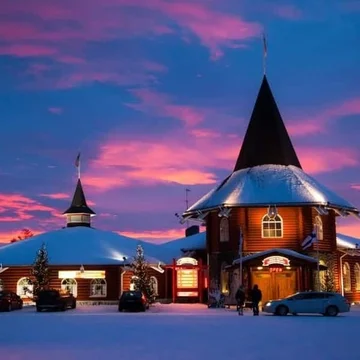 Santa Claus Holiday Village
By staying at the Santa Claus Holiday Village you are promised the magic of Christmas every day of the year. It's not hard to find festive season magic in Lapland and this village reflects everything you could imagine of a winter wonderland and more.
Check Availability
The rusty red cabins with white trimmings are so quintessential of the season that you'll feel like one of Santa's helpers just by staying in one. Not to mention that visiting Santa is only a 2-minute walk away. You'll be at the center of all the Santa-inspired action and this is a great spot for families looking to take advantage of the festive season buzz.
You'll be able to choose from a variety of cabins and suites, depending on the size of your party and your specific needs. All cabins are fully equipped with everything you will need for a comfortable stay. This includes private saunas, a kitchenette, and a terrace. The suites even come with GHD hair straighteners and complimentary bathrobes and slippers.
If you get peckish after a fun-filled day then the Christmas House Restaurant and Coffee Bar is sure to satisfy your cravings. Serving up both Lappish feasts and International cuisines, you can eat to your heart's content.
The service is exceptional, the friendly staff will gladly give you information on skiing and hiking trails nearby, as well as assist in organizing snowmobile safaris. If the weather allows, you can also rent a boat and fishing equipment from the hotel to see if anything will bite.
The Village is also easily accessible, being a short 5-minute drive from the Rovaniemi Airport, from which the hotel offers free airport transfers. This is a convenient spot in Lapland if you are wanting the full Christmas experience any day of the year.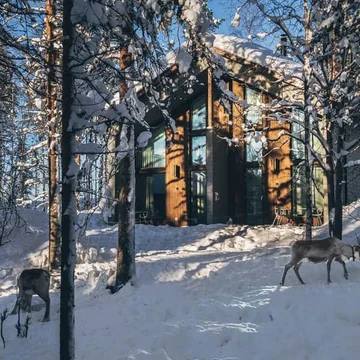 Nova Skyland hotel
If you want to visit Santa in style, Nova Skyland is the place for you. Located within Santa's village in Rovaniemi, you'll be just a 200m walk from the village shops and Mr Claus's office. So get your cameras and autograph books ready because you and your family are about to have an unforgettable stay in the Finnish Lapland.
Check Availability
The property only has a variety of 14 villas and suites to choose from making it feel like an exclusive boutique hotel. The modern architecture combines wood and glass, creating a gorgeous contemporary Arctic aesthetic. This look carries through the interiors of the units with Scandinavian finishes throughout.
You'll feel right at home in your comfortable guestroom boasting a minibar, flat-screen TV, and complimentary WiFi. The bathrooms feature large showers, toiletries, and hair dryers, oh and not to mention the plush bathrobes and slippers that you can slip into after a long day of adventures.
There are a host of recreational activities right on your doorstep at Nova and when you aren't visiting Santa you'll have lots to keep you busy. Hire bikes from the hotel to discover the area or ask the welcoming staff to arrange reindeer farm tours or a husky or snowmobile safari. They also offer Aurora (Northern Lights) hunting tours if you are in search of green starry skies.
The Arktikum Science Museum is only 7km from the property and also makes for a great day trip for both solo travelers and families. This science center covers fascinating research pertaining to this North Arctic area including the effects of climate change as well as the history of the indigenous people in the area. A truly worthwhile visit.
This is one of the chicest Lapland Hotels, perfect for all types of travelers. From fine dining in the Skyland Restaurant to snow-filled outdoor adventures, you can't go wrong by staying at Nova.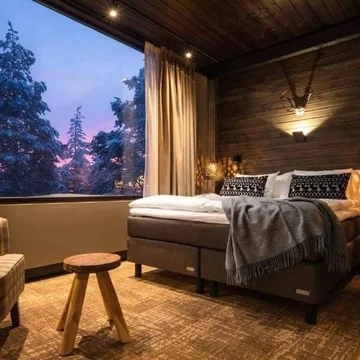 Lapland Hotels Sky Ounasvaara
This is your place to stay if you are looking to access the slopes easily. Next to the Ounasvaara ski resort and on the banks of the Kemijoki River, you'll have ski-in/ ski-out access as well as ski storage. You are also located close to Santa's Village and the SantaPark which are both about a quick 15-minute drive away.
Check Availability
Lapland Hotels Ounasvaara chalets are modern with hardwood finishes and thoughtful lighting. The ski resort comprises of 73 apartments each one featuring a sauna, the options vary from simple luxury to ultra-luxe options. The elegantly furnished chalets are a welcome and calming space to come home to after a day on the slopes.
Being so close to the Ounasvaara Winter Sports Centre, there is no shortage of activities in and around the resort. Book a safari with either huskies or reindeer (or both), brave the icy water for a winter swim or escape into the forest where the hotel is nestled and pick blueberries.
The award-winning Sky Restaurant and View brings you an exquisite dining experience as you gaze out the floor-to-ceiling glass windows, boasting sights of the surrounding forest. Featuring both Lappish delicacies and International feasts, a meal at this restaurant is an experience in itself. For more relaxed dining you'll find a cozy bistro with a fireplace in the lobby area.
This is one of the most perfect Lapland hotels for skiers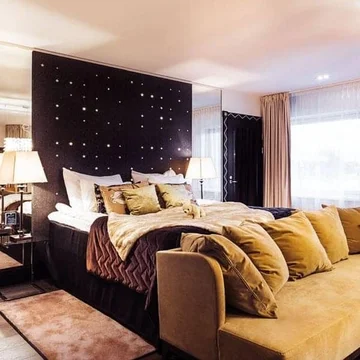 Arctic Light Hotel
Recognized as one of the best luxury hotels in Finland, this boutique hotel even has an award to prove it (although you'll understand the accolade as soon as you step foot in the reception). Located in the center of Rovaniemi and under 10-minutes from Santa's Village, get ready for city attractions and sightings of the jolly Mr Claus and his helpers in Lapland.
Check Availability
No expense was spared when kitting out the stylish 57 bespoke guest rooms which each has its own themed decor. Sink into your comfortable bed, made up of premium linen, and watch a movie on the LED TV to unwind after a busy day of excitement. Oh, and there's also a minibar for you to indulge in your favorite treats while you relax.
There is a 24-hour fitness center and you can also pamper yourself and arrange an onsite massage. The concierge will assist with any requests and the 24-hour front desk makes the check-in and check-out process a breeze.
You are going to need a hearty meal to start your day of exploring and luckily the buffet breakfast included in your stay will be just that. The breakfast was created by Finnish-American TV chef, Sara La Fountain, and you can expect an exceptional array of flavors and tastes to set you up for the day.
This is one of the best Lapland hotels in the center of the city and perfect for those keen to discover what the capital has to offer. This includes Lordi's Square which is a 3-minute walk away, the Jätkänkynttilä (Lumberjack's Candle Bridge), a 7-minute walk away, and Arktikum Science Museum is under a mile away.
Discovering Lapland's Luxury Finland Hotels
Lapland is characterized by dreamy snow-filled forests, exquisite beauty at every turn and, of course, all things related to the festive season. Whether you are visiting Lapland in summer or winter, you'll feel the Christmas spirit at any of these Lapland hotels.
A trip to this Northern part of the world means you have the opportunity to meet Mr Claus and experience the magical winter wonderland of Santa's Village. From husky and reindeer safaris to skiing, there is no lack of fun things to do in Lapland.
And, if you are lucky, you'll even catch a glimpse of the Northern Lights. Lapland Hotels can make so many of your snowy dreams come true so pick your favorite one and make your trip to this enchanted place a reality.
If you are looking for more options to cater to your whole clan, check out these luxury family resorts worldwide.