Airplanes are one of man's greatest inventions thanks to the convenience they afford us. Before their creation, you couldn't zoom across the planet in less than 24 hours.
While most people can afford a flight on a commercial airline, it's undeniable that long rides can be highly uncomfortable. A lack of legroom, being in the same sitting position for hours, the window seat passenger in your row frequently needing the bathroom – these are some of the issues that make long flights a nightmare.
In comes luxurious first-class airline cabins to solve all these problems – well, if money's not an issue anyway. While you can expect extra legroom and delicious food on a first-class flight, some carriers go above and beyond. These luxurious airlines offer amenities that can rival 5-star hotels with flat beds, spa treatments, and more.
Read further to get the low down on the best luxurious first-class airline cabins out there.
Qatar Airways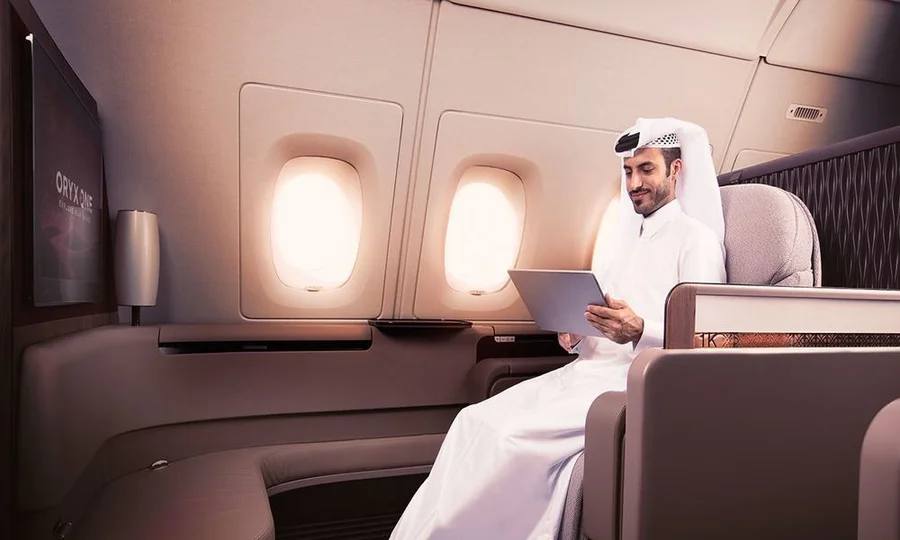 Qatar Airways is a renowned airline that offers amazing short and long flights, be it for business to Qatar's neighboring countries or luxurious stays in Australia and other faraway nations. Their luxury first-class flights live up to that reputation, with seats often selling out as soon as they're available.
The Qatar Airways spacious cabin offers total privacy and remarkable comfort. Your seat converts into an ultra-comfortable, fully flat bed that's capable of making you forget you're thousands of feet above the ground.
First-class passengers enjoy a bevy of offerings that make the travel experience one never to forget. These amenities are all supported by the carrier's magnificent award-winning staff that pamper you from the moment you step onboard.
Enjoy mouth-watering cuisine prepared by the world's best chefs, some of whom are known for their work at hotels with Michelin-star credentials. The on-demand à la carte menu has several dishes to satisfy all palates. For light meals, make your way to the lounge to grab your favorite snack or drink.
You can transform your area into a fantastic workspace with onboard Wi-Fi, USB plugs, and laptop power plugs. Once done, sink into your first-class seat and immerse yourself in the cabin's entertainment system with 4,000 entertainment options on offer.
Etihad Airways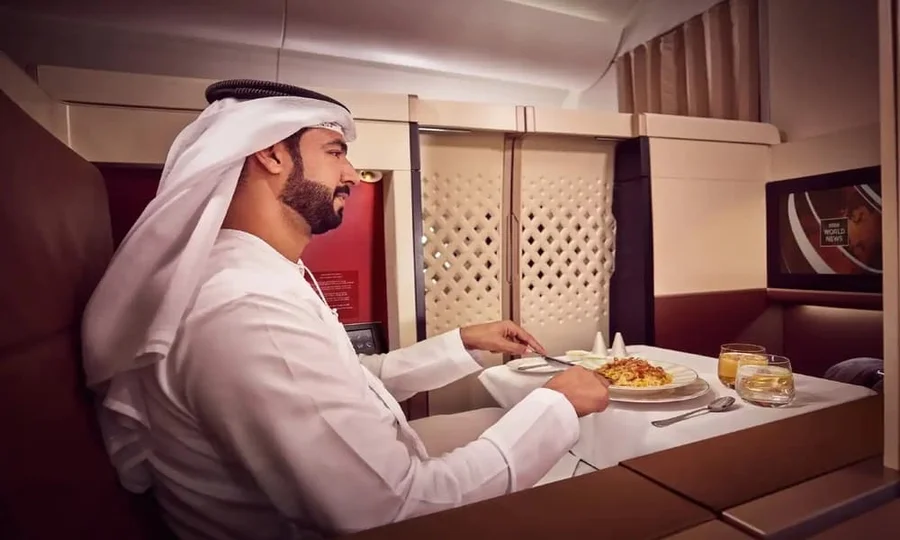 Etihad Airways is renowned as one of the more fancy airlines, and they have a first-class experience to match. The first showcase of the pampering you can expect onboard is being given a chauffeur who drives you to select airports.
Once in the first-class cabin, you're spoiled with a shared "First Lounge" area featuring diverse cuisine, a feature bar, and a relaxation room. If you'd rather have an entire lounge to yourself, you upgrade to a VIP room that offers extra space.
Etihad Airways boasts an à la carte menu with fine dining and casual selections cooked to perfection. Pair your meals with one of the offerings on the carrier's impressive wine boutique list, with the crew happy to point you to the best combinations.
After filling your stomach, put on your noise-canceling headset and enjoy hours of on-demand movies and TV shows. Or rather listen to the news, your favorite podcast, or immerse yourself in a world of interactive games.
Or skip all that and get some much-needed rest in your private room that features sliding doors for privacy. The rooms boast reclining first-class seats that convert to flat beds, which are incredibly comfortable.
Air France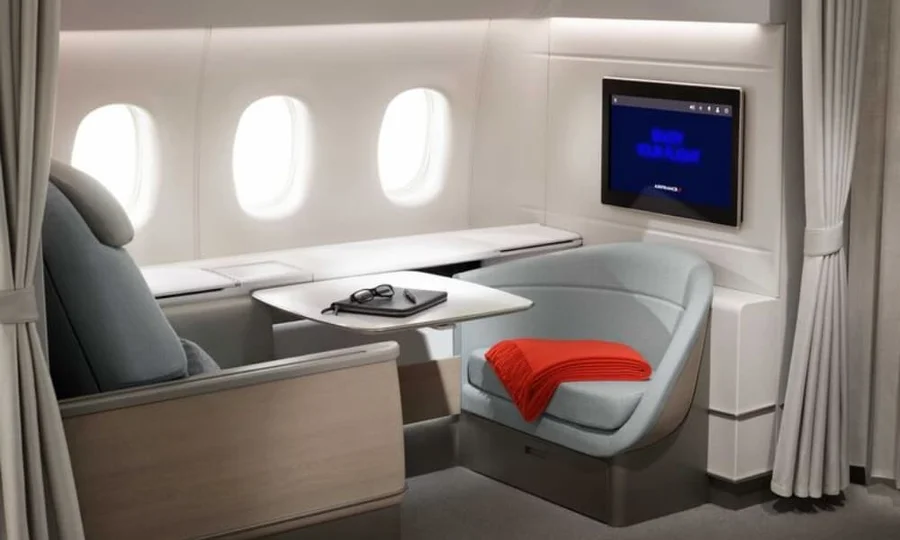 Air France offers first-class passengers luxury on its "La Première" from the moment they book. You get a personal driver at select airports who delivers you to a concierge that prioritizes you during boarding and exiting the aircraft.
Once you step onto the first-class suites, you'll be treated like royalty. Indulge in a tasty snack, full meal, or a drink in the lounge. The cabin crew is on standby to provide excellent table service with a varied list of wines and menu items by Alain Ducasse.
On the Air France La Première, comfort and sophistication are the order of the day. Soft leather, suede, subtle wood, and metallic finishes are sure to catch your eye. You're entertained expansively with over 650-hours of on-demand entertainment on a touchscreen system while sitting on a comfy seat.
Once you feel the need to sleep, simply convert your seat into a bed with a memory foam mattress, a pillow, and a fluffy duvet. Before retiring to bed, you can perform your skin care routine thanks to a complimentary range of Carita facial and body care products.
British Airways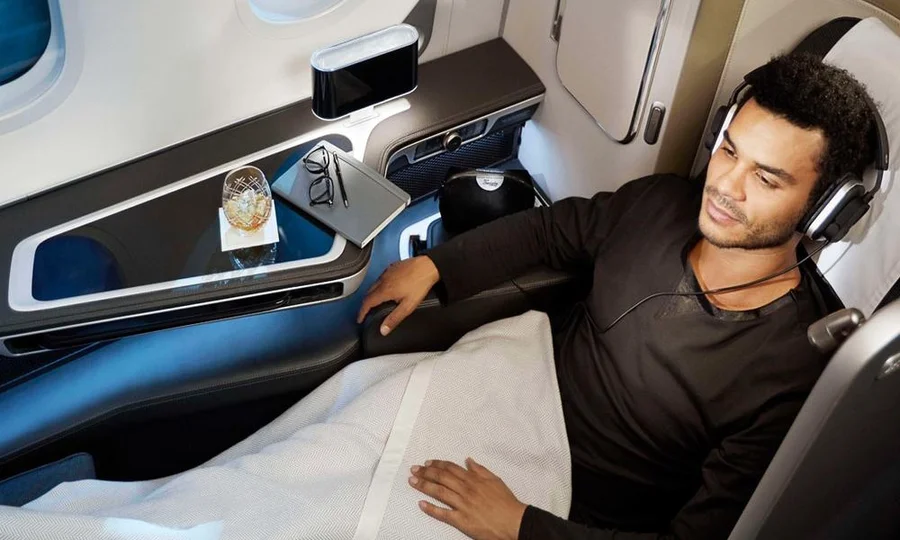 British Airways, synonymous with luxury in the United Kingdom, spoils guests with deluxe first-class private suites. Passengers are fast-tracked through security on their way to the aircraft.
Wander the skies comfortably in your first-class suites, where you have hours of on-demand entertainment and noise-canceling headphones by your side. Connect to the free Wi-Fi and charging points if you'd rather spend your time working.
Pop into the first-class lounge to enjoy delicious treats from the à la carte menu that features British classics in between your flight. The UK's best luxury airline offers snacks and beverages in addition to fine dining cuisine.
In collaboration with Temperley London, British Airways spoils you with a his and hers amenity bag featuring luxury skin care products. After all is said and done, let the crew convert your seat into a flat bed with a microfiber mattress and 400-thread count bedding.
Emirates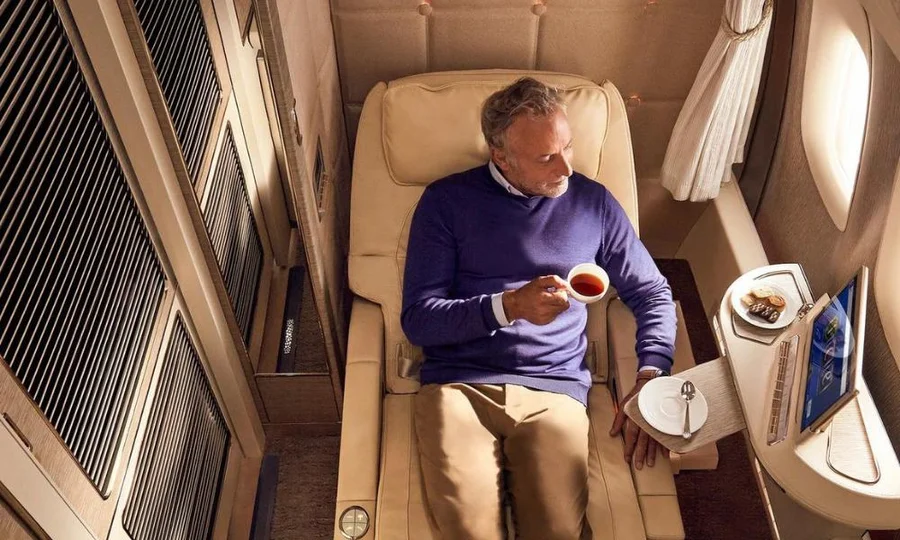 Emirates is known for flying passengers on luxury flights, and their first-class cabins don't disappoint. The experience essentially becomes a hotel room in the sky with incredible comfort.
A personal chauffeur will drive you to one of the best first-class cabins in a luxurious vehicle at select airports. You're spoiled for choice for what you want to do in the fantastic airport lounge in Dubai. Splurge on luxury brands at the boutique, catch up on business, or add a new wine to your collection.
Onboard, you're welcomed with exceptional service, which is the hallmark of one of the best luxury airlines. Set off on a culinary adventure by devouring some of the high-quality, diverse meals and drinks on offer. Order what you want at any time and enjoy it from the comfort of your private suite.
Afterward, put on your noise-canceling headphones and immerse yourself into the entertainment behind the floor-to-ceiling sliding doors. Or, dim the lights and retire to bed to prepare for the day or night ahead.
Singapore Airlines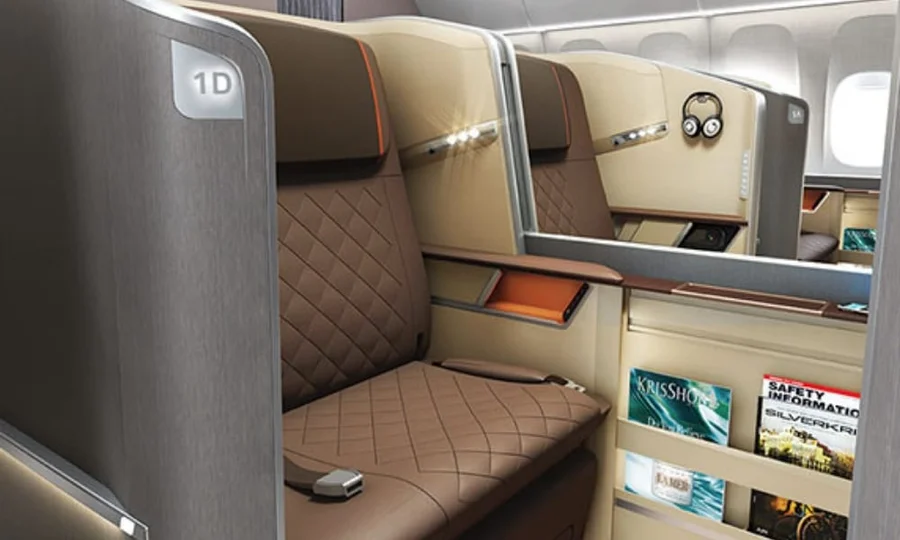 Singapore Airlines offers one of the most luxurious first-class experiences of any airline. Passengers are provided wide and spacious seats upholstered in full-grain leather with mahogany trimmings. This isn't just a seat thorough, as it can be converted into a bed that offers excellent sleeping comfort.
Reserve your main course a day before flying, with selections made by many renowned chefs. The onboard restaurant also has different delicacies you can pair with various wines for a complete gourmet experience.
Stay in touch with friends and family with the complimentary Wi-Fi, or spend your time glued to the monitor with over 1,000 entertainment options. Whatever you choose to do, the Singapore Airlines crew will be on standby and ready to tend to your needs during the entire flight.
Qantas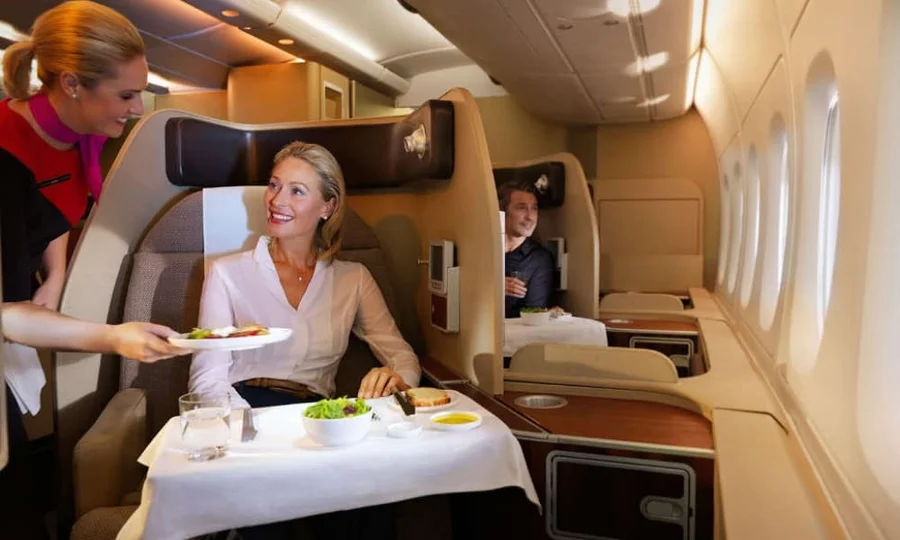 Qantas gets the journey started way before you even sit in their luxury airplane seats. Passengers can enjoy a pre-flight massage at the incredible spa in Australia or spend their time in the bespoke lounge. Choose from excellent offerings on the lounge's signature menu created by Neil Perry.
Onboard, you're greeted by seats boasting subtle colors and calming tones that make for a relaxing ride. Your private suite is supremely comfortable thanks to the in-seat massage, inflight entertainment, lighting, spacious room, and more.
Enjoy a selection of award-winning wines and champagnes alongside the offerings on the tasting and à la carte menus. Or you can indulge in hotter beverages with loose leaf tea and espresso coffee on offer.
Right before retiring to your luxurious bedroom with Sheridan bedding, refresh with the male or female amenity kits and slip into your Qantas First 100% cotton pajamas and matching slippers. With award-winning safety standards, rest assured you'll be in safe hands.
Lufthansa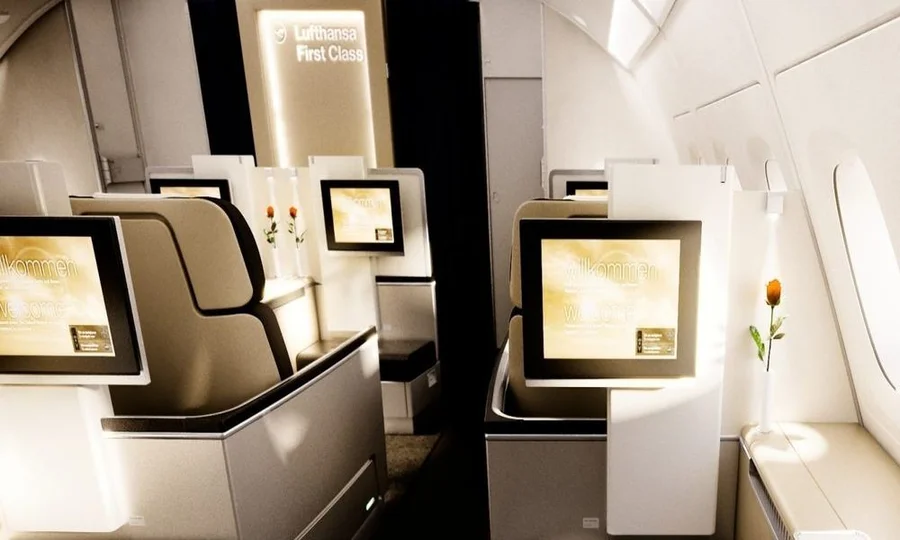 The Lufthansa first-class experience is so detail-oriented you'd swear you're the only first-class passenger onboard.
Firstly, you get a limousine service on the way to the airport and get to avoid the crowds in the exclusive lounge as you wait for the ride. Once you land at your destination, you're given a personal assistant who'll worry about the things you don't want to think about.
Onboard, the first-class cabin crew gives you their undivided attention. The timelessly elegant design is highlighted by exquisite materials that cater to all needs, whether you want to sleep, relax, or work. The fancy airplane's seats are ergonomic, allowing you to tinker with them until you find the perfect position.
You're also spoiled with Michelin-star standard cuisine, which can be combined with award-winning wines. After delighting your palates, you can choose to immerse yourself in the latest flicks, music, games, and other entertainment options.
Don't be afraid to ask the crew to convert your seat into a bed with a comfortable mattress and a temperature-regulating duvet when you need to sleep.
Cathay Pacific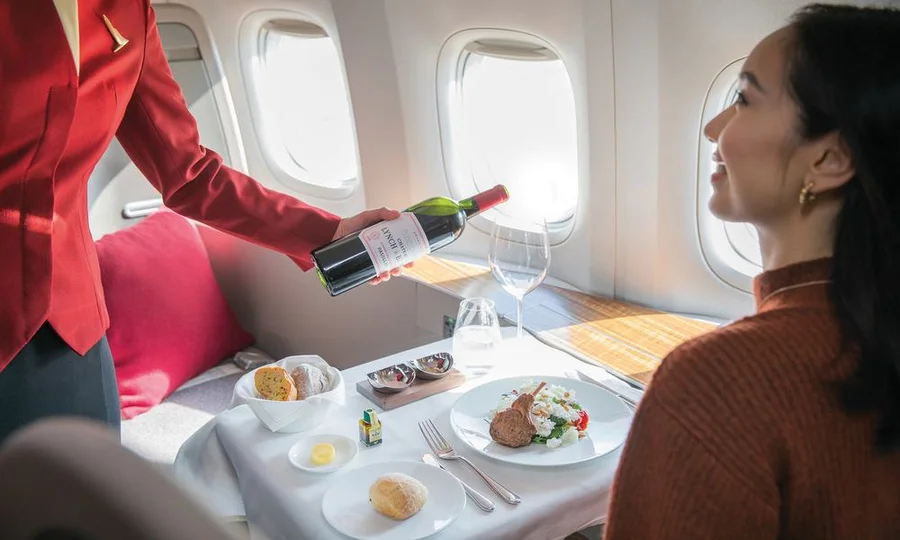 Cathay Pacific spoils its passengers with many deluxe first-class offerings. Before getting on the luxury first-class airline seats, you'll wait for your ride in the spectacular lounge.
Once onboard, your suite becomes a space perfect for working or relaxing with complimentary Wi-Fi and in-seat power. For your privacy and quiet space, you can choose a do-not-disturb service on select routes.
Your spacious seating easily transforms into a sleeping area when the seat becomes one of the widest flat beds on airplanes. It features a thick mattress, deluxe bedding with 600-thread count linen, and soft pillows for a good rest.
Enjoy delicacies from the Cathay Pacific redesigned menu with signature dishes and wellness selections. Complement this mouthwatering experience with spirits, beer, champagne cuvées, and prestigious vintages.
Pamper yourself with natural skin care products from luxury brand Bamford before you sleep. Or enjoy the excellent entertainment system complete with noise-canceling headsets and a selection of TV shows, Hollywood and Asian hit flicks.
All Nippon Airways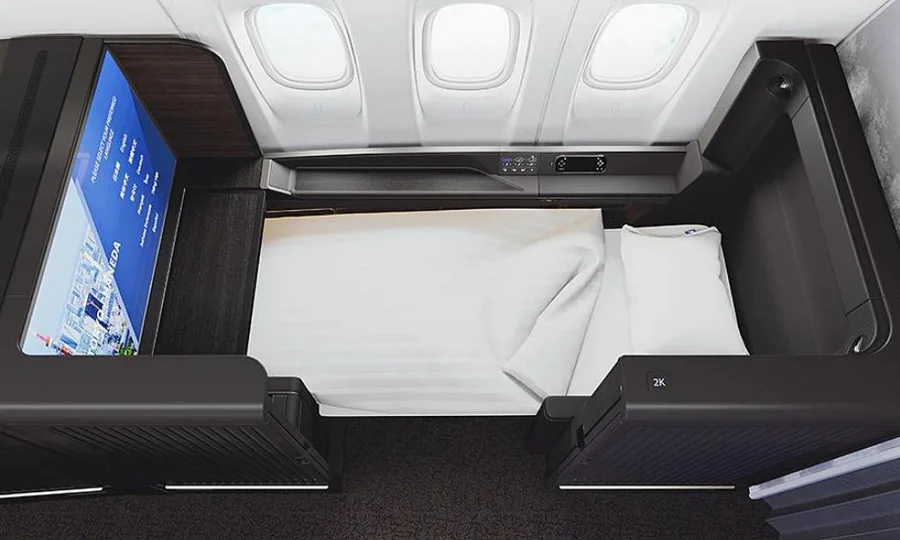 To many, luxury in Japan is a quintessential experience, considering how technologically advanced the country is. The Japanese All Nippon Airways lives up to this expectation with a fancy airplane experience on their first-class flights.
As a passenger, you get fast-tracked service at security, and your baggage is stamped as a priority. You wait for the flight at the beautiful lounge, where you can enjoy various meals and drinks before boarding.
While the seats are minimalist compared to other airlines in this guide, comfort is not spared, thanks to their sleek design features. They offer extraordinary comfort and functionality, all supported by a sliding door for total privacy.
The menu has been curated by beverage specialists and master chefs to give you only the best dining experience. These include international and Japanese meals and a variety of snacks. Complement your food with a selection of beverages that include wine, champagne, Japanese sake, tea, and more.
In-flight entertainment is provided courtesy of free Wi-Fi and a selection of TV series and movies that can be enjoyed on 4K monitors.
Virgin Atlantic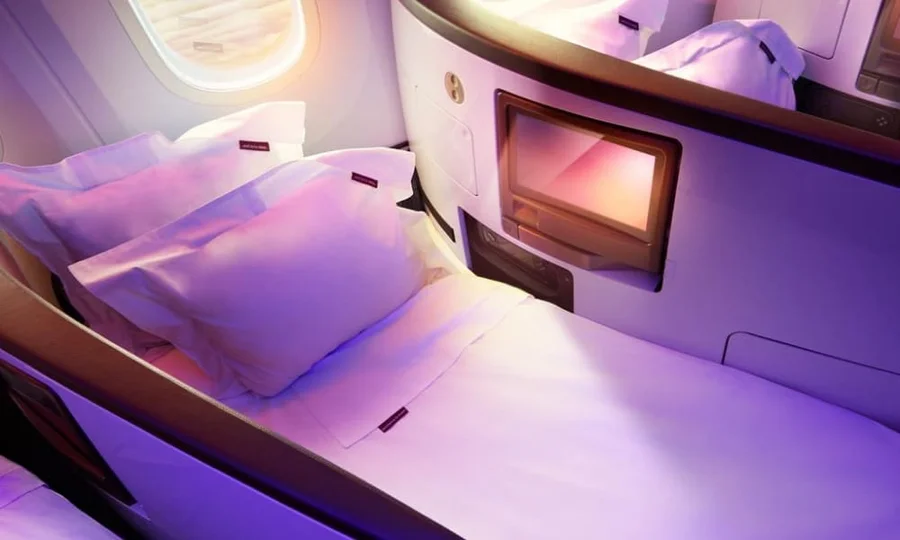 Virgin Atlantic's "Upper Class" is their version of first-class, and it doesn't disappoint at all. Passengers are provided with creature comforts in their personal space with comfortable seats and plenty of legroom. And when it's time to sleep, the seat transforms into a bed supported by different lighting options.
Once you emerge from your private space, kick back at "The Loft" lounge and meet new people. You can also converse with other passengers at the luxurious airport lounge that Virgin offers.
The air suite features an à la carte dining experience with a choice of three-course meals, complimentary drinks and snacks, and a welcome glass of bubbly. There's also entertainment galore with 300+ hours of TV and films on offer, as well as in-seat power to charge most devices.
Final Thoughts on The Most Luxurious Plane Cabins
These are some of the world's most luxurious flights for anyone who loves riding first-class. Passengers are offered many amenities ranging from planes with beds, hours of entertainment, cuisine usually found in the world's greatest restaurants, and unparalleled comfort.
Once you splurge on one of these most luxurious airlines' first-class offerings, you can expect a deluxe experience that may even begin before you board. From being chauffeured to the airport, enjoying a massage before your flight, or enjoying meals at the airport lounges, you're guaranteed luxury all-inclusive! Check out this guide on the world's most luxurious hotel cruises if you ever want to trade air for water.