The sea knows no limits, and neither do these luxury hotel cruises. Enjoy a relaxing vacation aboard a large and lavish passenger ship, spending your holiday cruising from one destination to the next. Choose between a short trip or a world cruise that takes you all over the globe and to every continent.
These vacation vessels feature all of the hotel luxury comforts you'd expect, plus more. They put the 'extra' in extravagance. Explore the endless oceans on one of these luxurious yacht hotels.
Every tiny detail is thought of to allow for a holiday of pure bliss. Whether you're planning a romantic getaway, a family adventure, or a solo self-care trip, this list of the world's most luxurious hotel cruises includes all the best options.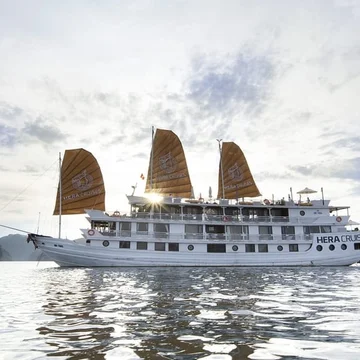 Aphrodite Cruise
Live the life of luxury in Vietnam on the Aphrodite Cruise. Ha Long Bay contains the quintessential Vietnam landscape, with emerald waters filled with picturesque limestone islands.
Check Availability
What better way to discover this area than on a 5-star cruise? Spend your days and nights roaming the water and exploring the beautiful bay.
The cruise's suites and rooms are full of luxurious touches. They offer sea views, an ensuite bathroom, air conditioning, a minibar, and more. If you really want to live large while on vacation, upgrade to an option with a spa bath and a private balcony.
Free Tai Chi lessons and the use of kayaks are also included during your stay. After you've worked up an appetite, feast on delicious Vietnamese cuisine at the on-site restaurant. You'll have direct views of the water from your seat. Afterward, cap off the perfect day at the cruise ship bar with a drink and a spectacular sunset.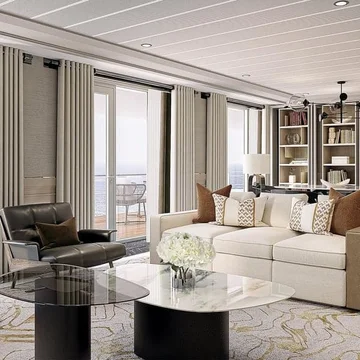 Regent Seven Seas
Regent Seven Seas is a luxurious cruise ship that caters well to high-end travelers. They sail to all seven continents and more than 300 ports. Whether you feel like a lavish Greek holiday in the Mediterranean or an Alaskan adventure, you'll be able to do so in style and luxury.
Check Availability
Regent Seven Seas Cruises take care of every little detail with their range of ships. The Seven Seas Explorer is one of their most popular options. The ship only offers suites. Enjoy complete relaxation on the private furnished balcony or in the spacious living room. At night, the Elite Slumber™ bed will call your name.
Upgraded suites also include private butler service and a free pre-cruise hotel stay in luxurious accommodation.
The fine-dining offered onboard caters to all palates. Whether you feel like a succulent lobster or a burger and fries, you can expect a gourmet feast. The Spa and Fitness Center is the cherry on top of this luxury cruise line.
For more information, or to book a room, visit the Regent Seven Seas website.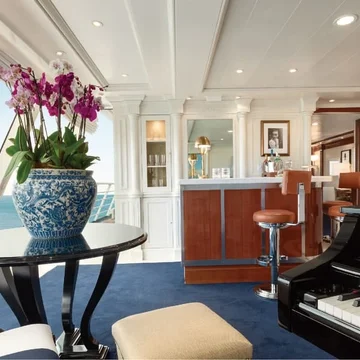 Oceania Cruises
Oceania Cruises, another of the world's most luxurious cruises, will treat you to a lavish holiday. This award-winning cruise line sails all over the world. In Europe, they offer holidays in destinations like the French Riviera, the Mediterranean, and the Greek Isles. They also have exotic and tropical cruises that visit places like India, Antarctica, and the Caribbean.
Check Availability
Oceania cruise line operates six luxurious ships worldwide. They all include onboard experiences, like art classes and cooking demos that will keep you entertained all day long.
At night, get your thrill on at the casino before indulging in gourmet dining followed by a martini and wine tasting. In the morning, start your day with a pampering spa treatment.
Most tours last between 10 and 14 days, however, they also offer long cruises that last up to 195 days.
For the ultimate excursion, book a ticket on Oceania's Insignia Ship and travel around the world in 180 days. The tour starts in Los Angeles and finishes in New York. You'll visit 91 destinations on the adventure of a lifetime.
For more information, or to book a room, visit the Oceania Cruises website.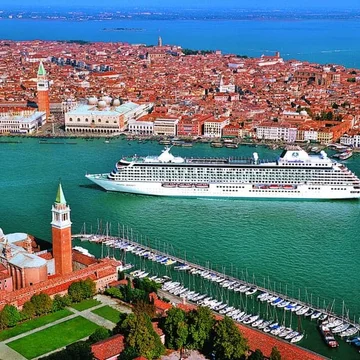 Crystal Cruises
Crystal Cruises specializes in luxury voyages all over the world. Travel in style to popular destinations like Australia and New Zealand or Mexico and the Riviera. Or, go off the grid in the Arctic regions.
Check Availability
They offer three versatile cruise lines: Ocean, River, and Expedition. The Ocean Fleet is the world's most awarded cruise line. It will be your home away from home while at sea. The River Fleet is an all-suites ship that includes a butler service and several complimentary shore excursions.
The Expedition Ship travels to some of the world's most remote locations as well as popular cities. When you're not offshore exploring the local culture and history, you'll keep comfortable in the all-suite all-balcony rooms that include butler service.
Their all-inclusive cruise amenities and services will put you in full vacation mode. They offer a wonderful selection of complimentary fine wines, champagne premium spirits, and coffee.
When you're not exploring the onboard social spaces, the unlimited Wi-Fi and ultra-thin flat-screen TVs that come in every room will keep you entertained.
For more information, or to book a room, visit the Crystal Cruises website.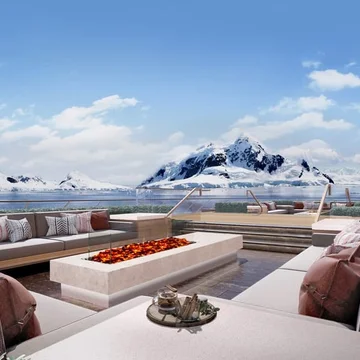 Viking Cruises
Viking Cruises is another award-winning cruise line. In 2020, it was voted the #1 River Cruise Line by the Condé Nast Traveler 2020 Readers' Choice Awards.
Check Availability
They offer three cruise divisions: Viking Ocean Cruises, Viking River Cruises, and Viking Expeditions.
Viking Ocean Cruises explore the limitless ocean horizons. Choose from a cruise package that tours exciting destinations like Northern Europe, the Americas, or Asia, and Australia. They also offer world voyages that last up to 93 days and stop at 13 different countries.
Viking River Cruises travel through some of the world's most scenic rivers, from the Nile River to the Mississippi River.
Lastly, the Viking Expeditions cruise packages go to Antarctica, the Arctic, or the Great Lakes and Canada. Discover the wild frontier and follow in the footsteps of great adventurers.
These cruise ships offer plenty of perks, like complimentary lunch, dinner, and select beverages. They also include at least one complementary offshore excursion at every port you visit.
Your room will be your quiet reprieve and a very inviting place to return to after a day of excitement. With plush robes and slippers, luxury linen, and twice-daily housekeeping, you'll be well taken care of. Some room options also include a private veranda/balcony, a King-sized bed, and a separate seating area.
For more information, or to book a room, visit the Viking Cruises website.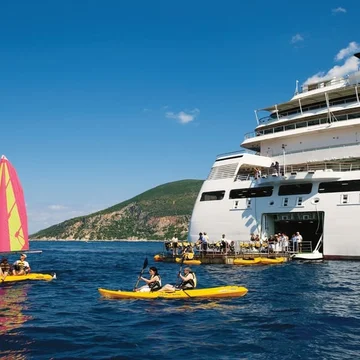 Seabourn Cruise Line
Seabourn Cruise is a high-end cruise line that operates all over the world. They sail to popular warm-weather destinations like Asia, the Caribbean, and the Mediterranean, as well as more cool climates like Alaska and Antarctica.
Check Availability
Their fleet of six luxury ships is super modern. They accommodate 458 or 600 guests, depending on the vessel selected. You'll sail in sophistication in the all ocean-front suites that include luxury amenities.
Your personal in-suite bar comes with your requested complimentary wines or spirits. Pour yourself a drink and pamper yourself in the large marble bathroom. Afterward, end your night cozied up in your terry robe watching a movie on your large TV.
Life on board is lively and entertaining. With casinos, swimming pools, golf putting courses, and live music venues, you'll have no problem filling your days with excitement.
Seabourn's award-winning spa services and full-service salon will provide ample vacation rest and relaxation. And the fully equipped gym features professional trainers who will make sure you stay fit and active – if that's your thing.
Seabourn has an open-bar policy and features only the best wines, champagne, and spirits. Their drinks pair wonderfully with their world-class gourmet dining experiences. There are several restaurants onboard, most have menus inspired by Michelin-starred chef Thomas Keller.
For more information, or to book a room, visit the Seabourn Cruise website.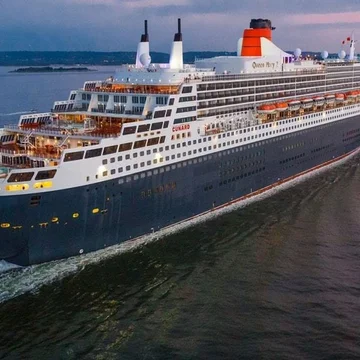 It's the only transatlantic ocean liner that regularly travels between the United Kingdom and New York City. Although, it's also used for other world cruises.
Guests will live like royalty while at sea. Delight in old-fashioned entertainment in the theater. From dance acts to live music, Shakespeare performances, and magic shows, there's something for everyone.
The Queen Mary 2 also contains the largest library at sea. Wind down with a good book from their extensive collection. Then enjoy some modern thrills at the casino and the planetarium. Meals are served at the many restaurants onboard, and drinks are offered in the elegant bars. Afternoon tea is also served each day.
This luxurious ship is family-friendly. Children will be kept entertained with arts and crafts, sports activities, computer games, and more. There are two different play zones, one is for age groups 2 to 7 and the other is for 8 to 17-year-olds. Parents can enjoy alone time if they wish while the youth staff supervises their children.
The elegant suites and staterooms will beckon you to bed each night. After the nightly turndown service (which includes chocolate), slip into your comfy bathrobe and slipper and watch TV in bed. When you wake up in the morning the coffee/tea-making facilities will call you out of bed.
For the ultimate luxury vacation, book into one of the luxurious cruise ship suites. Your butler service will make sure your stay is as comfortable as possible. On arrival, you'll be greeted with champagne and chocolate. Then the minibar is also stocked with two bottles of complimentary wine or spirits of your choice.
For more information, or to book a room, visit the Cunard Cruise Line website.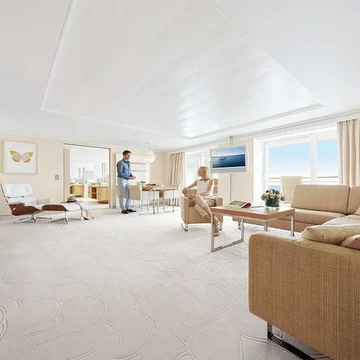 Each ship hosts a maximum of 500 guests, giving it a more intimate feel compared to other commercial cruise vessels. They have a casual luxury philosophy. The atmosphere is relaxed and there is no dress code or fixed meal times enforced.
The interior of the vessel is modern and posh. It features contemporary decor and one of the largest art collections at sea.
Guests can wine and dine at the seven restaurants. They range in theme from a sushi bar to a yacht club restaurant with a panoramic ocean view. There are also six bars, including a pool bar and a piano bar.
The gym and swimming pool will help you keep up your workout routine while on vacation. The extensive range of fitness classes are offered indoors and on deck, they'll make working out fun. When you're finished, treat yourself to a spa service or a sauna experience.
Your room will be like a private oasis. The mini bar is refilled daily and the Nespresso machine will make the most delightful cup of coffee. The 24-hour suite service will make sure your cruise is comfortable. If you'd like a bit more attention, the Penthouse, Grand Penthouse, and Owner Suites come with butler service.
As far as onboard entertainment goes, a different program is offered daily. There are also two golf simulators you can have a go at.
If you're traveling with kids, children aged 11 and younger travel free if they're staying in a suite. There is also an extensive program of arts and crafts, games, and activities for both kids and teens.
For more information, or to book a room, visit the MS Europa 2 website.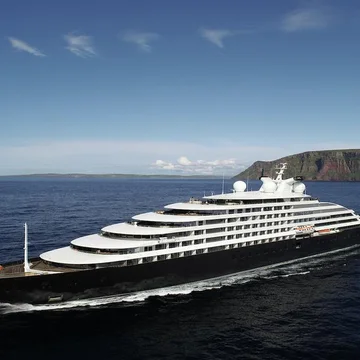 Scenic Eclipse, Scenic Cruises
Scenic Eclipse is a small luxury cruise ship that can accommodate between 200 and 228 guests. It features all-inclusive amenities and services. All of your meals, drinks (including wines and premium spirits) are included as well as 24-hour room service, a butler, and more.
Check Availability
The vessel contains all-suite accommodation with every cabin featuring a balcony and floor-to-ceiling windows. You'll have incredible views, which you can enjoy with a cold drink from your minibar.
Choose from a voyage in the Polar Regions, the Americas, Europe, or the Caribbean.
The ship comes equipped with two helicopters and a seven-seater submarine. If you're feeling adventurous, book a scenic flight or a submarine tour. Other entertainment options include a large theater, plunge pools and jacuzzis, a yoga and pilates studio, and more.
The seven different dining venues give guests plenty of choice for mealtime. From French to Italian, and Asian fusions, there's something that's as delicious as what you'd find at specialty restaurants.
After a fun day exploring ashore, spend some time mingling with the other guests in the cozy lounges and bars.
For more information, or to book a room, visit the Scenic Eclipse website.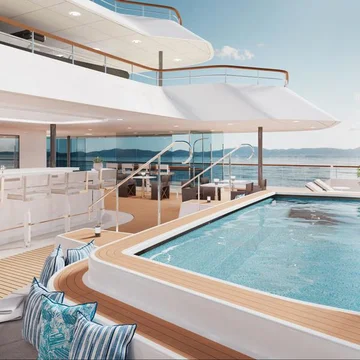 Ritz-Carlton Yacht Collection
The Ritz-Carlton is one of the world's top luxury hotel brands, and its cruise line offers the same high-end appeal. Stay in the most expensive hotel in the most luxurious ship. From Caribbean cruises to Mediterranean voyages, you'll be able to unplug and unwind in complete luxury.
Check Availability
With almost as many staff members as guests, you can expect extra care and consideration during your trip. Their list of services and amenities includes features like 24-hour in-suite dining, in-suite espresso machines, oceanview accommodations with a private terrace, and a personal concierge.
If you really want to go all out, select the owner's suite. It includes a large open-air terrace with furniture and a private outdoor whirlpool. Grab a drink from your minibar (which will be stocked with your preferences) and enjoy a relaxing soak with views of the endless ocean horizon.
When you're anchored at sea, you'll have access to the Marina. Guests can enjoy the sun loungers on board, or use the water toys and explore the sea. Right above this area, you'll find the Marina Terrace where you can order a handcrafted cocktail and a light bite while admiring the views.
Your meals can be enjoyed at several locations. Dine al fresco next to the pool, sample a European tasting menu in a grand dining room, or experience laidback luxury in their contemporary Southeast Asian eatery.
Entertainment onboard is an intimate affair. With in-house classical and jazz musicians, you'll enjoy highly personal performances. Last but not least, their range of spa services is the perfect vacation indulgence. Select from massages, facials, full salon services, and more.
For more information, or to book a room, visit the Ritz-Carlton Yacht Collection website.
Summary of the World's Most Luxurious Hotel Cruises
These luxury lines are the crème de la crème of cruise experiences. They sail all over the world to many exciting destinations. From Antarctica to Australia and the Caribbean to Canada, you'll be spoiled for choice.
Splash out on one of the luxury all-inclusive cruises which include features like private butler service, complimentary wine and spirits, and in-suite dining. Live large at the casino sipping on top-shelf spirits, then wake up in the morning to a private spa experience and a relaxing hot tub soak.
Each one of these superb vessels is crafted to create a unique and luxurious hotel experience at sea. With high-end suites, gourmet dining, and numerous onboard entertainment options, a fabulous vacation is guaranteed.